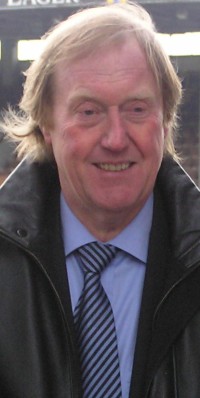 Barry Kilby - a good chairman
Of course every now and again we sent out the real Burnley FC and they went and picked up points. 30 of them in total. So that's it. Back to the wilderness we go. But back we go debt free and stable for a good number of years.
I know many people don't agree with this but I think Kilby is a good Chairman. He didn't 'bet the ranch' as he so eloquently put it on keeping the Clarets in the Premier League. He refused to pay over the odds for players who ultimately 12 months on would move to another Premier League club with a fatter cheque book. And that was our downfall. But let's be honest here, we were always going to struggle. We were the quiet friend who won't take the risks his mates do, thus gets sent packing at the end of the night.
So as we bade farewell to the greatest yet poorest league in the world, I look back with a fondness that I got to see them at the highest level. I got to see us take points off very best. I got to parade the streets of Belfast in my top and not be asked 'Is that West Ham?' Nope people, some anyway actually recognised it.
And as Bolton Wanderers retain their status for another season, it would appear that Mr Coyle made the right decision. Our lads just weren't good enough for this division at times, and with no funds at his disposal OC took off. But who did he sign at Bolton, yep the players he was bringing here? Go figure. I for one am willing to give Laws a chance. He is not popular by any means, but let's face it, we were always destined for the drop, Coyle or not. I want Laws to succeed. I want Burnley to be up near the top next season. It won't be easy, of course it won't. Everyone next year wants to bring us down, us being the big team. It will be difficult. But if the fans stay with them, and we can retain that band of brothers trademark we had last time around, then we will be fine.
At the beginning of this season when the fixtures came out, most if not everyone said, if we go down so what, we will enjoy it no matter what. And, even though it wasn't that enjoyable to watch, we were still there, and didn't finish bottom. And as daft as it sounds I am happy about that. Unfortunately I didn't make it over for the last game, but I can imagine everyone leaving Turf Moor happy after such a great result against another top four side. If only the rest of the season had been like that I can hear them say, but we didn't and we are down. But down in style.
It was disappointing and frustrating. At times they really annoyed us. Throwing games away against the likes of Blackburn, Man City and Chelsea. It should have been so much better. But playing against these teams was so much sweeter than Scunthorpe, Doncaster and Barnsley, with no disrespect to them.
But back to the Football league we go. And no matter who stay or who goes, we the fans will remain, as we always have. The other night I watched one of the highlights DVD's from 1989, and the attendance was just over 7,000. Already this year we have 10.000 tickets sold. That's what makes this club special. The fans. Wherever in the world they might be.
Right I am away. I have enjoyed sharing my thoughts with you, thanks for reading. If you still need cheering up, well at least we didn't ship 7, 8 or 9 goals this season. Thanks Villa and Wigan for making us look that little bit better.