Most of this piece first appeared in
Russians Don't Land Here
some time ago in 2006. Where financial figures are mentioned they are much changed since then, especially wages costs.
Barry Kilby is… well, just Barry Kilby. Unlike some club chairmen he is not high profile like Ken Bates, does not seek the limelight, nor does he write articles for the
Telegraph
like David Sheepshanks.
He seems to be the classic, publicity shunning, quiet man, yet still easy to talk to and very open, never flashily extravert, exuberant, or impulsive. You sense when talking to him that he carefully considers everything he says. He seems to prefer to stay in the background… being there… steadying the ship… and doing his absolute all to keep Burnley Football Club's head above water, and if at all possible, but currently impossible, in the black. What's that chap at Crystal palace called? Jordan? You couldn't find two greater opposites. You can't imagine Barry ever having a girlfriend called Tarakashwarree.
He can be persuaded to go live on Radio Lancashire or 2BR but he doesn't have a regular programme page on a match day. He might possibly be the only top football club chairman to have played for his club, albeit in the youth team, but that's further than most of us with football dreams have ever got. My suspicion is that he is a BFC fan and a supporter first, chairman second. The amount of his money embedded in the club has seen it through some trying times. He now owns the ground and the Gawthorpe training area, or at least his company does, Longside Properties (he has 51% of the shares) and without that purchase there would have been no solution to Burnley's debts other than cutting player budgets down to the bone and then probably drifting down the divisions to where we were years ago, and seeing support dwindle yet more. Of course when this idea was first mooted, his motives were questioned in some quarters but when a man pays something over £3m for a site that was valued in development terms at not much more than £1m, any suspicions were soon countered.
Like most of us, being a Burnley supporter was a family thing. How many of us made our first visits with our father? How many of us were hooked? I went with my father in our little old Ford Prefect from the beginning of the 59/60 season and I know how quietly proud he was when I played my first game for Todmorden Grammar School. Barry's father, Roy Kilby must have been overjoyed when Barry was invited for trials at Burnley and made it into the youth team. They had travelled many a mile following the team to away games.
We met in the Chairman's Lounge, upstairs in the Bob Lord Stand. It's not particularly big but when Barry took over the chairmanship one of the first things he did was refurbish the room. It had actually been two but down came a wall, and the newly enlarged room was kitted out with fine wood panelling to reflect the heritage and tradition of the place. In 1998 he ended the last vestiges of male female segregation in the director's areas.
"My father was a fanatic, he was a massive fan. He'd lived in Clayton le Moors, a sort of halfway house between Burnley and Blackburn and one day he just happened to decide to go and see Burnley, and he was hooked. He dragged me round then from the age of nine or ten and I caught the bug. My first heroes were Willie Irvine and Andy Lochhead, and now of course they're here hosting at the club on match days. I'm still frightened of Andy. One thing I do remember is an away game at Sheffield United's Bramall Lane in the early sixties. I think it was the Cup game we won in the Wembley year. What I remember is sitting in the stand that was the cricket stand and this was on the far side of the cricket pitch. This was when the football and cricket grounds were next to each other and the football ground only had three stands. Strangely my early football followed that of Martin Dobson who was a year above me at Clitheroe Grammar School where he was soccer captain, and then I followed him a year later as soccer captain. Both of us came to Burnley, I came in '68." Barry smiled wryly at this point. "We diverged after that; he went on to play for England. I went on to play for Padiham."
"Have you seen the Peter Mellor video of the club in the seventies?" Barry asked. I had. In the vaults of a film library, writer and researcher Simon Inglis had found some dusty old films made by a student, of what Jimmy Adamson called the team of the seventies. A few years ago the club made the reels into a marvellously nostalgic video of an age now gone. "I had no idea my father was on this video and I watched it and there he was featured on it and then talking at the end."
"He died in 1986 and the next year in '87 it was the Orient game. I sat in the Bob Lord stand, a season ticket holder and thought this would be the last time I would see them play. It was a wake up call for everyone." Surely by now there can't be a student of the game who does not know that had Burnley lost that day, and had they been bottom, they faced expulsion from the Football League. May 2007 is the twentieth anniversary of that draining, near catastrophic day.
I'd earlier sent Barry a couple of pages of questions, much of it the usual stuff I suppose… how did he become chairman… what motivated him… having become chairman what did he initially think needed doing…
"I was 49 and at a certain stage in life. Frank Teasdale did a great job in difficult circumstances but I thought I could come in and make a difference. It was 1998. I'd sponsored a few games. The club needed money; they'd built two new stands and needed gates of 18000. They didn't get them; struggled to meet payments, got a payment holiday and began to look for investors. There was the campaign to get the old board out. I'd just sold a company and had some spare cash so I bought shares from directors who had left. Ray Ingleby was also in for the chairmanship so there was some keen competition. But I became chairman and put £1m in. Then there was a rights issue and I bought the newly created shares as did members of the public so that brought new money directly into the club. To Ray Ingleby's credit he put half a million in and became vice chairman. We raised £4m."
"And then what?" I asked him. "Was there a moment when you sat down behind the desk for the first time and thought what do I do first?"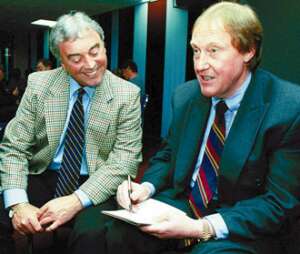 Barry with Stan Ternent
"I wanted to get us out of the bottom half of the League and I felt I had the resources to make a difference. I wanted to make a relationship with Stan (Ternent), and mend some bridges between him and the directors. I gave him money to buy players, I never had any thought of accepting his offer to resign when we had those two horrendous home results losing 0 - 5 and then 0 - 6. In my opinion the most important relationship is with the manager. I have professionals to run the club although I am involved with player negotiations with Steve Cotterill. We bargain well. We don't chuck money away here. We're mates. He was round at my house the other night and we got through two bottles of wine."
And then a few basic philosophies began to emerge.
"My dad said to me if there's nowt to say then don't say it. If I'm interviewed I'm careful what I say because I want what I say to mean something. Burnley is the heart and soul of this town. Its image and name is based on the club. There is no one big central employer any more that carries a torch for the town so it's the club that does that. And this club still has a great reputation in the game. The name really means something. People still respect Burnley Football Club."
"Do you get all your own way?" I asked him.
"I try to run it as democratically as I can," he answered. "I'm conscious that there are directors who have put money in so I appreciate that and they deserve some kind of say. But one decision I did make that was mine alone was not to renew Stan's contract. We'd got as far as we could, I felt."
I had to nod my head at that. Many of us felt that Stan had indeed got us as far as he could and this in no way detracted from his earlier wonderful achievement in winning promotion to the Championship where we have now been for seven years. For that he will not be forgotten.
"Let me guess when you made the decision," I suggested, "the away game at Rotherham when we lost badly near the end of the season… there were players squabbling amongst themselves on the pitch, it was a rock bottom performance… and afterwards Stan criticised his players… and we all thought but Stan these are your players, this is your team." Barry nodded.
He's had some low moments in his time at the club. The shock of the news that ITV Digital had reneged on what was thought to be cast iron financial agreements was such a moment. Fans often ask why is it that this seemed to affect Burnley more than other clubs in terms of the words coming out of the club. In simple terms, at a stroke Burnley lost more than 25% of their income. "We immediately lost a £4m cash flow over the next two years," he explained. "It hit us harder than many other clubs because that was such a high proportion of our budget. For bigger clubs with bigger gates and bigger income it was less of a percentage they had lost. We'd really gone for it, brought in David Johnson and Paul Gascoigne. Johnson was a success, Gascoigne was not. But they still had to be paid and the money had gone. We had to find that £4m from somewhere. We were still paying for the two newest stands. We owed £3.2m on them when I took over as chairman, still owed £1m when I bought the ground. We were still paying for players like Ian Moore. Only now are things righting themselves having had cup runs and sold players. There's always this balance between ambition and reality."
I asked him were there ever any moments when he sat with his head in his hands in despair.
"Those Hedman saves when we played Coventry."
I smiled at that. That was the fan talking not the chairman I suspect although all of us realised there were money implications. Moments like that are a great leveller, three sides of the ground sat with their heads in their hands. We all remember. It was an end of season game and had he not made those two stunning last minute saves from free kicks Burnley would have been in the playoffs. "Yes that was a real moment of head in hands."
We talked a little more of worries and depression when things go wrong. He explained that he is not a natural worrier and that he can switch off. "I've got my business. But if there are worries as chairman they stay longer, and if there is depression it stays longer. My worry is that we go bust. Our wages bill is only £3.8m and that puts us 21st or something like that in that particular table. Whereas Birmingham talk about reducing their wage bill to £20m we worry if ours goes up from just £3.8. We're losing near £30k a week."
"But the chief exec suggested it was around £20k a week," I mentioned. "No it's nearer £30k." In my head was the question but how can we manage then? It was answered before I got it out. "A number of things can happen. We can go bust, we can sell players, we can have cup runs and TV appearances or we can find new money. There are two new directors joining shortly who will put half a million each in. That million will tide us through, keep the wolf from the door this season. And just one season in the Prem would solve all our problems."
"I've never felt any real closeness to leaving but last season losing six games on the trot was hard. Fan criticism is hard to take sometimes. I remember the email you sent to Dave Edmundson. It makes you want to ask well what would you do?"
The fact that he doesn't is possibly down to his reserve and innate self restraint, though I have a friend who sits near him on a match day and who gleefully told me it was Mrs Kilby who once turned on a fan who was calling out to the chairman to get his hand in his pocket and do something. He didn't quite catch what Mrs Kilby said. Perhaps it was along the lines of he's already put £5m of his own money in. If it wasn't, she would have been perfectly justified in saying it.
We got on to player sales; mention this to fans and it's a sore subject nine times out of ten. Coventry found that out when they sold McSheffrey for £4m and even at that inflated price, MD Paul Fletcher (now at Burnley) had some explaining to do to irate fans. At Burnley, player sales are a way of life, we are accustomed to it, and yet still it hurts. The bottom line is it's part of the balancing reality with ambition. It's head versus heart. Barry Kilby still recalls he could have sold Glen Little to Manchester City for £3m one Christmas at a time when Burnley were riding high. "By the end of the season I couldn't give him away, player values had plummeted. The only thing I could do was loan him out and save £100k on wages. We desperately needed money and it was a hard decision. It was a hard call to make. But every player has his price."
"So there's a situation in January," I suggested. "We are in the top six and Lafferty is a target for a bigger club, (Lafferty being our new young rising star and N Ireland international). "Is there a policy decision in place that says he will not be sold?"
"There is no desperation to sell Lafferty, we don't need to sell him. But if someone comes in and offers £5m it would be daft not to. £2m with add ons and yes we would think about it. It's always a hard call to make, you judge each situation differently."
"We are in the top two and six points clear; then do we sell him?" Barry thought, and didn't really answer that other than by saying again well that's a hard call to make. My hunch is that at that moment he had his 'fan' hat on and was quietly thinking, no we won't sell him. But that is only my speculation. We'll see in January. But as sure as apples is apples, if Lafferty continues to make the progress that he is, and receive the media publicity that goes with it, Steve Bruce and money bags Birmingham are only a phone call away. Jeez I'd love to get them here and beat them 3 - 0.
Birmingham and Premiership parachute payments are a sore subject. A number of things do make Barry Kilby angry: "TV and SKY pulling all the strings, the football oligarchy, the dominance of the top teams, their obscene wealth and relegation parachute payments. They distort wages. It gives them £8m when they come down. The Championship Division is where wages are unbelievably going UP. That's because of parachute payments and clubs that play the system. Why not share gates any more? Where is the old style integrity? Clubs don't help each other any more, the strong get stronger and the weak get weaker."
With time clearly running out there was one last question. I'd never got round to the club's community involvement and his own personal involvement in terms of serving on any committees, so the last one was simply…
"What about Barry Kilby five years from now?" We both knew of course this was a hypothetical question.
"I'm still chairman of BFC… the Jimmy Mac void will be occupied as rented out office accommodation and bringing in some regular income… ask me about that in November, you might hear something… maybe to something like the NHS which would fit in with our community aims… we'll have had one season in the Premiership… rebuilt the Cricket Field Stand… and invested in a proper youth set up. One season in the Prem will have brought us in £40m."
Now, in December 2008, the Jimmy Mac Stand is indeed fully up and running but the newest statement of accounts makes for grim reading and but for player sales the losses would be unsustainable. The credit crunch has added its own new problems, core attendances are not much more than 11,000 to 12,000, but player wages are go higher and higher. The fanfares that greeted the ambitious plans for a new stand and office/player facilities have gone quiet. Director loans are what keeps the club going.
New directors arrived; the scenario not quite "if you have a quarter of a million you too can be a director" but the trickle of new director money coming in propped up the club. Brendan Flood assumed a high profile and a added a new drive and ambition, tempered by more cautious directors perhaps. A set of his programme notes mentioned that not all directors always get on. Nothing new in that - put any dozen people together and there will inevitably be differences and football boardrooms are emotive places. Some of the best football teams ever were comprised of players who couldn't stand each other.
On top of all this we have also seen the appointment of a new manager a little over a year ago. The chairman was as stressed as the next fan by the run of 20 games without a win under the previous manager. And the dull, sterile brand of football was without a shadow of any doubt slowly but surely wearing supporter's patience down to the point that many of them were finding other things to do on a Saturday afternoon. Steve Cotterill worked a miracle a miracle in his first season but when the history of his time at Burnley is written, I suspect it won't be too complimentary. Allegedly Peter Reid was within a whisker of being appointed (and I just wonder if that might have been a John Bond type scenario) but out of the blue came Owen Coyle and his name came into the mix quite by chance.
So, Barry Kilby soldiers on and I'm grateful for that. Ten years is a long time and highspots have been in short supply. If Owen Coyle's appointment was a gamble then it looks like it could well pay off. In twelve months he has brought a style of football that is very slowly bringing small groups of supporters back. Not once have I been bored this season. There have been far more highs than lows. It's early days, season only halfway through, the Lafferty sale a great piece of business, but here we are in the top six and the Carling run has been magnificent. The Chelsea and Arsenal nights will be described to our grandchildren in years to come.
Well done Barry, happy anniversary.