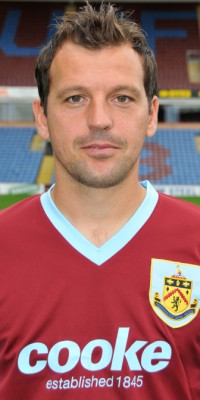 Robbie Blake - posed for photos
When I left Belfast on Saturday, eight months after our dream in the Premier league began, despite our form I had an air of excitement about me. A thought that Sunday could be the turning point for us. The start of something special but as with the course of the season so far, rogue officials, cheating foreigners and a non existent Clarets midfield had me leaving Lancashire with a sinking feeling. Unlike the unfortunate souls who lost their lives so tragically aboard Titanic who never returned, as I landed at Belfast International I could only remember the forlorn, deflated faces. And I mean the players.
I don't want to talk about the game, there are others here who will cover the latest instalment in great detail. I want to tell you about the players. After the game, as one of many fans not wanting to rip up seats or taunt a rival fan, I left the ground and went to meet some of my heroes at the players' entrance. I saw Fletcher, McCann, Duff and Blake. The rest snuck out on the team bus, no really they did.
When I came over in August, the players were full of life, ready for the Premier league, excited about the challenge ahead, no matter what it held. They greeted everyone that passed and talked to anyone that wanted to say hi.
When I met these four lads on Sunday, they looked dejected and deflated. Fletch was talking to friends, and looked to be only half listening. A fan, I use the term loosely, used his inebriated state to tackle Fletch and why Laws is here? Fletch just stared on, obviously not wanting to get dragged into a slanging match with this clown. But he looked lost. Blake posed for photos with some fans, including myself, and he seemed embarrassed to do so. Posing with some children he looked like he was unworthy to do so. Duff, with his child in his arms, sporting a proud daddy No 4 shirt, hardly spoke as I tried to lift the spirits. It was a sad sight to see.
On the pitch, Wade Elliott, who I admire, every time he neared the touchline, avoided contact with his gaffer, and therein I think lies the problem.
Owen Coyle wasn't just a manager to these lads, to some he was a father figure. And he has walked out on his house with his mates abandoning the family he built and supposedly loved. When I watched Elliott on Sunday, his manner towards Laws was one of a child who doesn't want to be with their adopted father. Sounds daft, but that's how I saw it.
OC ripped the heart out of the club, and only a manager with exceptional people skills could lift these lads. Brian Laws is not that man. He is a manager. End of. There is no bond there, the band of brothers seem lost without their father. No matter what he does now, Laws is on a losing battle.
These lads need lifting and now. I tried my best from my seat in the Jimmy Mac Lower, screaming encouragement at them whenever the came near me. I tried I really did.
As I sat on the plane home, these were my thoughts. They may seem sentimental and foolish. But I love my team and I love these players and I hated seeing them like this. No matter how professional we think they should be, when I saw those boys after, the reality that they are only human after all like us kicked in. They feel the hurt, the pain from January. And I believe the feel they are letting us down, but like any depressive can't lift themselves to do what needs to be done.
And with the glory hunters now starting to drift away and scream blue murder at every bad pass, the task of lifting them is getting harder and harder.
I live just a few miles from where Jimmy Mac was born, and I am Claret and blue forever. Proud of everything and everyone associated with my club. No matter what division we are in, I will stand by them. And try and lift them when I can, I advise others to do the same.
As I watched the big screen before the match as it flew through a montage of memories from the last number of years, I felt nothing but passion whilst at the same time teary. They were tough times, and unlike our neighbours down the M65 we worked honestly to get where we are. Now the lads who worked hard to get to the promised land and should be enjoying it, look like they now can't wait to get out of it, and I fear leave the family forever. As a club we think we have risen from the ashes of January, but we all know that it's not that simple, even at a football club. We all still feel the pain, if we are honest we still look at Bolton's results praying they fail, even though they will survive.
Right I'm going. I know I went on there, but I just had to share these thoughts with you. It's important not to keep these things to ourselves. Oh one more thing. Am I the only person who thinks Coyle will go to Celtic in the summer?