He's been with us for just over three weeks and he has had lots to do in preparation for the new season. "Hectic is probably the one way of describing it, it has been a fairly busy time to be honest but it has been enjoyable so far," he told us.


"The hardest thing is trying to bring players in especially if you want to bring good ones in because the players you want to speak to, the chances are three or four other clubs want to talk to them.


"It would have been nicer to have had a couple more in by now but one thing I would say is that we are closer to two or three of them, certainly closer than we were a week ago."


Besides trying to sign players he has been putting together a backroom team as well as organising pre-season and added, "Other than that all of the pre-season and all of my staff is more or less nailed on, apart from the games away in Austria that needs a bit more putting together with kick off times although we have probably got the dates."


Was it daunting we asked him? "No, it wasn't daunting although I didn't relish putting together pre-season because that ends up being a lot more hassle than you want. There's too much to sort out to get a game on but in the end we've done it and we've got there and we needed that.


And onto the burning question of players and in particularly new players. With one player in could there be any news of more new signings?


"Over the last three weeks there has been lots and lots of ground work done with the players that you hope comes to fruition. It was the same with John McGreal, he took three weeks because I had to see him and then he went on holiday and then I saw him again and then he had another holiday so it takes time.


"I'm second and third meeting down with a couple of players now and have another first meeting over the weekend so that's probably where I am up to with players.


"We won't be bringing in a lot of players, that's a sure fact. We've got to put together a team before we can put together a squad but I don't want to bring in lots of players that I don't anticipate will be good enough and we'll then be changing the team every five minutes.


"At the moment if you are a supporter you might be thinking I haven't brought too many new signings in. It is hard to bring good signings in, there is more to it than meets the eye. But I want to bring good ones in. I could have brought six new players in by now but I couldn't have told you whether they would have been playing every week."


And what about the players he has inherited. "They are good lads, I have absolutely no problem with any of the players that I have inherited at all. I probably wouldn't have had any problems with those who have gone. They are a good set of lads from what I can gather.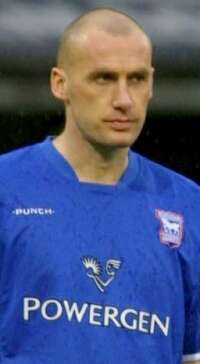 John McGreal - took three weeks to complete the signing

I'm sure they have spoken to plenty of people about me and as any manager would do I have done my homework on them. So I'm looking forward to it, looking forward to seeing them and looking forward to getting started and to get out of the office.



"I've spoken to some of them – Mo Camara, Lee Roche, Tony Grant, Richard Chaplow and Brian Jensen. The other boys have been away on holiday and I am looking forward to them getting back so I can get to know them as people.



Trips like Austria are important otherwise they come in and go home and you don't get to know them. There is so much more to it, they are people and not just footballers."



It is less than a week to the start of pre-season but Steve would have liked a little longer before bringing the players in. He told us, "I would like another week because it might just give me a bit more time to get players in but we don't have that luxury. I have been chasing my tail since I got here. In fact I would like two weeks because I would like to have a holiday for a week but I don't think that is a possibility."



There is a concern amongst supporters that there just won't be enough players but there were no real assurances from the new boss. "No I cannot do that, I won't ever give people false promises, I'll never do that while I'm here. If we had a budget double the one we have got then I could but we haven't.



"But with the eleven we put out and with the backing of the crowd, home and away, it will always give us a chance."



One team he has got in place is his backroom staff with the introduction of four new personnel. "I am delighted with the backroom staff, absolutely delighted. You will see they are good honest and hard working boys who I am sure will be appreciated."



Most managers value a good, strong relationship with the Chairman and Steve is no different. "Absolutely it is important to have a good relationship with the chairman," he said. "I have a good one, unless you can tell me any different, but I've not had the chance to talk to him too much because there has been a lot to do."



It is Sheffield United on the opening day of the season and that was met with a positive reaction. "It is nice to start at home, and a great game as well with Sheffield United who have been up there now for the last few years. It is a good measure for us, not as though it means too much but it is a good measure.



"Although some times things don't come together in pre-season for some teams we will get to see Sheffield United and Rotherham before the season starts as part of our preparation."



Steve Cotterill has worked at small clubs and at bigger clubs with new stadia so what about the facilities at Turf Moor and Gawthorpe is he impressed?



"There are a lot of similarities between Burnley and Cheltenham when I first went back other than Burnley are massive compared to Cheltenham. When I look round we have two fantastic stands and two that are not so fantastic.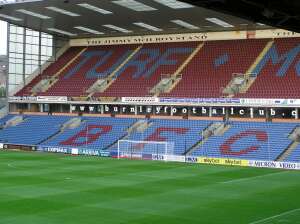 Jimmy McIlroy Stand - one of the two impressive stands

"Impressed, half of it I have and half I haven't but it boils down to money but we do need to decorate some areas around the ground.



"We have someone who has donated new showers, toilets and washbasins and we have someone who is going to come in and fit them all for us for nothing.



"How terrific is that? It hasn't cost the club a penny. I am interested in doing things like that. I want it to be a nice place and comfortable, clean and tidy. I want things to be proud of."



There's been much discussion about the club's youth policy recently and that it is to become a priority.



"I've just got all the figures and facts for the youths, all the finances and budgets that I need to take away and look at to see what we are doing and who is doing what because I haven't had time yet.



"I'm big into youth players if they are good enough. We also have our jewel in Chappy but I wonder if there are any more and that's what I would like to look at. Two names I can mention from previous clubs are Michael Duff who went on to win three caps for Northern Ireland while at Cheltenham and Kris Commons at Stoke who is probably going to move to Nottingham Forest. If they are good enough they will play.



"I haven't seen Terry Pashley coach so I don't know what I'm looking at yet. Some of the youngsters might be good enough technically but are they tough enough mentally to go out in front of a crowd and do it?



"That's the other thing, that's where Richard Chaplow has shown that he is mentally tough enough. You haven't just got to be physically tough enough because if you look at him there is hardly anything of him but we will see if we can sort that out this season because we need Chappy to be bigger and stronger.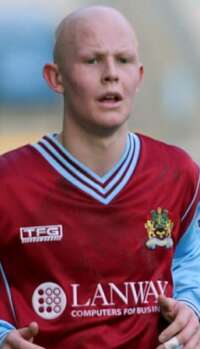 Richard Chaplow - mentally strong enough

"If we play a Premiership team this season and we stand in the tunnel alongside them they will be bigger than us without a shadow of a doubt. They are bigger and stronger athletes."



And what about the expectations of the supporters. "I don't know what the expectations are, I don't read web sites and I don't think they are actually a good thing believe it or not. We have to stay focused in what we are doing.



"I certainly don't like the message boards because sometimes malicious gossip goes on which I don't think is conducive to trying to getting a good club. People come in and say this and that. But to be honest I wouldn't have time to read it.



"I don't mean anything personal about web sites though, otherwise I wouldn't be talking to you now. And if it raises money for the club, as yours has, that's terrific."



And finally will it be Steve Cotterill's or Stevie Cotterill's Claret & Blue Army. "Anything, whatever they want to cheer, to hear that would be fantastic for me. I've only been here a short time but I love it, the people here have been fantastic.



"I will succeed here because I have dedicated the job to my mum and I'll leave no stone unturned until I do succeed."



And then it was back to the task of trying to bring new players in with almost instant dividends with news that a deal has been struck to bring in his second signing.