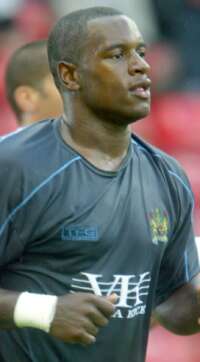 Delroy Facey - arrived on loan from Horwich
And so it was that September began with a number of Premiership players being linked with loan moves to Turf Moor.
Added to the usual suspects, Peter Crouch and Dion Dublin were a couple of new names such as Wayne Allison and Matt Elliott. And just for a laugh, somebody threw the name of full-time loafer and burglar-basher Duncan Ferguson into the hat. And no you are absolutely right, I wouldn't say that to his face.
As is usually the case with rumours, none of these moves materialised. In the event we loaned a couple of players from a club a lot closer to home than the likes of Aston Villa or Leicester City. Delroy Facey and Gareth Farrelly both arrived from Bolton Wanderers for a month. That was the good news. The down side was that Burnley Football Club's best player would be going in the opposite direction for the same length of time.
Supporters were told that Glen Little had gone to the Reebok for footballing rather than financial reasons. It was a decision that struck many as strange to say the least. How could it be to the Clarets' benefit to loan out their talisman in exchange for a couple of players considered surplus to requirements at Bolton? The squad may have been strengthened numerically, but what about in terms of quality?
Two days later, Stan loaned a player from a club even closer to home. No, not a return for Paul Cook from Accrington Stanley, but Andy Todd from Blackburn Rovers. With David May working his way back to match fitness it was expected that Andy Todd would partner him at centre-half for the weekend's trip to the Britannia Stadium.
Meanwhile, as rumours about Dion Dublin persisted and trialist Nicky Summerbee left the club to take up a contract offer at Bradford, there was news of a crowd favourite leaving the club for a stint in the capital. There is no doubt that "King" Arthur Gnohere's crown had slipped in the months leading up to his month's loan to Queens Park Rangers, but questions have to be asked about how he had been treated. Comments form the manager such about him only being injured between his ears, having his head up his backside and the frankly embarrassing "He's French" cannot have helped the confidence of a player who was, by all accounts, homesick. Nor can being in the side one minute and inexplicably dropped the next. He has since been described by QPR's manager, Ian Holloway as being their best player. Draw your own conclusions.
Burnley's first game in September took place at a blustery and rainy Britannia Stadium. There were debuts for Farrelly, Facey and Todd as Burnley played some of their best football to date, emerging with a thoroughly deserved 2-1 victory over Stoke City. May and Chadwick got on the scoresheet, the latter after an excellent flowing move from the Clarets. It was the start of what was to be a good month for the Manchester United loanee. Despite the fears of many, referee Mark Cooper (a.k.a. "Cooperman") had what must be his best performance in a game involving Burnley. Stoke supporters may disagree though, as Carl Asaba was dismissed for a ridiculous challenge on David May shortly after pulling a goal back for the hosts.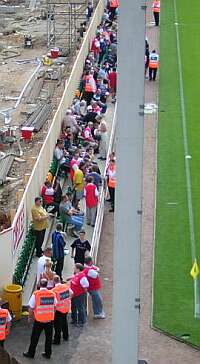 The away fans accommodation at Norwich
In the middle of the following week there was to be more good news for the claret and blue faithful, with news that promising local youngster, Richard Chaplow had put pen to paper on a three year deal with the club. "I'm looking forward to spending the rest of my years here", said Chappy. If he realises the potential he has shown so far in his short Burnley career, then that will be great news for all concerned.
Next up was the daunting away trip to Carrow Road. Not many Clarets were able to make the trip as only around 300 tickets were available to away supporters, due to Norwich re-building one of their stands. Those forced to stay in East Lancashire were the lucky ones as the travellers saw Burnley slip to a 2-0 defeat. That having been said they scarcely saw anything at all, due to the abysmal accommodation on offer. Burnley's supporters were charged £15 for the pleasure of sitting two feet away from a building site, with a pitch –level sight-line. Suffice to say that all-in-all it wasn't a good day.
Nor was it a good day for Glen Little who suffered a groin strain at the Reebok which would keep him out for approximately three weeks, putting on hold his dream of playing Premiership football for a short while.
On the 16th, Nottingham Forest came to Turf Moor. Due to a long injury lay-off for David Johnson, recently departed Gareth Taylor made an emotional return to Burnley. Before and after the game, Taylor was well-received by the home crowd who showed their appreciation of the big man's efforts during his time down Harry Potts Way. Unfortunately, Taylor didn't repay us very well, scoring Forest's third in a 3-0 victory for the visitors. Paul Hart's side provided a fine template of what a good first division side were made of. Frankly, we were miles behind.
The following day brought more bad news. This time from the Horwich Reebok where Sam Allardyce was suggesting that he would like to keep Super Glen on a permanent basis, and was prepared to move on other players in order to do just that. But before anybody got too excited, any thoughts of Farrelly and Facey staying at Turf Moor was immediately knocked on the head because of the size of their wage packets.
Meanwhile, football's pariahs, Franchise F.C. were given the go-ahead by the Football League to re-locate to the National Hockey Stadium at Milton Keynes. Not only that, but shortly before Burnley kicked off against Bradford City, news filtered through that any Burnley fan wishing to give their blessing to football franchising would be charged a staggering £25 for the honour.
The bitter taste this left in the mouth was somewhat sweetened by a 4-0 thumping of the Bantams. After a poor opening 40 minutes, described by one as, "two bald men fighting over a comb", Robbie Blake set up Ian Moore to give Burnley a half-time lead.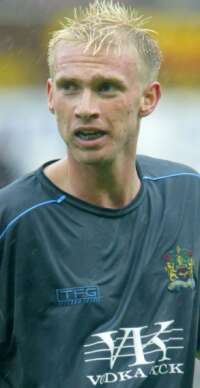 Luke Chadwick - two goals against Bradford
The second half saw Burnley's best 45 minutes at the Turf this season as they ripped apart an abject City side. Blake, Farrelly and Chadwick were the architects-in-chief. Chadwick bagged himself a brace whilst Blake rounded off the rout with a nonchalant flick with the outside of his boot against his former club.
The Clarets received a boost ahead of their Carling cup trip to Scunthorpe with news that all three loanees had been cleared to play by Bolton and Blackburn. Burnley won through 3-2 at Glanford Park with Blake, Chadwick and Ian Moore all making it onto the scoresheet again. But by no means did the Clarets have it all their own way, as a spirited Scunthorpe outfit managed by former Claret, Brian Laws were in the hunt right up until the final whistle.
Ahead of Burnley's trip to Milton Keynes, chairman Barry Kilby had expressed his outrage at a meeting of Division One clubs in Oxford, that supporters of his club were expected to part with £25 to gain access to the National Hockey Stadium. After negotiations with the relevant parties, Kilby was able to get the game re-graded, meaning that those who travelled to the land of the plastic cows would be eligible for a £4 refund on their tickets.
The 27th of September 2003 will go down as a black day in the domestic game's history, as franchised football kicked off in Milton Keynes. Enough has been written on this site about the wrongs of franchising without this article raking over all the old arguments. Unfortunately, the Clarets were unable to put the mockers on Franchise's big day. A brace from Robbie Blake gave Burnley the lead, but the "home" side were able to pull level after David May's dismissal seemed to plunge the Clarets into chaos.
On the same day, we found out our reward for dispatching Scunthorpe in the Carling Cup was to be a trip to Wolverhampton Wanderers in the next round. Burnley fans struggled, but failed, to come up with a less appetising draw.
Meanwhile, one flight up at the Reebok, Glen Little had been given a quarter of an hour to show the Premiership what all the fuss was about. Glen being Glen, he did just that as he swung in a cross from the right which allowed Kevin Davies to score a goal which earned a point for the Trotters against Wolves.
The month closed with the news that Glen would be stopping on at the Reebok for another month, with both Farrelly and Facey staying at Turf Moor for the corresponding period of time. The Clarets finished September in 11th place, four places up on the end of August, but with some teams having as many as three games in hand on Burnley.