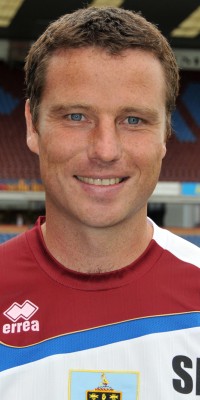 Steve Davis - will take charge against Stoke
The man notoriously known as God in these parts has set sail for pastures new, in pursuit of bigger things. As deceit now engulfs our two year love affair with Owen Coyle, we find ourselves in a position where we will entertain Stoke this coming Saturday in the hands of Steve Davis, who, with his 100% managerial record on the line, will be determined to re-unite what must be a rather bemused set of players, and strive for another vital 3 points.
With midfielder Stuart Holden reportedly arriving this week for a trial with the club, and young Irish defender Kevin Long joining up with his new team-mates just days prior to his exit, the timing of Coyle's exit has provoked many questions, and a feeling of betrayal like none other in my time following the Clarets. I for one am not in a position to speculate whether Coyle's claims regarding the policy of developing younger players, and building for the future were all a stunt to acquire a reputation in a never more competitive English game, yet the only thing which appears to have suffered here seems to be Coyle's credibility.
The name 'God' was endowed onto Coyle after several Premiership scalps in last year's league cup, and escalated after our fairytale promotion to the Premier League, and yet, the man who 'created' God and gave him the opportunity to thrive, our own Chairman Mr. Kilby , evaded many of the accolades. Where opting for the safe bet seemed most likely in November 2007, our directors and particularly Kilby gambled on a raw unproven talent, and reaped the rewards. My faith in Kilby to drive this club forward has never been stronger, and his suggested abstention from succumbing to Coyle's 'need' for a larger budget must be admired. We are so lucky to have a genuine supporter at the helm, who cares about the short, and long term future of the club and I am positive he can appoint the right man once more.
So, take your Owen Coyle masks down from the fridge door, and cast them into oblivion (or your recycle bin), as we are Burnley football club, not a one man show. Let Coyle bask in awe at the flowing attacking football, orchestrated by Kevin Davis and Zat Knight. Let Coyle compose his tactics on the touchline of his new stadium, while he struggles to hear his own pretentious conscience amongst the monotonous banging of a drum. And let him splash the cash, in the knowledge that the moment one fan speaks out about his performance, Gartside will crumble under the pressure, and dismiss him - purely on footballing grounds of course. I do not begrudge you any fame, or fortune which may await you, but at the same time I hope the Bolton fans learn from our mistake, and don't allow you to worm your way into their hearts, only to flee at the first sign of success.
On one final note, I have a wildcard prediction for you all, regarding our new manager. Take a look at the front of your season ticket book. It appears that Martin Jol has already been lined up.