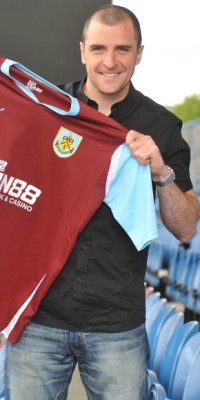 Dean Marney - will help protect the defence
All seem agreed that we cannot afford to defend in the Coyle/Davis manner, even in the Championship. Brian Laws recognised this and tried hastily to patch up the problems but matters did not improve. So now is the time we have a chance to school a strong, tight back four and a mid-field defensive unit to plug the leaks.
The World Cup has revealed how young, mobile, fit defenders and midfielders can frustrate the best individual players and best teams in the world. These players were not the strong, large, good headers of the ball such as Caldwell and Carlisle who were too good for the likes of Sheffield Utd, but woefully lacking against the mobile, fast passing game of the likes of Arsenal, Man City, Spurs, Chelsea and Man Utd. The best defences of the World Cup type last season were Stoke and Birmingham - not pretty but very effective. So who do we choose for the coming Championship season?
We bemoaned our luck about the many deflected goals we conceded last season. How many did we see in the World Cup? - Relatively few I think. The reason was that the World Cup defenders moved quickly towards the shooter, fully blocking from less than a metre's distance. Our defenders such as Carlisle and Jordan tended to stand still a few metres away and consequently deflected the shots past poor old Brian who got more and more dispirited. Of course, it is not just the back four who were guilty. The defensive midfield unit also needed to be similarly sharp. Unfortunately, Alexander, Bikey or McDonald weren't that sort of player. Most people who were there, thought that Duff and Edgar performed admirably at Old Trafford with both being brave, Edgar showing sharpness and speed at closing down and Duff defending well in the air. These two plus Bikey seem to be our best candidates for the two central places. There will be occasions when we might need Carlisle or Cort but surely not together.
In the midfield our players were complimented on Match of the Day for getting back to defend but castigated for only standing and watching when they did. Alexander ran alongside, Bikey ran behind, the rest (McDonald, Blake, Eagles and to a lesser extent Elliott) simply stood and watched as teams ran round them, seemingly afraid to give away free kicks and penalties to the super divers and cheats. I exclude Paterson who always made a challenge on the right hand side. Let us hope that Marney and McCann will give our back four much more active protection.
Brian Laws saw we had problems and his answer was to draw into the centre his full-backs to cover the centre-halves. This left acres of space for Valencia, Damien Duff, Walcott, and Johnson to have a field day. Of course the full-backs got blamed but that space should have been covered by the wide midfielders which Blake and Eagles in particular were never able or suitable to do. With a more solid defensive midfield unit and more mobile centre-halves our full-backs can be released to patrol these areas and Fox may be able to show his worth. The signing of Wallace should complement Paterson or Elliott's efforts on the other side and help Fox enormously.
With the emphasis on plugging the gaps, can we still create? Birmingham and Stoke sacrificed much in that sphere. The lesser World Cup sides showed the same failings, leading to a dearth of goals and attractive play. The best teams can do both but can we? Well, we have speed in midfield from McCann, good wide players from Paterson, Wallace and Elliott who cross the ball well, so let us hope our strikers can convert. If Eagles stays, I would give him a free role behind the main striker. Relieved of the duty of tracking back and waving a weary leg as a poor excuse for a tackle, he should have energy to roam and play where he feels the action is. He would need to run beyond the striker on occasions as a goal opportunity is created. He could be very good there.
It was famously said that "You'll never win anything with kids". However, it is time to introduce younger blood, not kids, into our team and sadly see some of our more established favourites take a back seat. The likes of Eckersley, Easton, Edgar, Rodriguez, McCann, Fox, Paterson, Bikey, Marney and Wallace have to become the backbone of the team. Smooth transition isn't easy but many of the above players have experience and relative youth on their side and could support one or two inexperienced players. The list makes me hopeful that our immediate future is bright.