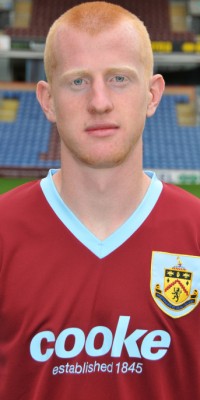 Richard Eckersley - one of the signings for the future
My opinions reflect a much more profound, more visceral change that has occurred this season.

I expected relegation. Before the season started I got a lengthy airing on 606 espousing my views on our prospects for the season. Relegation I said, principally for two reasons. First, I thought our tough start would knock out any post-promotion euphoria and playing catch up would be beyond us (how wrong I was there).

Second, Owen's signings. For the most part, they looked to be for the future, Mears and Fletcher excepted, and would enable us to build a young team capable of making another sustained attempt. (I think I was right, that they were not signings for the Premier League but, unfortunately, I fear, I might also be proved wrong about that and they will not feature in the club's future.

19th August 2009. What a birthday! Lunch sitting outside in the sunshine overlooking York Minster. Not bad in anyone's book, but a mere starter to the main course. I am sure that we all have our own personal memories of that great night. Mine? Phoning my son, who was watching in a bar in the States, so he could listen to the atmosphere at the final whistle first hand. The noise was so intense that I never got to speak to him. For the sake of any non-Burnley supporters, it was Burnley 1, Manchester United 0. Yes, Burnley 1 United 0.

Results came, at home at least, and away from home, most certainly went. Blackburn away. Expectations high. Robbie Blake scored. Expectations realised? Surely this must be the day the jinx was broken? Back to reality. Expectation dashed yet again. Another Burnley away day.

Next up, Wigan at home. For someone who spent his earliest years within walking distance of Springfield Park, and whose family still live close by, it was more important than most. I can not recall seeing anything approaching a half decent game against Wigan, but with both in the Premier League, perhaps I could hope.

After a half decent start some familiar comic book defending from Burnley handed Wigan the easiest goal they will score all season. It is good to see that, even though we have reached arguably the pinnacle of world domestic football, the old traditions do not disappear and we can still defend like a Sunday morning pub team after a night on the tiles.

Back we came though and at half time it was all square. I recall my brother saying that Wigan were there for the taking. He is less of a fortune teller than me and Wigan ran out fairly comfortable 3 1 winners. What struck me was not the defeat but the difference in quality.

Wigan are not a good team. In fact, if we had any chance of avoiding the drop, they would be one of the teams that we would need to see down there. What frightened me was that they had something we did not have. Big, athletic, physical, fast, powerful players, with more than a little skill. Not many it must be said, but enough to confirm the paucity of our squad. Enough to confirm that a tough task was even tougher than we had thought originally.

On to Everton and Goodison Park. I still remember sitting in the Cantilever stand watching a youth cup game in 1968 and thinking I would fall off and onto the pitch. My memories are not so much of the game, although we deserved more than a defeat, but of the quiz in the local pub that evening.

Sitting, wearing my Burnley shirt with pride despite the injustices of the day, to be confronted with the question "which football club is Owen Coyle the manager of". In a season short of laughter, perhaps the season's lightest moment.

Milton Keynes away. My sister Margaret is proud and has a long memory. Not for her to add respectability to the concept of franchise football by gracing the windy bowl with her presence. Instead, she relied upon a text from me at two-nil up of "jingle bells, jingle bells, jingle all the way, oh what fun it is to see Burnley win away".

"A bit early for that" she responded. She was nearly right. A late Milton Keynes reply and suddenly all the nerves and, probably by now shattered confidence, returned. A 2 1 victory was achieved, but by the end we were clinging on by our finger tips in what was to become Owen's last game. The deterioration since the heady days of August was there for all to see.

Owen, off to pastures new and the new man eagerly awaited. Steve McClaren was my first choice. When the likely candidates emerged, it was clear that I had allowed the euphoria of Premier League status to increase my expectation levels to unsustainable highs and as the realistic candidates emerged, it was clear more modest fare was on offer in line with our real status.

Was Brian Laws my first choice? No! Nor was he my second or third choice. When did I change my mind and realise that he might not be such a bad appointment and that all was not well with the world? Manchester United away.

Brian's first game in charge. An immediate change of tactics. Having realised how weak we were through the centre, he pulled the full backs in, allowing United wingers acres of space. Acres of space when they could do nothing, with the threat of the early ball in nullified. Let them have the ball, then move out to them thus giving the defensive midfielders time to drop back and cover the gap in the centre. Half time came and a rare event. No goals conceded. Hurrah.

The criticism of the manager on the concourse was beyond belief. Nil-Nil against Manchester United away and his tactics were being slated by some. I know a few fans had made their displeasure with Brian's appointment clear on message boards, but surely they were not real fans. Surely he would be given a chance. Surely he was not being hounded out after 45 minutes of frustrating the reigning champions? I was wrong again. He was. Something was not right.

I assume that when Owen went to Bolton the gene that resulted in the ridiculous treatment that their fans handed out to Gary Megson must have been part of the compensation package and had come to pollute certain sections of Burnley Football Club. I have still enjoyed the football despite the increasing frequency of defeats but the atmosphere, particularly at home, has gradually become more and more sullied.

Wolves at home and encounters with two of the most obnoxious people I have ever encountered. Having defended more than the odd criminal in my youth, I have met some obnoxious people and these two are up there with the worst of them.

Two rows behind me sat a particularly foul mouthed individual. He was intent on spending the entire game loudly criticising every element, with each and every individual mistake being laid at Brian Laws' door. Far worse than that was another individual calling me a word I reserve for my worst enemies and threatening physical violence just for supporting my team.

I can live with odd idiots like those two and you can not judge the majority by the actions of such people. What did upset me though was the thought that this is not an isolated case but is just the head of an increasingly rotten fish. I do not know the views of the majority. I do know however that there is an increasingly sordid and ugly atmosphere in the ground and on message boards has replaced the early season camaraderie and is spoiling what should be a special season.

Certainly, defeats are hard to take, relegation is harder still. I have seen more than enough of both but never, never, have I experienced the level of negativity that now consumes the fans.

Football has always been a matter of opinions. That is part of its beauty, part of its appeal. The game would not be the same without it. Opinions, given honestly, received openly. Opinions, agreements and disagreements have consumed more hours of my life than is healthy, Vitriol, insults and in some cases near hatred should not be confused with opinions though.

I will still be there next season, the fixture list still dominating my social life. I will still cheer my team on. I will still feel elation when we win, despair when we lose. I will still question team selections, tactics and every other facet of the game.

To end with another music analogy. In the words of Don McLean, the day that Buddy Holly died was the day the music died. My love affair with Burnley is not yet not over but, even though this season should have been the worth all the earlier heartaches, the atmosphere is such that something inside has died.