The atmosphere at Northern Ireland games is something else. This was my third game at the Windsor and every time the experience has been better than the last.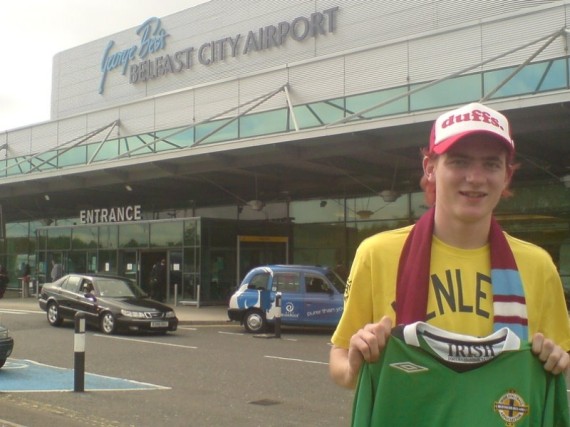 Arriving in Belfast for the Liechtenstein game
My first trip saw me sat in the 'Viewing Lounge' in the corner of the ground. It's sort of like the James Hargreaves suite at the Turf - just smaller, less executive and with a poor view. It's in the small Railway stand behind the goal, but right across from me, behind the opposite goal, was the big Kop stand. Two or three times bigger than the Railway stand, the single tiered Kop produces an amazing atmosphere. Even from behind glass at the other end of the ground it was plain to see that was the place to be. At several points in the game, the whole stand 'did the bouncy' and jumped in unison - what a great sight that is. Norn Iron won that particular game 1-0, I don't think I need to tell you who scored.
For my second trip I obtained tickets through a contact in the North of England NISC (Northern Ireland Supporters Club) and got my place in the middle of the Kop. The atmosphere was brilliant, although it perhaps could have been better if the game had not been a meaningless 0-0 in a friendly against Wales.
This time, though, everything was right. My first two trips across the Irish Sea have been pretty short. Both times I went alone and came back early the morning after the game. This time, though, one of my best friends Hannah came along for the trip. She didn't come to the game, but it meant that we could stay in Belfast longer the following day.
We were flying in to Belfast from Leeds on the afternoon of the game, then coming back in the afternoon of the following day after spending the day in Belfast. I had it all planned out and all the details were on paper in my bag, I'm always too worried of anything going wrong, but when we got to the Travel Lodge in Belfast centre, it almost did.
We got a 'Value Cab' from the airport, although it turned out to be anything but that, I'm sure that we were overcharged, the lady at the airport said a taxi fee to the Travel Lodge is usually about three pounds yet it cost us nigh on nine. Stepping up to the counter in the Travel Lodge, I told the large woman at the other side my name.
"Kev Robinson" I said, which was met by an invitation to wait a minute while I was found on the computer and checked in.
"No, sorry. Can you spell your last name, please?"
What?! For a moment my heart sank and I began to get worried.
"R-O-B-I-N-S-O-N" I spelt out. Again the check-in lady explained I was not on the computer. "But I booked it weeks ago on the computer" I protested, looking round at Hannah, who looked almost as worried as I. Fortunately I was prepared. I had printed off my booking reference from when I booked the room, so I pulled it out and handed it over.
"Ah right," she now said with a smile "You're here, your name appears to have been mixed up, I'll just sort it out then you can sign yourself in." That Belfast accent seemed a lot warmer now than it did a second ago. For a moment I thought we would be sleeping on the streets- there would have been no chance of us finding somewhere else at such short notice on a night when there was a big football game and a music festival.
A momentary scare but at least we were finally in our room. The lift wasn't working still but at least we were only on the first floor (last time I was at the top with no lift). Our view wasn't bad, we had a nice window onto the bar outside where people were coming and going all the time. TV, kettle, shower- it wasn't a bad little room at all, although it shouldn't be for £60 a night. Talking about high prices- we had a look at the breakfast menu before deciding we would look elsewhere for our morning wake-up meal. Seven pounds for a cheeseburger and chips, six for a slice of chilled Melon and cream, six for a bowl of cereal and toast.
By now it was almost five so we headed out to the 'Little Italy' pizzeria around the corner. I'd been taken there last time by the NoE NISC lads and fallen in love with it. I'm a big pizza fan anyway but the pizzas from here, made in front of your eyes, were by far the best I've had. I had a pepperoni and Hannah had a ham and we ate them back up at our room before going for a walk round the city.
But soon I had to leave her behind and head off up to Windsor Park. The ground, I suppose, is a little like Turf Moor. It has two big stands, and two smaller, more run down stands. Even the bigger stands are looking old now though and it is obvious that the ground is in need of investment.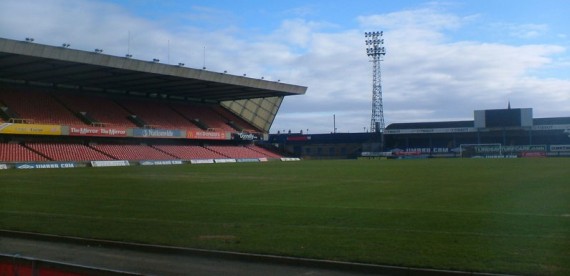 Windsor Park - in need of investment
Unfortunately, it seems that a new national stadium is going to be built at the Long Kesh, Maze Prison site. I find it very difficult to find any argument for building the ground there. On a personal note, it already costs enough to get to games as it is, but with an out of town ground I might not be able to afford to get to games. It's not like there are any alternatives, several have been put forward. And although it does not look good, the Green and White Army will keep on fighting to the end.
I could easily go on for hours about the 'white elephant' but I think it's better if I leave that for now. After picking up my ticket from the guys, it was off through the turnstiles and into the ground. This is always a slow process, there are about 7 or 8 turnstiles for the two biggest stands, and with everyone wanting to get in at once it can get rather tedious. Last time, this lead to me missing the start of the game so I made sure I was in earlier this time.
Duff and Lafferty were both in Nigel Worthington's first line-up since replacing Lawrie Sanchez and national team boss, and just five minutes in Lafferty was heavily involved as who else but David Healy put us ahead. He cleverly kept possession of the ball despite challenges from several defenders, before playing the ball into former Blackburn midfielder Keith Gillespie to cross to he who does not miss. He could have had a goal of his own too with a near-post header, which he should really have done better with from about a yard out with the goalkeeper nowhere to be seen.
After Healy had added a spectacular second, Lafferty was to get a goal of his own. His brilliant volley after an intelligent chest and turn was his first at the Windsor and as he celebrated in-front of the Kop, his delight was easy to see. As soon as the ball hit the back of the net, by Burnley scarf was high in the air in celebration. I had nudges and smiles from fans around me who I had been telling about me being a Claret. How proud I was to see a player that had progressed through the youth system at Burnley score on the international stage. The game finished with Northern Ireland two goals better off than Liechtenstein, after the minnows managed to slaw back a goal to make it 3-1 but the three points meant that Norn Iron were now back up to second in the Group F table.
The atmosphere was immense. I can't start to describe it, think Blackburn away in the cup a few year back when Micah scored that fluke. From half an hour before the game, to the national anthems (which incidentally were both the same), the whole first half, half time, second half and for a long time after the game the Kop was a cauldron of noise. I think if Alex Wood (Burnley safety officer) had been there he would have been in Belfast Hospital by the end of the night, everything he stood for was being broken.
I didn't sit down once, there were megaphones, musical instruments, flags, streamers, cards, foam hands - everything.
The morning after the night before and you could still feel the buzz in the City. We didn't get to bed till past midnight, but were still packed and out for 9. We had spent the night watching 'Dan and Becs'- a video blog style show on Irish TV which was surprisingly quite entertaining. We had until 3 to do as we pleased now (our flight left back to Manchester at 4).
We decided to go for a bit of shopping and food in Belfast centre, before relaxing in the grounds of Belfast City Hall, whilst reading the days Belfast Telegraph.
It's a beautiful city. We were both surprised by how clean it was, not a bit of litter anywhere and all the buildings and streets seemed clean and new - not grotty like you get in most places. In contrast to Burnley, where the town centre is dull and populated by people walking about with faces like their cat has just died, everyone you saw seemed to have a smile on their face. The Town Hall in particular was really nice. As it was such a nice day, it was full of people, the benches and grass were full.
But out time was up, we were soon in the air on the way back to England. We'd both really enjoyed our stay in Northern Ireland and I can't wait till I'm over next.