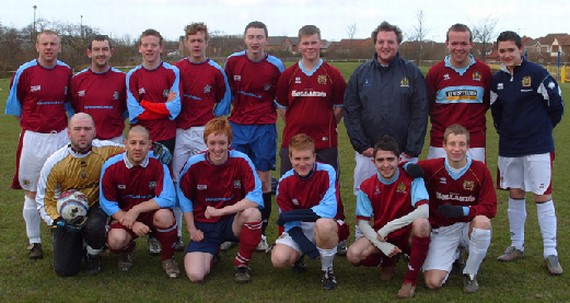 The team ahead of the game
It was the supporters' team, although we came out with a lot more credit in the morning than the first team did in the afternoon.
Deep in mid-December, Preston became the first ever opposition for the Burnley FC Supporters Team, travelling to play us at Towneley. A 6-1 win might have flattered the visitors slightly but they were very much superior to us in all fairness.
To defend our team that day, they had only met each other a matter of minutes before kick-off and North End had just recently celebrated their 100
th
game together. On top of that they are the reigning IFA League Champions.
Today though, a host of training sessions and an away game at West Brom later, we were much better prepared for the battle. Six players remained from that first game- and all were in the starting eleven. Those were Tom Henderson, James 'inchy' Wynne, Ste Wynne, Ged 'oghani' Stephenson, Ged Isherwood and Andrew Wilson. We had to do a bit of chopping and changing with the team. Regular centre-back Marv was out ill so Inchy came into the centre from his favoured position on the left. This meant right-sided player Ged covered at left-back.
We went with a sort of diamond formation - Willy and Oghani were in centre-midfield but with the former dropping back more often to help out defence. Benn 'tudsy' Taggart and Hendy were up top - Tudsy playing a more attacking midfield role.
The conditions were not the best, the wind was right behind Preston and this was giving them a clear advantage. Indeed, it was very difficult for us to get the ball out of our own half for the first few minutes. It wasn't a surprise when Preston took the lead. One or two defenders were caught too far up the field and we were punished. They scored another soon after, with a massive stroke of luck as the wind seemed to blow the ball off path of goalkeeper Will O'Neill who fumbled the ball into the back of the net.
From that point we grew stronger and towards the end of the half Bezwick managed to pull a good goal back for us. At 2-1 we were very much back in the game and were playing our best football of the match. At the break we had a chance to discuss what we had done well and what we could do better and hopefully take the game to the home team for the second half.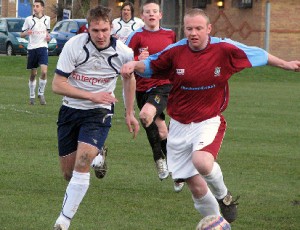 The Burnley team on the attack
Due to our makeshift defence, and a lack of anybody with any strength up top, we were forced to play much further back than we would really have liked to if we were to have any chance of withstanding the pressure that Preston were putting on us.
We were continuing to play some good stuff and were unfortunate to be denied an equaliser thanks to a top save from their keeper. It was Preston who would get the next goal though to restore their 2 goal lead. We continued to press though and Ste pulled us a goal back but legs were tiring and their squad size was paying off with them being able to bring on many more fresh legs.
What we need really is another centre-back to provide cover for Marv and Dazza and a target-man upfront. Our three strikers at the moment are all the same type of player, somebody who likes to run off a big strong partner, which we just don't have. None of our attackers really have a physical presence either which means the midfield and defence come under more pressure.
So it finished with a 3-2 defeat but we were certainly not disgraced by any stretch of the imagination. Preston are an extremely good team, one of the best fans team in the league. Their players had nothing but praise for us after the game. Steve Cowell, their manager, said that we are light-years ahead of where they were at this stage, and that we would definitely be in the playoffs if we get a good number of games in next season. A great compliment indeed.
I think both teams really enjoyed the game and enjoy playing against each other now and we will certainly look forward to the next encounter between the teams.
Team: Will O'Neill, Ben Murphy, Ged Isherwood, Darren Stephen, James Wynne (Andrew Greaves), Andrew Wilson (Thomas Ellacott), Ste Wynne, Phil Berry, Ged Stephenson, Benn Taggart (Pete Davis), Tom Henderson (Martyn Robinson).