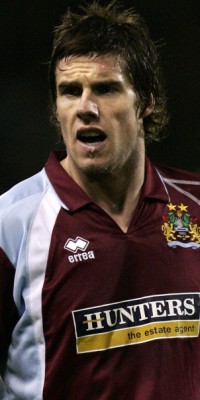 Andy Gray - scored twice in the 4-1 win at Norwich in October 2006
Aside from victories in cup competitions, which have been excluded for the purposes of this article, there have been some very memorable seasons on the road, and some rather forgettable ones, during this time. The best return, ten away league victories, were achieved during the 2001-02 season, including consecutive away wins in the first four away games of that campaign. The most testing season on the road was surely 2005-06, when there were just three away wins for the travelling Clarets to see.
This season has already provided seven away victories in the league, including rare wins at Nottingham Forest and Sheffield United, but even if we were to secure all three points against Southampton at St. Mary's, this would still leave us one short of the nine away league victories that were achieved during the 2007/8 campaign.
In all, from a total of 206 matches, with one away fixture still to fulfill, there have been 55 away victories so far during the past nine league seasons. This works out at just slightly better than a victory every four games, and just over six away victories each season on average.
Away wins are rarely easy, and forty of these victories have been by a single goal (exactly half of which were by a 1-0 scoreline), thirteen were won by two clear goals, leaving just two fixtures in which we could boast a three goal winning margin: 3-0 vs. Gillingham on Monday 25
th
August 2003, and 4-1 vs. Norwich City on Sunday 1
st
October 2006.
The four goals scored against Norwich is only equalled by the 4-2 comeback against Queens Park Rangers in 2007-08, when Andrew Cole scored a hat-trick. Notable mention must also go to another game not on the list of victories, in which Burnley scored five times, but still ended up losing 5-6 to Grimsby Town in the Hallowe'en horror show at Blundell Park during the 2002-03 season.
It is difficult to say where an away victory is most likely to happen, as the number of times we have played particular teams is not consistent. However, from the 55 away victories, there have been five against Coventry City, four against each of Leicester City, Stoke City and Watford, and three against each of Queens Park Rangers and Sheffield Wednesday. As a result, the 55 victories have been achieved against a total of 33 different opponents.
As a part-time away supporter myself, perhaps managing to attend around five or six away games each season on average, I can only point to having seen ten of these victories, excluding, of course, a few additional games that I have seen courtesy of live TV coverage. Of the victories that I have been lucky enough to attend, the most memorable were perhaps the 3-2 win at Deepdale in the 2001-02 season and the 2-1 win at Elland Road in the 2004-05 season. In addition, the only location where I have seen two away victories is at what is now officially called the Coral Windows Stadium, or Valley Parade, Bradford to you and I.
What is certain is that away days as a travelling Claret are special, and victories are always well worth the wait, often due to the disappointing results in the games that have preceded them. So why not have your say on the messageboard and recount the most memorable of these victories? Or have you endured a particularly long dry spell without seeing an away win? Or perhaps you are a truly rare phenomenon - a lucky omen who is more likely to see us win away?