Footballers, certainly the higher up the leagues you go, increasingly live in another world to the rest of us. You share a bond, yet you're unlikely to ever meet each other. You almost certainly never get close enough to kick them. But that's what I did on Sunday. I booted George Oghani.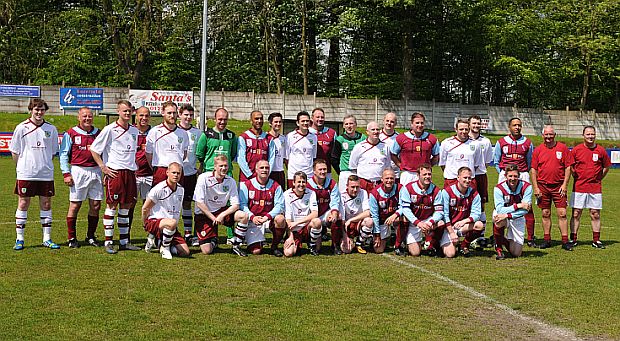 Luckily, this happened on a football pitch, rather than at random in the street or I might not be here to tell this tale. And to be honest, it was more of a tap on the ankle, but Oghani used all of his professional experience and crumpled to the floor like a girl, claiming a penalty. Fortunately and, in my considered opinion, correctly, the referee waved play on. Another penalty would have been harsh considering the Vintage Clarets had already been awarded a somewhat dubious one to put the seal on their comeback against a Clarets Mad team who had mostly met each other for the first time just before the match.
It was an absolutely glorious day on the Padiham Riviera; cloudless blue sky and a baking hot sun – awful weather for playing football in. Most of the players had arrived early. Indeed half of them were changed when I arrived an hour before kick off and the excitement was evident when some went out for a warm up not realising there were still 45 minutes to go. Talk in the changing room centred around positions; who was brave enough to play at right back? Nobody was relishing the prospect of being repeatedly done by David Eyres' shoulder drop and, in the end, nobody was. Eyres didn't play.
With positions and subs sorted out five minutes before kick off, we walked out to the pitch alongside our illustrious opponents. This is the stuff dreams are made of. Stepping on to a football pitch with the likes of Roger Eli, John Deary, Graham Lancashire, Gerry Harrison, George Oghani, Andy Farrell et al. Vince Overson even managed to make it on to some of the pre-match team photos but Paul Weller, apparently feeling the effects of the previous night, was too slow. With everyone wishing each other good luck, it threatened to become a bit of a love-in but if nothing else was at stake, there was certainly pride and judging by their intense warm up, the Vintage Clarets meant business.
The nature of that business was apparently 'losing' as the crack Clarets Mad outfit sauntered into a 2-0 lead within the half hour. The first goal was a peach, a lovely flighted cross from Kostilek on the right wing was met with a full length diving header from Pollard, his beard ("grown for a bet" – John Deary) cushioning the impact between face and floor. I can't actually remember our second goal, or who scored, think it was a bit of a scramble, but at 2-0 the Old Wine were on the ropes.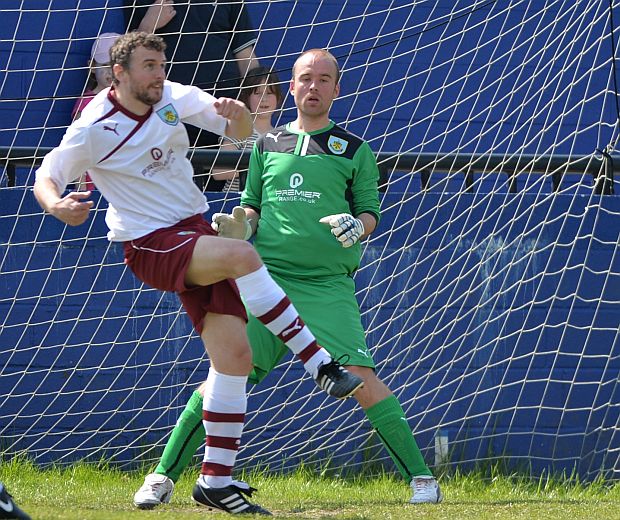 On the half hour Clarets Mad made their first round of subs, opting for the avant garde tactic of replacing three of the back four. No matter to me, I was coming on. Amazing. A couple of years ago, my brother got me a copy of Roger Eli's book, signed by the man himself. I've had the odd conversation with him on Twitter. And now I was marking him.
I just intended to keep things simple and not do anything daft. Centre half isn't the place for messing about. But a couple of minutes in I intercepted a through ball and saw a chance to break forward. I evaded a lacklustre challenge from Eli and played a one-two through John Deary's legs. "Megs!" I shouted – you've got to call it, especially when you've just megged an ex-pro. Had this been a game in the old 4th Division, I'd have expected to find myself hurtling towards Row Z the next time I went near Deary but he's clearly mellowed – he laughed and said "Well done." This is the greatest moment of my football career. I should have carried on running straight over to the dugout and subbed myself as it couldn't get any better than this. And it didn't, it got worse.
Five minutes after I'd come on, Vintage Clarets pulled a goal back with some head tennis finished off by Andy Farrell. I was blameless for that one, but the second followed about a minute later. I had a free header on a ball in from their right, I should have just cleared it but I opted to head it back to our goalkeeper. Teammates who have played with me regularly will tell you I do this a lot. And it usually works out well. The collective groan from the 300 spectators told me that this time it hadn't. Ex-pros have slightly better anticipation than your average Sunday league player and Graham Lancashire was on to it in a flash, burying his shot in the bottom corner. I smiled ruefully. Oops. I'll always look for the positives though and at least I've got an assist on a Graham Lancashire goal, which is a feat that very few of his actual teammates could lay claim to when he played for Burnley.
The rest of the game is a bit of a blur to me although a few incidents stand out. The aforementioned Kozzi's volley that drew the save of the match from the VC goalkeeper (no idea who he was?). John Deary, who not only plays but commentates on the entire game, breaking into the box and gleefully exclaiming "See ya!" as he unleashed a stinging drive, only to see it well saved by John Robertson in the Clarets Mad goal.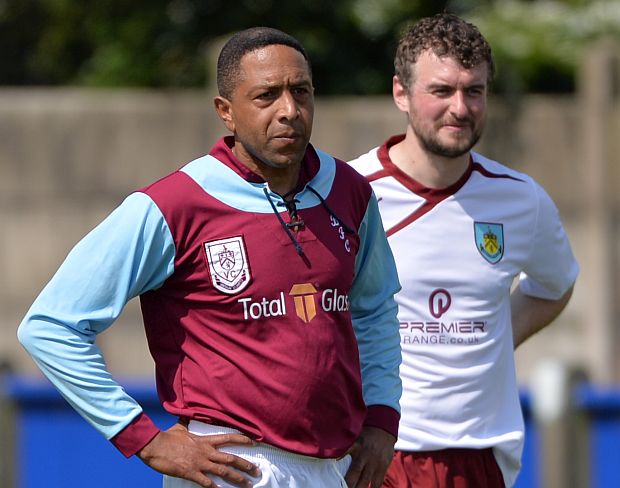 The keeper was having a stormer and had now denied the king of the one on one. Then there was the major talking point. Eli went down in that style we all know so well from endless viewings of the Burnley Are Back video, having not been touched by big Marv Heys, who had been imperious at the heart of the defence (nutmegging by Robinson aside). Going to ground perhaps gave the referee a decision to make and from his vantage point in the centre circle, he was certain it was a penalty. The wonderfully-nicknamed Peter Mum(by) stroked the winner home.
Most of us had expected to be chasing the ball about for 90 minutes and the second half was like that to some extent, with the introductions of Big Vince, vintage non-superior non-Claret Lee Cartwright and the mysterious 'Ishy' enabling the VCs to keep the ball for longer periods. So the game was played out at a fairly pedestrian pace as the former professionals showed their class and made us do the chasing. It was great to watch up close, to see these guys who have obviously lost a bit of pace in their legs but have still got it in their heads and feet. It's all about the first touch and the weight of pass. That's how you can tell these guys have played at a high level. We gave them a good game though, make no mistake, this was no walkover and they acknowledged as much at the end of the game. There were excellent performances throughout the Clarets Mad team and considering we hardly knew each other – the most common shout in the first half was "Oi [name]! What's his name?" – there was no disgrace whatsoever in defeat. Special mention to left-back Alan Porter though, who dubiously claims he is 62 years old but wouldn't have looked out of place in the VC team.
If one thing struck me, it was what a great set of lads the Vintage Clarets are. No egos and whilst they took the game seriously, they had a laugh with us all the way through, often encouraging us as much as their own teammates. Perhaps it's the era they're from but it seems less likely that today's breed of footballer would be the same. As captain Burger said, this was one team you weren't bothered about losing to. I think we'd all like to thank everyone involved in the day – organisers, players, supporters and Vintage Clarets for giving us a game – and especially everyone who donated money to such a great cause. Over £2000 raised for the wonderful MacMillan Cancer Support in memory of Tony Nuttall. That was the icing on this most enjoyable of cakes. A brilliant day.