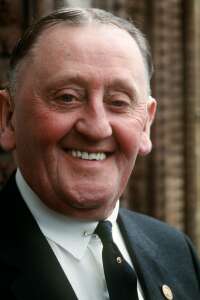 Bob Lord - asked to leave the Everton boardroom

Many thanks to all those people who have contributed to the book as either patrons or as subscribers. The final date for sending any contributions is Friday July 2nd (£50 subscribers and £100 patrons). This enables me to list your names in the book or include dedications if you are a patron. The draft goes to 'Sportsbooks' on Tuesday 6th.



Even now I keep finding extra bits and pieces to include, for example whilst doing a bit of research in Burnley Library yesterday, I found out that Bob Lord was asked to leave the Everton boardroom following the cup tie replay with Everton in January 1967. Bob Lord made his outraged feelings perfectly clear to the Everton directors. Everton's roughhouse tactics in that game resulted in the broken leg suffered by Willie Irvine. Willie told me that when Harry Catterick, the Everton manager came in to the Burnley dressing room after the game, Harry Potts had to be restrained from hitting him, he was so incensed at the casual remark Catterick made about the injury. That's just one of the player's stories I've heard that has made this last eleven months so fascinating.



Of the chapters in the book probably the Bob Lord chapter is one of my favourites. The man intrigues me. Just what does make a man behave the way he does and so impervious to the feelings of others. He was dedicated and single minded. He built the club and then nearly took it to the edge of destruction. We owe him so much and yet he remains open to so much criticism for the mess the club was in during his latter years. There's a biography there waiting to be written and it surprises me that no writer or journalist has undertaken this.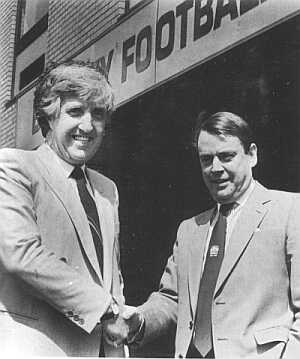 John Bond and John Jackson, they both contribute their thoughts

The John Bond chapter has been mentioned on the messageboard. The Phil Whalley interview is superb and gives an insight into a man who was and still is much maligned, quite wrongly. For sure he made mistakes and in the interview holds his hands up and admits to this. But at the same time he met a lack of cooperation from some quarters that seriously undermined his aims and plans. It was a managership that was doomed from the start but it is not entirely his fault. Phil Whalley in the chapter also analyses the season. Ex chairman John Jackson has contributed his thoughts believing that twenty years on, the time is right to give his views. Martin Dobson's opinions are there as well.



Patrons and subscribers, plus a small number of sponsors who have contributed quite large amounts, have together raised £8,100. This will enable the book to go ahead. But there is still time to be a patron or a subscriber. Any more money that comes in means I can afford to include more pictures. Fans of a certain age (hmmm, me and Tony I'm sad to say) will well remember the public meetings that took place in protest at Jimmy Mac's transfer. One of the book's patrons turned his loft upside down to find three colour slides of just such a meeting. Another subscriber found the b&w ancient pictures he took as a 14 year old at Gawthorpe in the early 60s. Priceless.



Pictures – there's another story and copyright issues gave me far more problems than any written pieces. It meant a complete rethink just a couple of weeks ago on what I could put in. At the last minute I was put in touch with the father and son photographers who worked at Burnley from 1957 to 1990. The pictures they took and still have – mouthwatering – saved the day.



When this book is published depends on a number of things but the target is October. The words are done, the pictures are found, and the money is raised. My thanks to everyone who has contributed. But don't forget you can still subscribe until July 2nd and your money will help get more pictures in.