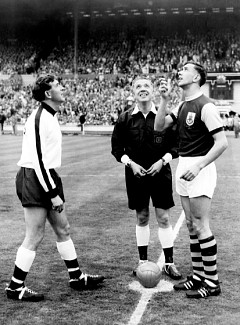 The captains ahead of the 1962 FA Cup Final
Reading were in the old Third Division at the time. This was two of the top First Division teams parading at the world's greatest single match.
Without dwelling on the outcome, I returned to school and immediately took my place in the playground match. "We'll be Spurs", shouted my pal. "We're Burnley", I retort. The phrase that change my life.
Days later and a wet playtime. The boys always had our football knockout tournament. An old penny for each opposing player, a pencil to flick or shove your 'player' and an old sixpence for a ball. The wooden board, I had made myself. My dad being a carpenter had provided the wood. Two small nails provided the goalposts. I wrapped some of my mum's wool between the nails, to provide the net. Inherited manual skills I possessed at such an early age and failed to improve upon!
A friend sat with his pencil and as we lined up, we called out our team. Spurs and Reading went very early. It was my turn and as I reached the front, he looked up at me. Before I could speak, "You'll be Burnley won't you?" There was nothing to be said other than, "Yes, I'm Burnley"? My football following life was complete.
Charles Buchan's Football Monthly and the occasional newspaper coverage, which was less in the South, for obvious reasons, cemented my knowledge of the greats in Claret and Blue. I was known, throughout the school as the Burnley fan. I used to watch Reading and in 1965 (from memory), Reading v Burnley in the FA Cup, was the great occasion. I stood in the Burnley end and cheered on the Clarets. My first live experience. A draw, with Burnley winning the return at Turf Moor.
A holiday to Scotland led to a diversion to Burnley one summer and I found myself standing outside Turf Moor on Brunshaw Road, by the players entrance. Out came Harry Potts and asked why I was there. My father told him the story and he invited me inside. My first tour behind the scenes.
At sixteen I left school and started to earn more than the ten shillings (50 pence) pocket money, which had served all my needs. Still in the first division, I went to every major London ground and as far as Coventry, on the train. I remember well having to get off at Leamington Spa (never been there since) and get on a bus for Coventry. No idea how to get to the ground, I waited until I saw some Sky Blues and then followed them! Fortunately, they went to the football!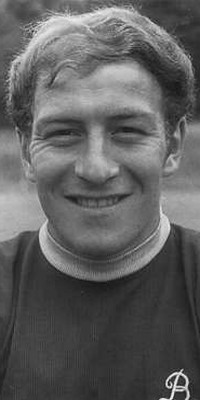 Ralph Coates
Ralph Coates was my man. A player that epitomised Burnley and who covered every inch. There have been many since. Martin Dobson is up there - a player I never saw lose a tackle (good thing this memory!). Steve Kindon and Dave Thomas. John Angus and Keith Newton. Brian's O'Neil and Miller. A spindly young Leighton James, in a night match at Oxford. Andy Lochhead, Willie's Irvine and Morgan. The list is endless. Trevor Steven, who I immediately knew would play for England. Ray Hankin - who should have gone on to do the same. One by one, they all came and went and then we started to slide a little and rise again and then slide, never to return to the very top.
As a young man I continued to follow the team but only in the south and London. Then in my mid twenties I married and had a young daughter and a mortgage. A career to build. I still watched the Clarets every season several times, as money and distance allowed. Slowly we drifted down the leagues and my fellow supporters grew less. Standing in open terraces with heavy rain finding its way through to your skin, can be a real test. Cold, snow, rain and fog. Win, lose or draw - it's a must.
The obvious low point was in 1987 and 'The Orient Game'. I was there. I made the drive up and down from Salisbury, where I have lived since 1980. I was 'compelled' to go. A duty. Anyone there on the day will know that the crowd has never had the same power since. Loud, yes. Continuous noise, yes. More than this, the combined mental power of the crowd, for me, controlled the ball and the players.
Just like my penny and sixpence game as a lad, I looked down from the Longside and willed the players on. They grew a foot in height and made blocks and tackles they had not even looked like they could make all season. They were possessed - by the energy of the Burnley fans. Goals - the best goals ever - lifeblood goals and the best saves - by players and the crowd. Like everyone, I stayed and stood on the Turf, knowing I had helped save my club. I had probably helped save the town too.
Wembley followed and my best moment was not the actual game but the pre-match game with Peter Noble lunging in like his life depended on it. Again, the epitome of Burnley. Up the Football League we went and Jimmy Mullen's Claret & Blue Army rose through the ranks. Mike Conroy, Roger Eli etc.
It's Wembley again and Stockport are put to the sword by Ted McMinn. We are back in what is now 'The Championship'. Derby (twice), Plymouth, Tottenham 4-1 at WHL, I have witnessed many of the big 'crowd' moments. Stan the Man came and went, as did Andy 'saviour' Payton, whose goals kept us in the league. The nearly moments and the dire defensive football played by Steve Cotterill's 'mini squad'. Not always dire, but often and always defensive, away from Turf Moor.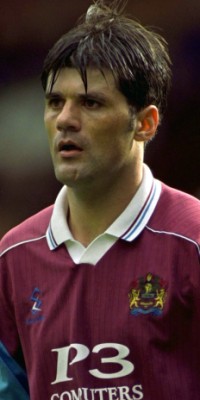 Andy Payton
The years have been kind, financially and I am able to attend more games. So when Owen Coyle took over, I wondered what would happen. Instant joy, as we pounded the so called top teams week after week….with the same players who had been so negative away from Turf Moor.
This season, OC's first full season. I can honestly say, this is the most sustained pleasure I have ever had watching Burnley. For the first time, I have never thought we would lose and always thought we could win. The only doubt I had was Arsenal, 2
nd
time around. We were playing match after match at the time and Arsenal owed us one. C'est la vie.
Two cup runs, I become a Shareholder (so I can get a ticket to Spurs - what foresight that turned out to be!) and up the Football League we continued to go. There is no doubt in my mind that we have witnessed the most flowing football - continuously - in the league this season. Only, Fulham, Reading and WBA have shown, over the years, that sustained quality of play. So many matches have helped and yet probably, kept us from automatic promotion. One ingredient omitted and the whole pie could go wrong, so I am not complaining about that.
It's May. We have edged into the top six on merit. We have ended with a special four nil drubbing of Bristol City. My home town, where it all began, stands between us and Wembley. Family, are for Reading (they live there still). I am Burnley - not nine any longer but well into my fifties.
One Nil Burnley at the Turf. Sitting and standing on the new 'sit down Longside Upper' is not quite the same but we won. Back to Elm Park, sorry Mad Stad, (now Madge Stad) and two wonder goals, silence Reading. The greatest club in the land is going to Wembley.
Who cares? Not bothered about Wembley, this sparkly new plastic stadium is just a backdrop to the financially, biggest game in world football - and my team are part of it. I am not bothered about the money, far from it. What I am bothered about is the team and the match and the winning and the return. The return of my team to the place they belong. Where they once were when they attracted a young lad of nine to the land of the giants of football.
I place my faith in the team of Burnley, as I have always done, knowing that Owen Coyle and his players, Barry Kilby and his board and the world of football, like they were in 1987, will be willing on the Mighty Clarets to victory. What I will do, is take my place amongst 36000 other Clarets and just like 1987, will focus all my mental strength on keeping the ball out of our goal and into the opposition. I will do my best to link to the other 36000 Clarets and add an extra foot to the height of all our players. I will sing yes but mostly, I will 'will' my team to victory and to the promised land - to Burnley's destiny, where I will proudly don the new 'Champions strip' next season.