This weekend saw a Burnley side, my hometown team, fight back from a goal down to draw against the side that was then, and still is, leading the Premier League title race. Despite such an achievement the story that has been taken from this game is that of a lucky, dirty side getting one over the rightful winners due to the match officials incompetence (or, if you're a nut, a targeted conspiracy).
The ire of the media has been mainly focused on one incident involving Ashley Barnes and Nemanja Matic. Every single national article and media comment on this has taken the side of Chelsea, with many also taking on the air of judge, jury and executioner. This "tackle" or "challenge" by Barnes on Matic has been called a great many things, "horrendous", "career ending" and even "criminal". All of these emotive and somewhat hyperbolic tags ignore one incontrovertible truth - the incident was not a tackle or a challenge but a pass by Ashley Barnes and a tackle by Matic.
By the hour it seems the incident is being exaggerated. The revisionism has reached such a state that last night (Sunday 22nd February) the ever sage Martin Samuel of the Daily Mail claimed that "Barnes misses the ball and almost snaps Nemanja Matic's left shin" in blatant ignorance of all evidence to the contrary. The knee-jerk reactions were to be expected in the immediate aftermath from fans who did not see the incident as a whole, just the slow-motion vines/.gifs or the stills of the moment of contact. However, I expected professional pundits and commentators to view the incident in its entirety and provide a balanced response. As this has not happened I wish to compile the opposing points to the increasingly hysterical vilification of Ashley Barnes and in doing so I extend the following challenge to any and all professional pundits who have already committed their view of the incident to print or film*.
*Though specifically I would like to hear from Robbie Savage, Martin Samuel and Alan Shearer (who once kicked a prone opponent in the head) as little as I expect them to.
Please explain to how this is anything other than an unfortunate accident. Please explain to us how you define this as a tackle or challenge by Barnes.
By definition for someone to make a tackle they cannot already be in full possession of the ball. Possession of the ball would have to be in the very least disputed. Anyone watching the incident can see that Barnes was in full possession of the ball having taken a touch away from Zouma before, in his role as the target man, passing it back towards midfield. In the below three pictures (from frames milliseconds apart) you can see the point Barnes passes the ball (care to chip in at this point Mr Samuel?).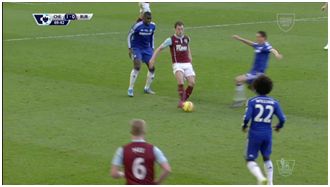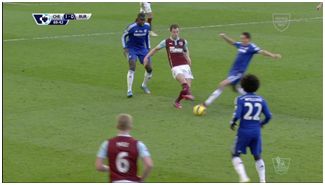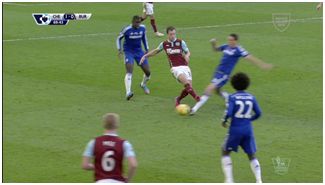 Look at where Barnes is looking at the point of contact with the ball and the position of Matic, he's looking down in the direction of the pass.
Now, a request, please stand up and kick your leg as if passing a ball (I'd recommend doing this in private, in the office this could cause concern). At the point where you would hit the ball try to stop your foot dead… You can't, neither could Ashley Barnes.
There has been comment that his foot isn't in a natural position so he must be intentionally trying to harm Matic. Below is a picture of Ashley Barnes passing a ball and the point of contact between him and Matic. As you can see the posture is the same.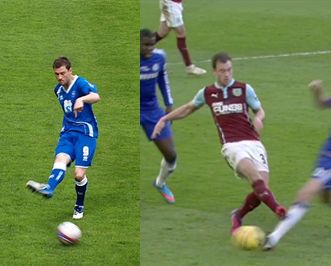 No offence is committed by either player until Matic, rather cowardly, attack Barnes from behind, off the ball.
Maybe precedence is needed?
Was Denis Irwin hounded for the unfortunate collision with Busst? In case you can't remember the incident clearly that was a 50/50 challenge for the ball. Unlike Barnes, Irwin was not in possession of the ball. How about Diaby on Terry in the League Cup Final? There was nowhere near this level of outrage levelled at Diaby and that unfortunate accident could potentially have killed Terry, not just ended his career, again that was contested possession.
Why has this incident reached such levels? As far as I can tell because Jose knows that without Matic his side is less likely to win the League Cup Final and less likely to maintain their lead over City – Mourinho got the MOTD pundits and editors dancing to his tune and bullied his way onto Goals on Sunday to lay the groundwork for an appeal against Matic's ban. Why do I believe this? It's telling that no one in the stadium, including Chelsea playing and backroom staff stood yards away saw anything in the incident until Matic reacted and got himself, justifiably, sent off. No Chelsea players other than Matic confront Barnes or remonstrate with the referee about the challenge, just Atkinson's moves to send the Blues player off. Sky, the BBC and national media whether through intimidation, naivety or ignorance have become party to the borderline libellous attacks on the character of Ashley Barnes – all playing into the hands of Jose Mourinho's agenda. It's quite frankly ridiculous and has left Burnley fans understandably livid.
There were questionable penalty decisions, no one is disputing that. In my opinion there should have been one to Chelsea for the handball. Costa's tumble and Luis' handball weren't enough in my book. In a perfect world referees would spot everything, if that was the case Burnley would be one point better off thanks to a win over West Brom, but they don't. Atkinson did, however, call the Barnes-Matic flashpoint 100% correctly.
In closing, all attention has been taken away from a brilliant away draw. It's sad that Mourinho has managed to take the football out of the football story.