It was the first time since early October that we hadn't been top of the table, yet this was hardly a damaging psychological blow. We had the game in hand anyway, and our next fixture was against Cardiff, who were next-to-bottom and whom we had outplayed in third gear at the Turf. Their home form, however, was in fact pretty good : they had actually won ten out of fifteen at Ninian Park - and thus we were more than happy with Frank Casper's third-minute goal for a solid 1-0 success that moved us back on top by a point.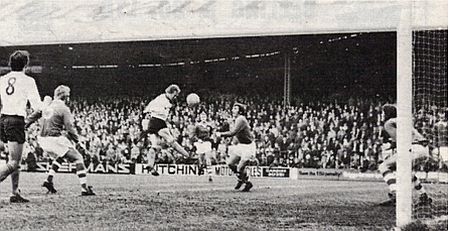 This Ingham header at Ninian Park was saved by the Cardiff keeper
Furthermore, the following week we dismantled Portsmouth 4-0 at home on the Tuesday night - with all four goals, including another Casper double, scored within the first 35 minutes - and proceeded to overcome Millwall 2-1 at the Turf on the Saturday, with Dobson and Nulty on target in rapid succession just before half-time. All seemed rosy on the horizon, but then we suddenly and inexplicably came unstuck in our next match, at the City Ground, Nottingham, and went down 3-0 to mid-table Forest after a well below-par performance from us and a very good one from them. We stayed top by the single point, but QPR by this time were the ones with a game in hand.
We enjoyed a two-week break now, taking the timely opportunity to relax (made easier with the news that QPR had lost their game in hand, at Oxford) and to recharge, before what would be a crucial Roses match at Huddersfield.
Despite the county boundary this was almost a local derby, since the two towns are only 20 miles apart. Dad couldn't make this one all the same, but there was no chance of me staying at home : I travelled on a supporters' coach with a few of my mates, and we were part of a huge noisy following that filled a full side of the ground and delighted in taunting the Town fans about their clapped-out cowshed of a home end.
The home club were only two places from the foot of the table, and in increasing danger of being overtaken by Cardiff and thus obliged to occupy a relegation spot. They were hardly expected not to put up a fight - and that was exactly what they did. Nevertheless, we kept our composure, played well, and were full value for a 2-0 victory secured by second-half goals from strikers Casper and Fletcher.
A further win now would see us definitely promoted ! - And the opportunity to get it came only two days later, as we welcomed FA Cup finalists Sunderland to the Turf on Monday 16 April.
There was a fantastic, expectant and electrifying atmosphere under the Turf Moor lights as this game kicked off in front of nearly 23,000 highly vocal supporters. The Mackems, 11th in the table, were actually in a very false position, as due to their cup commitments (Sunderland did, of course, go on to win the FA Cup with that famous Wembley win over Leeds) they had four or even five games in hand over each of the clubs above them - and in fact, with so many points still to play for, they could theoretically still have challenged for promotion themselves.
All the same, they didn't score.
But Fletcher did ! - And the 27th-minute lead was fully warranted by another excellent, well-drilled display, with the lads in claret and blue showing great patience and control in the face of their opponents' determined resistance. Then, with just a minute left, Fletch sealed it with a second goal, upon which the triumphant roar of joy and relief from the crowd threatened to lift the roof off the Longside, and could probably have been heard in Huddersfield.
What a night ! What celebrations, both inside and outside Turf Moor - and how exhilarating and emotional it was to anticipate with new certainty the return there of Division One football for 1973-74 !
Yet with four games still to play, it remained to be decided between Queens Park Rangers and ourselves for first and second spots. Our next scheduled opponents, Oxford United, were no mugs either. They had looked a useful side earlier at the Turf, were eighth in the table, and had an excellent home record which of course included that recent defeat of QPR. Thus, the idea of Good Friday at the Manor Ground, with all the obvious potential for an 'after the Lord Mayor's show' below-par slip-up, was less than conducive to absolute holiday peace of mind.
However, we needed not to have been so concerned. The lads put on yet another outstanding performance, deservedly keeping a further clean sheet and scoring twice more, through Casper and Ingham. It was another big and important success, in terms of psychological value as well as points.
And now, as was usual in those days, we had to play a second Easter game the very next day, but incredibly there seemed hardly a hint of tiredness in the team as James, Casper and Dobson netted and we romped to an untroubled 3-0 home victory at the expense of Brighton, who were by now bottom of the table and who themselves certainly did look very tired at the end of the ninety minutes.
Luton Town, in tenth place, were our last visitors of the season only three days later, and, under the Turf Moor lights once more, another assured, entertaining and commanding display - and three goals in ten second-half minutes from James, Thomson and Collins - meant that the home-match curtain came down on 72-73 after another 3-0 win.
We had thus prevailed in each of our five most recent matches, having conceded not once whilst scoring twelve times. And yet even this phenomenal momentum had not shaken off Queens Park bloody Rangers, whose dogged pursuit had kept them with us all the way and which insisted that we needed a point from our last match of the season to be sure of the championship - and, to add to the drama, the venue for this one was to be Deepdale : home of our second-biggest local rivals, Preston North End - who themselves needed a point to avoid relegation !
As previously referred to, my dad had seen the 1959-60 Clarets win First Division title glory with a 2-1 win at Manchester City in the last match of that campaign ; when he was 22, and I was one year old.
Burnley had then finished 4th, 2nd and 3rd in subsequent seasons, and had made it to a Wembley FA Cup final (though lost, to Spurs) in 62.
He had then witnessed something of a decline, as we ended up 9th and then 12th, before a mini-recovery back to 3rd in 65-66. In each one of the following four campaigns, however, we finished 14th, and it was clear that despite its repeated best efforts against the big boys of the major cities, his valiant small-town club was at its limit - and there was only one direction in which it was heading next.
Sure enough, it was 21st, and relegation, in 70-71 - and then we had managed only seventh in Division Two (as mentioned at the start of this article) in our first season down, a year before now.
Although Dad had seen great players before 1959, the best had undoubtedly been around that time. He'd seen McIlroy, McDonald, Pointer, Connelly and Robson ; and whilst I felt privileged enough in having seen the likes of Irvine, Blacklaw, O'Neil, Harris and Morgan, who were all brilliant - the late sixties team was nevertheless not quite the same for him, and he had known that he would never see the full equal of his own heroes again.
But here we now were all the same, already back where we belonged whatever the day's result - and, indeed, Stevenson, Dobson, James, Collins and Casper certainly weren't half good 'uns, whilst the rest of the side wasn't bad either !
Thus, on the way to Preston in the car, father was just as excited and enthusiastic as were sons. Perhaps ultimately, as they say, it's the hope that kills you - but as a football supporter you can hardly live without it, all the same.
Burnley fans seemed to number almost two-thirds of a 21,500 crowd. Similarly to our Boxing Day trip to the seaside, the three of us found ourselves in the front middle section of the east side of the ground, but on this occasion surrounded by fellow-Clarets rather than mostly rival fans. We could hardly hear ourselves speak above the noise.
Many urban myths still abound in reference to Saturday 28 April 1973, and I will therefore tell strictly only what I recall for myself, for the sakes of both accuracy and brevity.
Back, l-r : Ingham; Docherty; Dobson; Nulty; Waldron; Fletcher; Cliff; Casper; Hankin
Front : James; Stevenson; Collins; Newton; Thomson
Preston started quite well, and it appeared that nerves might be getting the better of us at last. Alan Stevenson had to make one of the best saves I'd ever seen to prevent them from going in front. He seemed to lift off horizontally from the ground and almost hover high in the air, arching backwards at full stretch, and somehow managed to get a strong hand to a rocket-shot that was going just inside the angle of post and bar.
However, he could not prevent the home side from taking the lead just two minutes before the break.
We upped the tempo in response, and just seven minutes into the second half it was our centre-half, Colin Waldron, who levelled it with a glorious 25-yard piledriver that nearly burst the top corner of North End's net.
Cue absolute pandemonium !
The game settled down after that, with both sides clearly happy at a point apiece. Further chances were created, yet one or two seemed almost deliberately spurned. Our triumphant manager later denied that there had been anything like a fix - but no-one there had appeared to care much anyway by the time of the mass pitch invasion at the end.
Thus, we went up as champions (W24, D14, L4) - and no-one (perhaps not even QPR fans) could say we didn't deserve to.
Full appearances :
Stevenson 42 ; Newton 42 ; Waldron 42 ; Thomson 42 ; Casper 42 ; James 42.
Dobson 41 ; Fletcher 40 ; Collins 37 ; Docherty 35 ; Nulty 32.
Ingham 11 ; Thomas 11 ; Cliff 3.
Total for the full season : only 14 players.
Goals :
Fletcher 15 ; Casper 12 ; Dobson 12 ; James 10.
Nulty 6 ; Waldron 4 ; Thomas 4 ; Ingham 4.
Collins 2 ; Newton 1 ; Thomson 1. Own goal ; 1.
Total : 72.
In August 1973 Burnley won the Charity Shield, as Waldron scored, again, from a cleverly-worked Frank Casper free-kick, and we beat Manchester City 1-0 at Maine Road.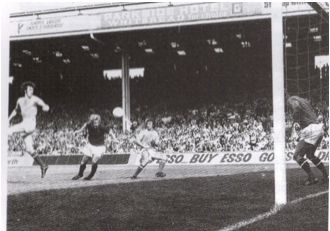 That fact, however, begins another season's tale.