Our first scheduled fixture of 1973 could hardly have seemed a more awkward one. Fourth-placed Aston Villa were unbeaten in their previous five games, and their home record was slightly better even than our own, albeit they had played one more at Villa Park than we had at Turf Moor. This match was to be perhaps our biggest test so far, and no less than 38,000 people turned up on the day to see it. Unfortunately, Dad couldn't make it to be one of that number, and thus neither could I.
At the time, Radio Lancashire was actually known as 'Radio Blackburn' - yet, although this single reference is required for the sake of factual accuracy, I do sincerely apologise for such use of foul and offensive language, and resolve not to repeat it.
Radio Lancashire it was, then, that we tuned into that day - but didn't we wish we could have been in Birmingham instead, especially when firstly we heard that our team were making a storming start to the game, and then secondly that we had quickly gone 1-0 up. Keith Newton (what was he doing at that end of the pitch ?) had scored in the seventh minute.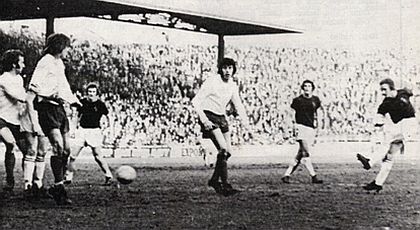 Billy Ingham fires in a shot at the Wednesday goal
We continued to hear that Burnley were all over the Villa, playing some absolutely outstanding stuff which had all but silenced the stunned home fans - and, sure enough, Geoff Nulty got a well-deserved second goal midway through the first half. Within three minutes of the restart it was 3-0, courtesy of Billy Ingham (deputising again for Collins on the day) - and effectively game over. By the end, which we apparently reached with admirable professionalism and a fairly comfortable clean sheet, shocked Villa fans had even begun to direct derogatory chants at their club's board.
The Sunday press almost ran out of superlatives to describe the performance - 'magnificent' was one well-used example - and no reporter was in any doubt that we were well on our way back to Division One.
Mr. Adamson, however, was sensibly taking nothing for granted, and had clearly made sure that no player's thoughts wandered prematurely towards our next fixture, which happened to be a home 3rd round FA Cup tie against the mighty Liverpool. Our priority, of course, was league points, and with Villa Park victory we still had four more of those than had QPR.
After a very creditable goalless draw with Liverpool in front of 35,000 fans, our second Cup exit ensued by 3-0 in the Anfield replay. We went for it, and indeed were fairly unlucky over the two games, but perhaps we were relieved to some extent at being left with the league to concentrate fully upon.
And next - who else would it have been but Queen's Park Rangers, in London ?
We lost this one 2-0, watched by a 22,000 attendance, and it was a matter of all credit to QPR : they were an excellent side, and deserved their quickfire early brace on the day. Our lead over them in the table was thus cut to a single point, although we did again have a game in hand.
With something to prove after our first back-to-back defeats of the season, yet the following Saturday saw us struggle a little at the Turf before eventually overcoming a determined third-bottom Huddersfield Town, 2-1, thanks to a late goal from super-sub Ingham - but then on a second successive home Saturday the lads got us truly back on track by producing an irresistible attacking display and demolishing ninth-placed Hull City, 4-1. This match might better have earned the title 'exhibition' : we really were that good, and the result was achieved, besides, without Paul Fletcher, whose deputy at no.9, Ingham, scored again. The other goals that day came from Casper, Nulty and Dobson.
QPR meanwhile had dropped another point, and thus our lead was two plus the game in hand before we travelled next to Brunton Park, Carlisle.
Now it just so happened that I had a female pen-friend, at fifteen a year older than me, who lived in nearby Longtown and was a Carlisle United fan. Despite many long, loving letters, swapped photos and phone calls, and even a naïve informal engagement (!), we had never met - but here was the perfect chance for us to remedy that. We arranged to meet at a certain spot at the back of the main away fans' area, and she said her accompanying friend would look forward to meeting my mate, Don, whom my dad had already agreed to take with us in the car.
Unfortunately, due to a misunderstanding, us three travellers ended up in the wrong part of the ground. On the opposite side, in fact, to where most of the away fans were gathered and to where I knew my sweet Sandra would be anxiously awaiting her dearest darling.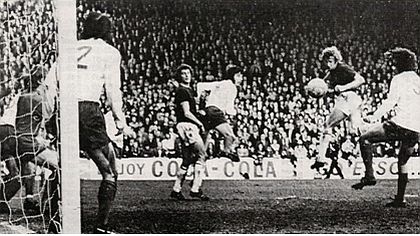 Jim Thomson heads wide from a corner against Sheffield Wednesday
Having reached the age of fourteen, I now usually stood with my mates at matches rather than with my dad, and so, whilst he was content to stay where he was, I was allowed to go off with Don (who was a year older) to find the girls. No problem, then. Except that he and I promptly managed to lose each other in the tightly-packed 18,000 crowd - and that I suddenly now faced the daunting task of making my way alone all the way across the main home end.
With my colours well-hidden under my coat I strolled with fake nonchalance along a narrow gangway behind the end terrace, towards the corner of the ground nearest the Burnley fans - and I had actually made it to the open corner area before I was sussed and then surrounded by a small gang of older home fans who were clearly intent on hospitalising me. I had to be rescued from their midst by three policemen, who waded in and pulled me clear before hurriedly unlocking a barred gate and shoving me through it, and then more or less throwing me over a wall and into the away section.
What an impressive arrival Sandra might have thought that, had she happened to witness it.
Right - now, where was Don, though ?
It turned out he was safe, there at the arranged meeting-place, having made it across without incident by taking a route along the front of the home end.
Good. But now - more importantly - where the hell was Sandra ?
Well - to cut short this romantic digression - she eventually turned up, and we met. She was lovely, and we really liked each other. However, she soon realised I had fibbed about my age, and although we did later continue to swap letters for a while, it was immediately and unfortunately clear to us both that I was too young for her.
Thus, I reasoned, at least it didn't matter too much when I couldn't quite appreciate her happiness at Carlisle's 85th-minute equaliser.
And - go on, then - Don, with Sandra's mate ? - At first he didn't seem to be doing too badly, but our sudden unbridled celebration of Dobbo's goal seemed not to help her mood, and then an unwelcome series of foul-mouthed and suggestive comments, made in the attractive blonde's direction by bigger and older lads in the crowd, hardly improved things, so that by the end of the match it was wholly apparent that no flowery letters were ever going to be swapped between those two.
A further 1-1 draw, at home to Bristol City, followed, with another Dobson goal making it the second time this campaign that he'd scored in three consecutive games. Then a 1-0 Friday night success at Swindon, thanks to Fletcher's early effort, extended our advantage at the top to four points. However, QPR by now had a game in hand over us, and this was soon to be made to count.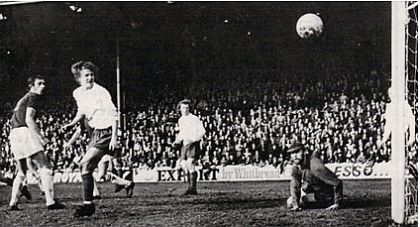 Frank Casper looks on as the ball goes just wide of the Wednesday goal again
Saturday 10 March brought Sheffield Wednesday, thirsting for revenge, to the Turf - and indeed they got their revenge, with a fortunate 1-0 win. We played not at all badly, but it was one of those days when numerous chances go begging and not a single one is taken. Wednesday, obviously, took their chance - but the goal wasn't as good as Taffy's had been at their place, anyway.
To add insult to injury, my mate Jack and I, moving from the Longside and along the Bee Hole End terrace ready for a quick getaway at the whistle, were suddenly confronted head on by a Sheffield skinhead, aged perhaps eighteen and well over six feet tall, who jumped down from behind a barrier to block our path. He stood towering over us five yards away with his cherry-red Doc Martens planted wide apart and thumbs tucked arrogantly behind his braces, staring at us with a challenging and contemptuous half-grin on his face.
Jack and I glanced at each other, and, at two to one, for a second I considered it. But only for a second. Admittedly even before we realised that the Beanstalk had a few companions with him, discretion overcame valour and we retreated a little - with one wary eye each still on the Jolly Grinning Giant - before moving down in crestfallen silence to a lower gangway.
A couple of minutes later, however, it was gratifying to note that a number of youths displaying no colours were attempting to flee from the area where the Beanstalk had been, as a sudden tide of claret and blue surged towards them.
Pride in fact was dented in three ways that day, since QPR, having by now played a game more than we had, went above us by a point to the top. Fulham moved up to third, level on points with Blackpool, but still seven behind us. Wednesday themselves went up to fifth, but they, like Blackpool having played two games more, were still nine points behind us and all but out of it despite their win.
And so with only ten games left, we were second, with a record of W16, D13, L3.