Thankfully, after the strength-sapping day out in Sheffield, the subsequent Saturday afternoon gave our conquering heroes a much easier ride, as back on home turf a Paul Fletcher hat-trick gave us a comfortable 3-0 win over bottom-placed Cardiff City.
Next-to-bottom Millwall put up more of a fight the following week at the Den, however, and we had to be content with a single Fletcher goal and a single point from a 1-1 draw there. Our subsequent fixture was away as well, and promised to be an even tougher test - at Ayresome Park against Middlesbrough, who were seventh and boasted an impressive home record besides having recently held us at Turf Moor.
To my intense disappointment, on this occasion Dad went to the match with his mates, and, since they were planning on visiting a pub or two both before and after the game, I was obliged to miss out. Radio bloody Lancashire again for me, then - and, just as I might have known, I missed another one of the highlights of the bloody season.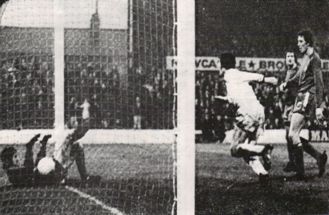 The Boro keeper in the net as 'Dobbo' celebrates the late comeback
Losing 3-1 with only ten minutes left, but driven forward by inspirational captain Dobson, we battled back for a precious point. Waldron and Fletcher - the latter now with six in five games - got our first two goals, and the skipper himself the 89th-minute third.
This result, and the particular manner of its achievement, served to highlight the positive attitude and depth of character this team possessed : it confirmed for everyone that we really did mean business and would not be easily knocked out of our stride. Our championship credentials had again been thoroughly examined and shown to be absolutely genuine, and - although we would have stayed top in any case as Villa and QPR also drew their matches that day - the point maintained our lead at two rather than one, with an equal number of games played.
Naturally, Dad gave me a first-hand match report the next day, and enthused in particular about Dobson's performance - but this hardly made up for not having been there with him to see it for myself.
In contrast, I might have wished I hadn't attended the next match. Whether there was some element of overconfidence involved, or whether perhaps the Boro game had left one or two players a little drained of energy, were debatable issues - but then again it was far from deservedly that we went down 2-1 at home to lowly Orient - who scored two outstanding late goals - for our first defeat of the season and, in fact, their first away win.
No matter how disappointing it was to have lost our unbeaten record in a home match - especially considering that we had beaten Orient 6-1 the year before - it was bound to have happened sooner or later, we said, and the main thing now was to bounce back and win our next game. Meanwhile, QPR won, and again, like earlier in the season, mere goal average now kept us above them.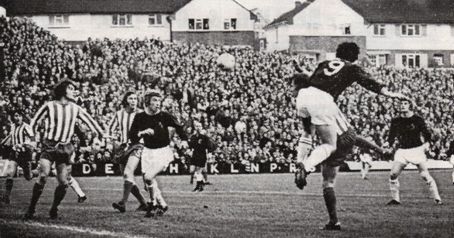 Paul Fletcher aims a header towards Geoff Nulty at Brighton
Anyhow - as we had hoped, this setback did prove to be no more than a blip, since we now enjoyed a run of four successive 1-0 wins. Three of these were gained away from home, at Brighton, Sunderland and Bristol City, and one at the Turf over Nottingham Forest. Dobson got two of the winning goals and Fletcher the other two.
If manager Adamson had been concerned about our defence after shipping five in total to Boro and Orient, then whatever remedial action he had taken was certainly effective. He was indeed especially delighted with the performance at Brighton, where Dobbo's near-post header from Taffy's left-wing corner-kick in the first minute of the second half had given us a lead we never looked like losing.
We were now four points clear of QPR - and of Blackpool, who had sneaked into second spot on goal average, having played a game more. But - just to make things interesting again - a competent fifth-placed Oxford United took a point from a 1-1 draw at Turf Moor on Saturday December 23, and although we were yet three clear of QPR and five of Blackpool, next up was a Boxing Day derby at the Bloomfield Road home of those third-placed Seasiders.

Martin Dobson (hidden) scores the winning goal at Brighton and Jim Thomson celebrates
There would be even more spice to this match due to Blackpool's new manager being none other than Harry Potts - our own ex-manager who had led us to the First Division title in 59-60 - and, moreover, it was to be his very first home match in charge of them.
The main body of away fans, making up perhaps half of a 25,000 crowd, stood at the north end of the ground, but dad, brother and I ended up near to the front of the east side, roughly halfway along, where we and a few other Clarets became closely surrounded by home supporters. There were a few nasty looks and one or two unwelcome comments (indeed, us lads were actually threatened by a couple of slightly older donkey-lashers), but there was no way my eleven-year old brother nor I, just turned fourteen, were about to hide our colours from anyone. Especially since Dad was big enough to take care of us anyway.
Game on, then - and the three of us were soon celebrating amidst lots of stunned lashers as Casper (my favourite player at the time) gave us a tenth-minute lead. But the 'Pool hit back and levelled it, midway through what was a cracking first half.
The second period proved to be something of a contrast, however, as a series of niggly fouls developed into outright nastiness. There were some shocking challenges, four bookings, and a sending-off for a young Blackpool player on his debut. Another sending-off then reduced 'Pool to nine men, and yet they continued to hold out stubbornly until, inevitably, Frankie did the business again ; lobbing the keeper from 20 yards to put us 2-1 up on 78 minutes, and sending the travelling claret-and-blue hordes bananas.
A 2-2 home draw against Fulham on December 30 meant that we ended the year 1972 top of Division Two, by four points from relentless Rangers and six clear of both bad-tempered Blackpool and the previously-vanquished Villa.
After 24 games (W12, D11, L1) during which we had been very strong at home and remained unbeaten on the road, the new year just couldn't come soon enough.