Having ended season 71-72 in seventh spot after winning our last six games, then as August arrived and the new season approached, there were mixed feelings regarding possible improvement on that position this time. Whilst we hoped to quickly recapture the momentum of that strong late run, stiff opposition was expected again from the likes of Queens Park Rangers, Sunderland and Blackpool - all of whom had finished above us - as well as from newly-relegated Huddersfield Town and Nottingham Forest.
Obviously crucial to any advancement was the need to maintain a settled side : we had enjoyed no such luxury during that previous campaign, when only two players had been ever-present in the team. Especially crucial would be the avoidance of long-term injuries to key men such as skipper Martin Dobson, defensive rock Colin Waldron, midfield wizard Doug Collins, winger Leighton James, and strikers Paul Fletcher and Frank Casper. An indication of manager Jimmy Adamson's confidence in these lay in the fact that we had signed only two new players, in highly-rated goalkeeper Alan Stevenson from Chesterfield and English international left-back Keith Newton, from Everton. Both these signings, however, were to prove both inspirational and inspired.
Saturday 12 August saw us open the new campaign at sun-drenched Turf Moor with a hard-fought 2-2 draw against a spirited Carlisle United side who twice led. The crowd, disappointingly, was below 10,000, and it seemed that many of the missing fans may have been unduly discouraged by a recent pre-season loss at home to lower-league Bristol Rovers. Our line-up was Stevenson, Docherty, Newton, Dobson, Waldron, Thomson, Ingham, Casper, Fletcher, Thomas and James.
The following weekend, with Doug Collins now fit and replacing Ingham, we earned a 1-1 draw at Craven Cottage, and next, when given an early opportunity to test ourselves against a fancied side, a superb home performance in front of nearly 15,000 gave us a crushing 4-1 win over the Villa, with Collins, Fletcher, Dobson and Casper all on target.
I was thirteen years old, and thrilled to bits not only with the win but also when my mum later spotted me on the TV highlights, jumping for joy at the front of the Longside with my dad and younger brother.
It became even better just a few days later, as we went second in the fledgling table after comfortably disposing of Preston, 2-0, in a Tuesday night home Lancashire derby. Indeed, another 2-0 win, at Portsmouth, then sent us to the top - although any resultant overconfidence was quickly negated by both a midweek 4-0 stuffing and swift exit from the League Cup at First Division Leeds, and only a draw on the following Saturday, when an opportunist Casper goal was needed to cancel out a 1-0 deficit at home to a very impressive QPR.
Two more 1-1 draws away at Hull and Orient (thanks to late levellers by James and Casper respectively) were enough to keep us top on goal difference ahead of Villa and Sheffield Wednesday, with a second home derby, against fifth-placed Blackpool, next up. It was all becoming rather interesting.
An unfortunate domestic incident, however, meant that I had to miss this game. My dad was supposed to be taking me as usual, but just before setting-off time he caught me red-handed having a crafty fag behind some lock-up garages near home. The slapping I got, although painful, was much less so than being told I was not now going to the match.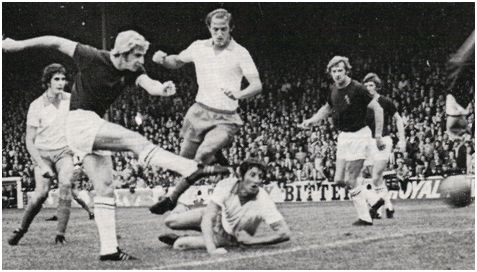 Colin Waldron slams home the opening goal against Blackpool
Since all the buses from my home town had already left, and I had no money anyway, I was reduced to tuning in to the radio that afternoon, and I certainly rued my absence from the Turf as I heard that we were one, two, three and then four goals up. With 25 minutes left, though, Blackpool scored, and then incredibly they managed to pull it back to 4-3 with further goals on 83 and 86 minutes, whence even listening to commentary at home brought on a tension that was almost unbearable. I had missed what was apparently one of the best games of the season.
Confidence and optimism by now were justifiably high, but the following two results were only draws : 0-0 at home to Middlesbrough and 2-2 away at Luton - the latter due to a Leighton James double.
Sadly, the Luton match turned out to be a last one in claret and blue for right-winger Thomas, who was suddenly sold off to QPR. I was one of those fans - the vast majority as I recall - who were very unhappy at this. The fact that his new club were promotion rivals only added to my discontent with our board's decision to cash in on a favourite player who had provided us with five years of outstanding entertainment, and whose form certainly hadn't to my eyes suggested that he couldn't have given us five more. His four goals for us that season had all been important ones : the coolly-sidefooted second equaliser against Carlisle on the opening day ; killer second strikes against Preston and Portsmouth, and the fourth of four against Blackpool, which had of course turned out to be a winner.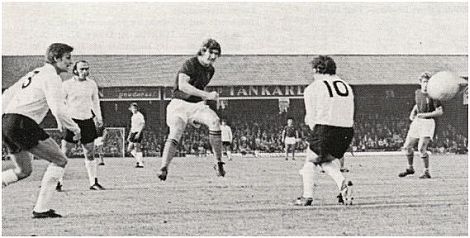 'Taffy' cracks in a late leveller at Kenilworth Road
My dad, who had watched our 59-60 First Division championship team and all the stars of our continued top-level success in the early sixties, said he'd nevertheless seen no other player - of any club - who could cross a ball as accurately whilst on the run. I was to be reminded of this opinion when Thomas supplied superb pinpoint crosses for a great number of Bob Latchford's 30 First Division goals for Everton in 1977-78.
With Geoff Nulty - a more all-round midfielder - replacing Thomas, we then managed a 2-1 win over Swindon at the Turf, although the display was anything but convincing despite Nulty himself playing well. We remained top, but ahead on mere goal difference of Sheffield Wednesday, albeit with a game in hand. Villa and QPR were only two and three points respectively further behind, and each of these had games in hand over us.
Our next opponents ? Sheffield Wednesday - with a home record so far of six wins out of six - at Hillsborough. I was extremely careful about where I hid for a smoke in the days leading up to this one.
On that memorable sunny mid-October Saturday, before a very noisy and partisan 31,000 crowd, a brilliant Clarets' first-half defensive performance set the stage for 'Taffy' James to send us travelling fans into early-second half raptures, with an unstoppable 20-yard screamer high inside the near post after his tricky footwork had befuddled three Wednesday defenders just outside the corner of their penalty area. It was, as they say, a goal fit to win any game.
As my dad and I made our way from the ground at the final whistle, we were accosted by a miserable elderly Wednesday fan, who whined, 'Well - you won, but surely you can't be happy after that performance ?'
'Not happy ?' my dad replied incredulously. 'I'm absolutely bloody delighted, mate !'
I wasn't too unhappy, either.
After 13 games, then, we were unbeaten (W6, D7, L0), and top of the table by two points.