We seldom refuse and I suppose we are happy to support such causes. I even went on a sponsored two stone challenge in the summer of 2007 to raise money for the Clarets Mad Youth Foundation, and can proudly claim that the weight loss, whilst not been having maintained constantly, remains.

A few weeks ago the Burnley Football Supporters' Club treasurer Janice Fretwell produced the dreaded piece of paper and asked: "Would you like to sponsor Marc?"

Marc (also known as Fretters on the message board) is Janice's son and ever since his mum was taken ill a few years ago he's decided to do his bit and raise some money in return. Usually that means a bike ride from Manchester to Blackpool to raise money for Christies Hospital in Manchester.

"Is he on the bike ride to Blackpool again?" I asked her, only to be told that this year Marc was undergoing something far more strenuous and certainly more demanding. Along with his friend Tony Kayley he'd decided to climb Mount Kilimanjaro to raise money for Marie Curie.

As it happens I'd probably have dug deep for the bike ride, but I was more than happy to get my name down and pay my money for this expedition that I had been led to believe was a difficult one.

Marc and Tony flew out for the task ahead and arrived at Thursday 10th June at Kilimanjaro Airport and immediately headed for their hotel. "We'd been promised a hotel with a pool and three restaurants," Marc told us. "It turned out to be set in the wet hills with a few puddles that we could probably have had a swim in. Still, we weren't exactly there for a holiday so didn't whinge about it."

They were given a day to acclimatise and Marc was amazed at how friendly the African people were, particularly the children. "Jambo, Jambo," they shouted, meaning 'hello'. "I am used to kids round my end shouting stuff a lot less polite than that," Marc admitted.

A two hour walk, getting a view of the surrounding mountainous terrain, followed but with no sighting of Kili giving the hope that all the difficulties of climbing it might be a myth. Discussing it with one of the guides, Marc said: "After all, if Chris Moyles can do it …..,"

The guide didn't react well to that name and told them that although they had raised a lot of money for charity, since that television programme was shown people have been expecting a stroll up the mountain. He warned them that an average of fifteen people a year die and that Moyles and his team had extra facilities that wouldn't now be available.

At this point, if I'd have been daft enough to get that far, I'd have been on the first flight home. Not for Marc and Tony though, they were set on climbing the damn thing and the following day the whole thing started.

A two hour drive got the first day underway with the locals waving them on their way. Once that was over, a quick sandwich and the walking started. Taking the Rongai Route, the first part was through the humid jungle with monkeys and scarecrows to keep them company.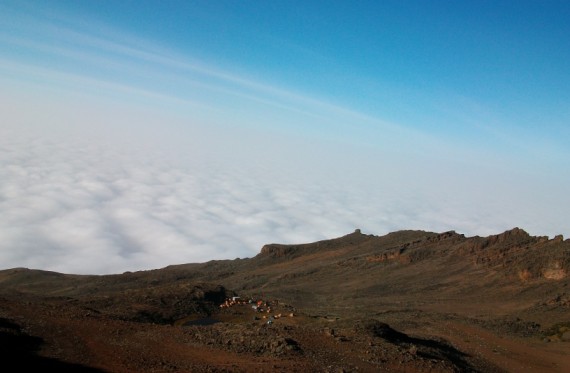 A five hour trek took them from 1,950m to 2,600m altitude by the time they reached the camp site. "Bizarrely, but brilliantly, the porters welcomed us with a song and dance," said Marc. "It was the greatest thing I'd ever seen. Spirits were high, and we had begun."

Day two saw them faced with an eight hour trek, taking them up to a height of 3,600m. It was initially through cloud cover until they emerged above the cloud to feel the African sunshine.

The difficulties were already apparent with Marc admitting: "I stupidly decided to wear a vest and burnt my shoulders because I'm useless at applying sun cream. I also started feeling the first effects of being at altitude and became dizzy and sick. So, I stopped being stubborn and took some Diamox, a glaucoma medication that, strangely, helps with symptoms of Acute Mountain Sickness (AMS)."

And to cap it all, news came through that England had failed to beat the USA in their first World Cup game. "Oh well, we'll easily beat Algeria," Marc enthused.

A trek to the spectacular 'Baby Kili' at Mawenzi Tarn was what they could look forward to on the third day. It was a four hour walk in the morning followed by a short, pleasant acclimatisation wall in the afternoon which was designed to take them up a further 200m for a short time before descending back to camp.

"When I say a short, pleasant walk, replace 'short' with 'long' and 'pleasant' with 'death' to give you more of an idea of what we encountered," Marc told us. "We spent the next two and a bit hours scaling a large rock face then walking along a narrow ridge some 200m above the ground.

"The vertigo sufferers, Tony and I included, were having a smashing time as we balanced precariously above the jagged rocks." That took them to a height of 4,330m with two more days to go.

The night was the coldest on the mountain and the altitude was now starting to take some real effect with members of the group. Tony, who was celebrating his birthday, was greeted by one member of the team throwing up after breakfast.

Another five hours on day four took them across 'The Saddle' before they arrived at Kibo in mid-afternoon for some sleep before the climb to the summit on the following day.

Dinner that night was interrupted by inspirational letters and cards from home that had been arranged by Marie Curie. They told them that the group had raised over £95,000 and that it was very likely to break the £100,000 mark.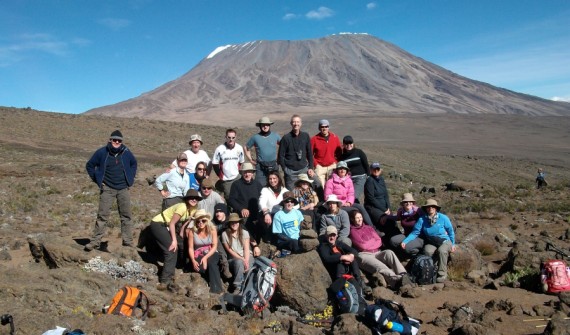 "That reminded us exactly why we were doing this and helped put the fears of the night to the back of our minds, although they brought back to the front when we were given the 'This will be hellish, the hardest thing you've ever done and you won't all make it' speech."

The climb was now at 4,700m but by 11:00 p.m. it was time to get up for the final ascent ahead. "Freezing cold, I added two thermal layers to the three I was already sleeping in, added two pairs of gloves and a head torch," Marc told us.

"I packed my bag full of energy fuelled snacks and two litres of water. Struggling to get out of my tent, I wondered if my legs were still strong enough to hoist all this up to the summit."

With the last day ahead of them, it wasn't made any easier as they were again told that at best it would be incredibly painful, both mentally and physically.

Marc takes us through that last day. "Our water would freeze so we were told to expect to be dehydrated, that our heads would hurt and we may feel dizzy and sick. We had to inform the doctor immediately if we should encounter anything like this and descend immediately. This was serious.

"Bang on midnight we began the Summit Walk. We would stop for a break at a cave half way up approximately three hours along the way. This is what I would aim for, and then I'd aim for the top. It seemed easier to break it down.

"Ninety minutes into the climb it became clear just how difficult this day would be. Already my legs were feeling like they were made of lead and the lack of oxygen meant I had the breathing capacity of one lung.

"Cruelly, the more tired we became, the steeper the incline. The only way Tony and I could get through this was to discuss anything we could possibly think of. We discussed the difference between a spade and a shovel (if any), whether metal detectors ever detect themselves, what flies must think at the other end of long haul flights they had flown onto, and a nightmare I'd had about Robbie Savage signing for Burnley.

"As we neared the top, news filtered through of people sadly dropping out as the altitude took its toll. Luckily for us the only thing we suffered from was the lack of oxygen. Our breathing became increasingly laboured as we reached the crater rim and we had to use our hands from here to climb the rest of the way.

"After what seemed an eternity, we finally spotted a sign in the distance that read 'Gilman's Point' which meant we'd finally reached the rim of the volcano. Resting for photographs and a drink of ice, we then had to decide whether to call it a day or press on the further 200m and ninety minutes to Uhuru Peak, the very summit of the mountain. As we felt nothing except for exhaustion, off we headed to Uhuru.

"Now, at this point the sun began to rise. As the whole of Africa began to come into view, the previous six hours began to seem a bit more worth it. This view, along with the achievement of coming this far, began to inspire us on as we edged towards the summit.

"We were trekking along thick ice and snow as the Uhuru peak sign came into sight. Stephen, another member of the group, was with us at this point and we all willed each other to get to the end as the sheer effort intensified.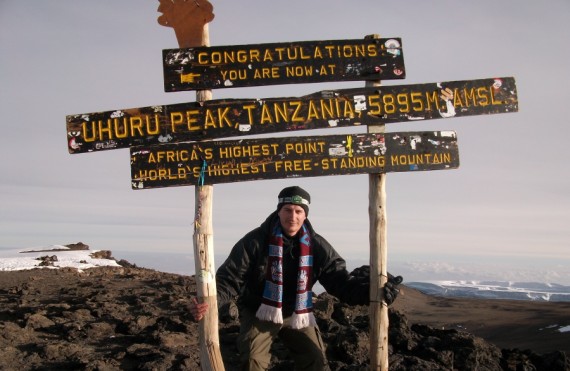 At 7:20 a.m., four days after beginning the trek, we finally reached the summit. This was marked by a wooden sign and awe inspiring views into the volcano's crater and onto the glacier at the other side, overlooking the entirety of Africa."

What an achievement, but it wasn't all over for the lads. On the way back to Gilman's point they came across another of the party, Richard, who was suffering from severe exhaustion. Ten minutes on he was barely able to stand and there was some concern that he wouldn't make it.

Help was at hand eventually and Marc and Tony made it and were back at Kibo huts by 10:30 a.m. The news of Richard was not good, and only emergency oxygen had rescued him before he was stretchered down.

A group of 21 had started with twelve making it to the summit. Two of those who made it had to be stretchered down. On that last day ten and a half hours had seen them reach the peak at 5,895m before descending back to the camp.

The next day saw the descent to the bottom of the mountain where Marc admits to them dancing and drinking like fools, but how much did he enjoy the previous few days. "I'd say it was the best and worst week of my life," Marc said. "I'm glad I did it but I'd never do it again."

Next year when Janice asks me if I'll sponsor Marc, I'll look closely at what it is he's doing. It won't be Kilimanjaro again; maybe it will be back to that more sedate bike ride.

I take my hat off to him for doing this and raising money for such a good cause. Marc and his friends can justifiably feel really proud of themselves, and it's not every day someone takes a Burnley scarf to the top of Mount Kilimanjaro.

If you would like to sponsor Marc, you still can. Click HERE to their fundraising site.