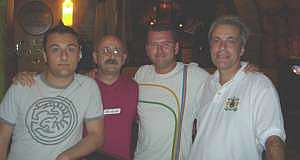 Derby Do - left to right: Simon, Joe, Daryl and Ivan

I am sure that in Burnley's successful years of the 60's and early 70's there was an abundance of Burnley fans on the island, either stationed with the services or of local provenance who followed the English game. I happen to be one of the latter, and my passion for all things claret and blue stretches back to the championship winning team and the beaten FA cup finalists of the early 60s.



There must have been many more like me, but the majority probably shifted their allegiance to other, more successful, teams as Burnley's fortunes took many a downturn and as references to the Clarets in local newspapers dwindled into nothing. In fact, during the dark years spent in the basement divisions, news of Burnley, except for the results and the odd league table, was so difficult to get hold of locally that I resorted to subscribing to the Burnley Express - until postage costs surpassed the actual newspaper costs and I gave it up. The internet at last established a link, not only with up-to-date news on my favourites but also giving me the opportunity to meet the great cybernet fraternity of Burnley fans.



Unknown to me, another local, Ivan Micallef, was ploughing a parallel lone furrow. His Claret love affair started more or less at the same time as mine, but we never even knew of each other's existence. However we both got to know, at roughly the same time but through different channels, that the present British High Commissioner to Malta, Mr Vincent Fean, is a true son of Burnley. I have to thank a Clarets Mad poster for making me aware of this. I wrote to Vincent Fean introducing myself and received a very cordial reply, mentioning that another Maltese Claret (Ivan) had got in touch with him and promising a get together for the first televised Burnley match.



Now, watching Burnley games on the magic lantern depends on the magnanimity of the local cable TV provider, who seems to cater only for supporters of Premiership and Serie A clubs; or on establishments with a satellite dish and the right connections. So we were in for a longish wait.



However the opportunity soon arose with Burnley's great FA cup run of 2002/3 and the bosses of local cable were generous enough to relay the live screening of the Turf Moor replay against Fulham in February 2003. Ivan, myself and another son of Burnley, Chris Hothersall of HSBC, plus wives, were Mr. and Mrs. Fean's guests and we celebrated that fantastic 3-0 win in great style. The next round match, the disaster at Watford was the only quarter final tie not screened live on local cable so that was that for a long while.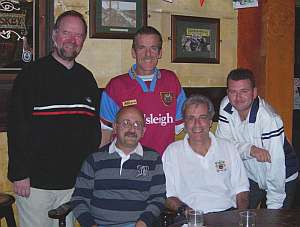 Spurs session - standing from left: Vincent, Steve and Daryl, sitting Joe and Ivan

We got another opportunity late last month with the Derby game. However, since this was not on cable, we agreed to meet at Ryan's Irish Pub in St Julians. This is a great friendly place, with TV sets peppered round the place and a big screen in one corner. A couple of phone calls established that the game would be screened on at least one of the sets, so we laid our plans. Unfortunately only Ivan and I could make it, so I took my son Simon, to my eternal chagrin a non-Claret, along to swell up the numbers. Much to our surprise, just before the match started, we were accosted by the resident DJ who asked us whether we were from Burnley! It turned out that he is – and used to live right across the road from the Turf. So enter Daryl Finn and another addition to the list of Malta Clarets! In fact he told us that his father and grandfather were probably at the match. The least said about that match the better as, from all accounts, Burnley put in their worst performance of the season – why do they do this to us? Anyway we marked the sad occasion with a group photo, which was taken at half-time and that accounts for the smiles.



In our conversation Ivan and I unearthed two other Clarets in Malta – one is Maltese and a common acquaintance. I knew him years ago as a Burnley fan but had no idea whether he had kept the faith. It turned out that Ivan had his contact details so we added him to the list. The other fan is Michael Atkinson and he is listed on Worldwide Clarets. He is a Brit married to a Maltese girl and lives in Malta.



So when news came up of the Spurs tie being on Sky, we again counted on Ryan's co-operation. Michael could not make it but Vincent, Daryl, Ivan and myself got together for the match – this time on the big screen. Wonders never cease – as we were settling down for kick off a Burnley scarf and an Endsleigh shirt sat down at the next table! Welcome Nancy and Steve, from Lancashire but resident in Malta, to the Malta Clarets! This time the lads did us proud – down to the bare bones and with an untried central defensive partnership of Duff and Cahill we more than matched the Spurs until that great strike from Defoe put the match beyond us. The missed chances in the first half cost us dear but, despite the ribbing we got from the Spurs fans present, we enjoyed the evening as the team played their hearts out. We were particularly impressed with Valois' ball control and skills on the ball. But it was not to be our day, and so we look forward to a great FA cup run for the next opportunity of another Malta Clarets get together. Who knows – we might discover some other, so far unknown, Maltese claret or two!