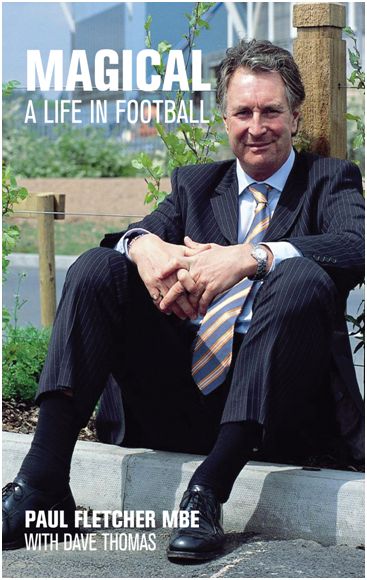 Fair to say, he never let me down, and he hasn't let me down with this book either, which is a cut above your usual ex-footballer life story.
Fletch was part of the Burnley team when, as a teenager, my support hardened to something closer to fanaticism. He scored what to this day I describe to anyone who will listen as the best goal I ever saw; an incredible overhead kick against reigning champions Leeds United in 1974, when we battered Don Revie's mighty side 4-1 at Elland Road. A picture of the goal hangs on my office wall with a lovely inscription from Paul, who had read somewhere that I had described it as the goal of the century. 'To AC,' he wrote, 'A 100 watt bulb in a 60 watt world.' He's always been a charmer. And I have often reflected how well that applies to the man himself. He played the game to the full. He played his off field practical jokes to the full. And when he went into the stadium business, he did that to the full too. Whatever he has done, he has done as a 100 watt bulb in a 60 watt world.
I have followed his progress, from Huddersfield's McAlpine Stadium to the Reebok at Bolton and the Ricoh Arena at Coventry, with a spell at the New Wembley Stadium as Commercial Director in between. That is quite a CV on the stadium front. And I was delighted when he returned to Turf Moor as Burnley's Chief Executive and it's with great interest that I can now read about this journey in; 'Magical – A Life in Football.'
The book is like his personality - quirky, optimistic, funny, full of insight and ideas. He was one of the game's practical jokers as a player, and one of its best after dinner speakers when the playing days came to an end. Both require a wit and an ability with words that come in handy when you're writing a memoir in the packed field of sports autobiography.
You do not have to know him as well as I do to enjoy the story of a boy raised in the terraced rows of 1950s Bolton. He and his mother and father squashed into the little house of his grandparents that lay within the shadow of one of Bolton's biggest cotton mills. Then he and his parents were able to move to a house on a council estate where, in the back garden, he taught himself how to head a ball along his mum's washing line. He left school at 16. Today he has the letters MBE after his name and is managing director of the UCFB, the University College of Football Business, an amazing concept now in its second year of existence, located within one of the stands at Burnley Football Club. A lot happened in between.
His playing career began at Bolton; Jimmy Adamson bought him for Burnley for his bravery in the box, and his heading skills, although according to Paul, he didn't rise like a salmon; more like "a tin of John West."
He writes about a Dale Carnegie course he attended with his leg in a plaster cast towards the end of his career and one of three moments that changed his life. It opened his eyes to the fact that however magical it was to be a regular first team player in one of the most famous clubs in the country, it was coming to an end, and was no preparation for 'real' life after his career was over.
So he zips through all the funny stories of all the jobs and businesses he ran for several years until at last getting a foot back in football at Colne Dynamoes where he became commercial manager.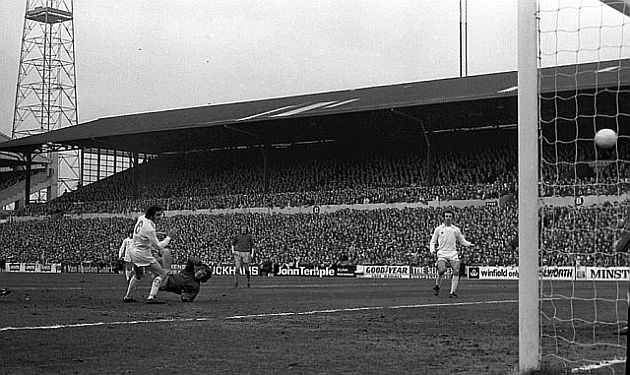 That goal at Leeds in the 4-1 win in 1974
And then came the big break-through, from Colne Dynamoes to Huddersfield Town on the other side of the mountains, again as commercial manager. However, it coincided with Huddersfield's move to a new stadium. Fletch knew nothing about stadium development, but he learned fast. The result is what you see today, the Galpharm Stadium as it is still signposted from the M62, 'Building of the Year' in 1995.
The Reebok at Bolton, The Ricoh at Coventry and the new Wembley Stadium; he was involved heavily in all of those. He tells the background story to the sad demise of Coventry City and why he left the Wembley project, then to return to Turf Moor as chief executive.
So the ten years as a player was now to be followed by four as chief executive. There were some real highs during that first spell, but also the low of relegation in 1976, the start of a long period out of the top flight. So it is quite something that he was back at the club all those years later, a key member of the team running Burnley in the year we got into the Premier League for the first and so far only time, 2009. He had to become adept at office politics, not always easy in football clubs, but it is clear he sees director Brendan Flood as a driving force behind the promotion bid.
But if promotion to the Premier League in some ways defied footballing gravity, the global financial crisis had a dire impact on one of the reasons for Paul's appointment in the first place, namely the building of a new stand and complex backing onto the cricket field. It never happened, and so he resigned and moved on, though his current position at UCFB means he now works at the other end of the stadium.
In recent years I have got to know Paul and his wife Sian well. They are superb hosts and for someone who has been in football for so long, he remains incurably optimistic about life and the game. He has his own straightforward writing style, a terrific sense of humour and a real commitment to the role of sport in the community. And his love for Burnley Football Club shines through every page of that rare thing in football autobiography - a book worth reading.
He is also now the subject of one of my favourite quiz questions - name the only man in English football who has won promotion to the top flight both as a player and a chief executive?
'Magical' A life in Football
Paul Fletcher MBE with Dave Thomas