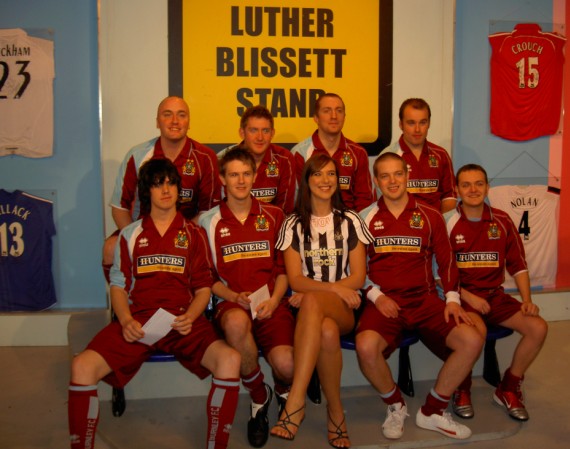 The WYC and Clarets Mad Fans of the Week sat in the Luther Blissett Stand with Socerette Heidi (Hi)
Back L --> R: Steve, Chris O, Chris R, John - Front L --> R: Rich, Damo, Heidi (Hi), Tom, Martin
For those that aren't familiar with the show, the concept involves a very light-hearted look at the previous week's league, cup and European action, combined with gags, laughs, games, sketches, phone ins and celebrity guests. Towards the end of last season, the show's producer / presenter Tim Lovejoy (It is true, if he was chocolate he'd lick himself) made a request for potential 'Fans of the week' to make themselves known and put themselves forward to take their seats in the 'Luther Blissett Stand' on the show the following season. So this is what I did, 8 names of members of the WYC, all of which are Clarets Mad posters were emailed off, and for at least 8 months I didn't hear a thing…………..