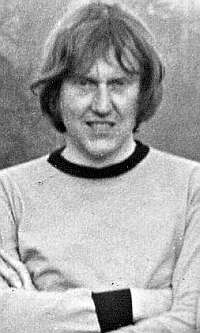 Chairman Barry Kilby in his playing days
What has happened is that Burnley chairman Barry Kilby has actually gone Clarets Mad after agreeing to an interview with the site.
Barry joined the board in late 1998 and became chairman at the end of that year with the club languishing near the bottom of the Second Division and he was first asked why he wanted to get involved in the first place.
"They are my club, I had the money and we were in a bit of a mess at the time. If I was to give you a real posh answer it would be that I had the opportunity to strengthen one of the essential pillars of the culture that I come from. But it is about true, with the family links and everything, and here I was with a chance.
"We were in a bit of trouble at the time with Frank (Teasdale) and with Ray (Ingleby) trying to buy the club and we looked as though we might even get relegated back down again. I had a chance to get in and that's what I did. Basically I came in because I wanted to, to do the best I could and influence something that is near to my heart."
Things really were bad at the time with the Peter Shackleton farce having disappeared from whence it came and the Teasdale v Ingleby war still raging so how did it all happen?
"There had been an article in the Lancashire Evening Telegraph when I had sold some Europrint shares to GTECH and I had mentioned Burnley Football Club in the article. Then I got a call from Bob Blakeborough and that set it up. From there we met and I decided to get involved."
Many believe there had already been a link up with prospective buyer Ray Ingleby in New York but was that the case or were the Ingleby discussions later?
"Not at all, I hadn't spoken to Ray. We did speak afterwards and he came onto the board after the rights issue and of course he is now Vice Chairman.
"Ray lives in London now so obviously there is some distance between us but he has been a fabulous support to me. I have found him useful, he is a businessman to the nth degree and in particular last year when doing deals with creditors he was fabulous. Ray has been a great support to me and that's the absolute truth.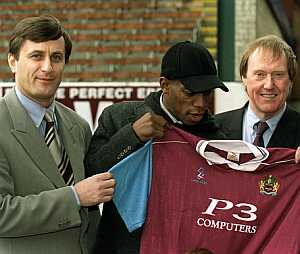 with Vice Chairman Ray Ingleby and Ian Wright
"Maybe unfairly people expect him to put money in, I can only say he has been a fabulous support to me on the board and I have every respect for Ray."
So after over four years in the hot seats there will have been highs and lows but which two could be picked out as the highest of the highs and the lowest of the lows?
"The day at Scunthorpe when we got up would be an obvious high, and would be the number one, but there have been some other good ones and on the whole we have had a good run. The cup runs this season were also a high.
"The low I would say was last August when the trial against ITV Digital collapsed and we were looking at a four or five million pound loss and we kicked off the season with one point out of the first fifteen. That was a really low time but up to now the highs have certainly out weighed the lows."
The 2001/02 season proved a crucial season with us getting all so close to the play offs and a possible place in the Premiership. In the end though we missed out by a goal but how did it go wrong when we were so far ahead?
"In the first half of the season we had two good runs, a good start and then another burst before Christmas when we went to Coventry and won and then to Crystal Palace and Preston and won there.
"The second half of the season was not as good but we were very unlucky in the end to finish with 75 points, a total that would usually always get somebody in the top six, and miss out. It cost us dearly as well because we made the decision to go with Paul Gascoigne and David Johnson, which were very expensive moves, to give us that push to do it. And that worked against us in the end because of the collapse of ITV Digital.
"And yes there was also an enquiry for Glen Little during that period, a fee was discussed but there was no formal offer."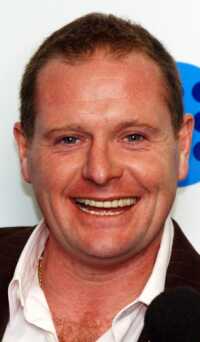 Paul Gascoigne - expensive signing
That conveniently takes us on to last season and the financial problems brought about mainly by the collapse of ITV Digital. How severe were our problems and were we close to going into administration?
"Certainly if we hadn't done deals we were looking at a situation of where do we get the cash from and in strict terms it could have been a real problem we would have had to face. What we did to avoid it was get a suspension of capital payments, we got a commercial loan that we have been able to pay back and the directors loaned money. By doing that we then had enough cash to handle the loss but we still have it in front of us. We had to move quickly and certainly if we hadn't been able to get agreements to suspend our capital payments we would have been struggling to find the cash."
During this time, at the start of last season you found yourself booed by some of the crowd, how did you react to that?
"Honestly it didn't really worry me much but I suppose it does slightly. It does though make you realise that everything in football is now and what you have achieved in the past doesn't count for much."
And are your feelings the same about the television companies now, as they were almost a year ago?
"It was an absolute disgrace that two national companies like Carlton and Granada could walk away from a loophole in the contract. It was unprecedented in British business and you would find it hard to find companies of that standing, they rely on Government monopolies I might say, to just walk away from what was a relatively small amount of money for them. Most companies would have paid up having realised the venture wasn't succeeding and settled there debts. It was a disgrace for British business."
It has been a bad year for football financially with a number of clubs going into administration. There are suggestions that The Football League will penalise clubs who go into administration in future but you have spoken against this. Is this how you will vote at the League's AGM?
"I think we have got to be careful. I know the way that Leicester and Ipswich have managed to come out smelling of roses but we have to be careful because there are clubs on the other side of the coin who are looking for someone coming in to ensure that the club just survives.
"Leicester and Ipswich have got away with it by doing the deals. Somebody has taken the hit with the 5p in the pound but somebody does have to agree to it.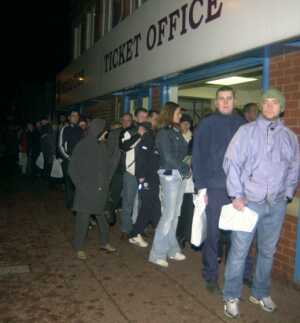 Queues outside the ticket office but they have been shorter this year
"Administration could have been a lot worse for Burnley Football Club than it was for these two. It is the old story, if you owe the bank £30 million the bank has a problem, if you owe the bank £3 million then you have a problem."
Staying on finance but looking forward to next season it has been reported that season ticket sales are down on a year ago, was this expected given that season ticket holders were not turning up at the end of last season?
"I'm disappointed with the season tickets. The sales are lower than expected and we are down on our budgets, we were hoping to do roughly the same with a very modest price increase. It's looking like with a best guess probably 70%, maybe 80% if we do well, of what we budgeted for.
"I'm hoping against hope, walk ons last season were extremely poor from the Burnley crowd and we are hoping to make that up but that all depends on how the season goes."
Do you not think that the end of April cut off for discount is a factor?
"Yes we are reasonably early in the cycle for season tickets although not as early as some, Crystal Palace have their discount period around February. It is to get money in to cover us for the worst period when you have no revenue.
"I understand the fans' view but looking at it with my Burnley Football Club hat on where I am trying to maximise our revenue so have a more successful team or we stay in business. It is extremely beneficial to the club to have that money in by the end of April rather than the end of June."
But don't you think that it is probably easy to sell season tickets in April when the team is chasing promotion or a play off place but not quite so easy when it is losing every week and there is no chance of success? It was clear to a blind man on a galloping horse that at the end of last season we had season ticket holders not even turning up when they had already paid.
"I think you are right. It's a good point and the point is taken and I think we should have a good think about it for next year. But the reason we do it is to get the cash flow in there which is extremely beneficial.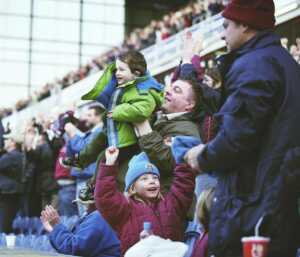 Is the fans perception wrong, is it not all about how much money the club can get from us?
Have you not considered extending or re-introducing the discounts?
"It has been discussed but it is penalising those who paid up early. It isn't going to happen now but it is something we really have to think about for next season."
There is a perception amongst many Burnley fans that the club is only interested in us in terms of how much money they can get out of us.
"I think that's really unfair, it is the way we survive in this division and looking at the clubs coming into this division most have much bigger resources than we have.
"I could understand this criticism if we were a plc, if the people running the club had put money in to get a return on their capital as a bottom line. But all that money goes to balancing the books, to pay the wage bill and to get the players and we have to fight like hell to get every penny we have to survive and get as high as we can in this division and keep that name of Burnley Football Club as high as we want.
"You cannot blame us for fighting like hell to maximise our revenues. Money grabbing no but yes I am trying desperately to get the best I can for Burnley Football Club. Looking on past performances without the windfall of a cup run we have done £2 million in season tickets and £1 million in gates which is £3 million. What else can we get, television money is now at best some £600,000. And from commercial activity (lotteries, catering, everything) at best is £1.5 million which gives us a total of around £5 million.
"The best players' wage bill we can get out of that without running us into the ground is 60% which is around £3 million and that has got to organise the team and pay the wages out. You cannot blame us for getting as near to that £5 million as we can do.
"What do you want us to do? Yes I am trying to get as much money in to try and keep the club where we are in the highest position we have been in for donkey's years. Do you want us to sink into oblivion and be a big fish playing Colchester because that's what we would be.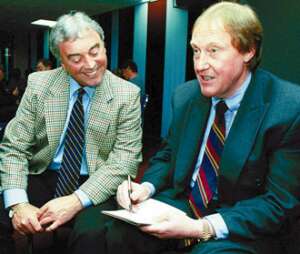 Barry and Stan - good relationship
"It all depends on us maximising our revenues and being as smart as we can. It's not money grabbing, it's trying to do the best we can. We are trying to carry on knowing we are looking at a loss of £2 million next year and that's being done by people putting money in and hoping they'll be paid back one day. We should be proud of where we have been this last three seasons."
Away from the money side now and to the football side and first your relationship with Stan. Alex Ferguson once described the relationship between chairman and manager as vital, are you of that opinion and how is yours with Stan?
"I think the relationship is one of the lynchpins. We are still together after four years and I think I have a good relationship with Stan. It is the only one I have had with a manager to be fair but I think it has worked very well and I do think it is important and I would be surprised if anyone could say we had a bad relationship.
"We've had our disagreements for sure, everyone has disagreements, but we have always sorted them and we work well together. He is very loyal to me and I hope I am to him."
You have been quoted recently as saying we are going for a more youthful look and looking at bringing in nine or ten new players. Has there been any progress on that?
"Our average age has been quite high and it does need thinking about and bringing down. We only have twelve senior professionals at the moment and we have a couple of strategies at the moment for building the first team squad up.
"I was pleased with the way O'Neill and Chaplow came through into the team at the end of last season and that was one of the pluses for us. It is all about building up the first team squad and one of the pools of players we are looking at are Premiership players who don't get a game, maybe using the loan system.
"This is one area we are looking extremely hard at but there are other avenues such as players from abroad who would probably be a little older and players who have been let go who would probably be a little bit older still."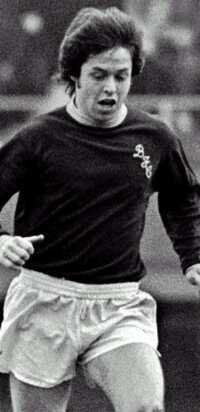 Brian Flynn - a product of our youth system
The youth system is a topic that is often on the agenda, mainly introduced by those of us old enough to remember when it was successful. Stan had his say on the subject but what is the club policy?
"The board has made a decision to try and improve our youth scheme. You have to accept that it is not as it was in the 1960s when I played in the Burnley A team, we had schoolboy internationals then.
"It's a different thing altogether now, we can't get to academy status although it is an objective for sure. It is harder to get the better kids if you are not an academy. Having said that an academy isn't the be all and end all though, just look at Barnsley and Huddersfield.
"These are clubs we went and looked at when I took over as chairman and we saw these fabulous academy systems that were going to pay dividends and yet both clubs are now really struggling.
"An academy is not a cheap option and you are not guaranteed success. The board has not just sat around though and we've been with Stan to look at set ups such as Manchester United. It's not that easy in the North West and particularly with clubs like Blackburn Rovers on our doorstep who can spend large amounts every year.
"David Dunn was at Burnley when he was a 14/15 year-old and was poached by them. You can turn up a gem and right up until his 16th birthday he can just up sticks and go.
"Sometimes it glibly comes off the tongue that we should be investing in youth but we need to be careful, very careful. It is a different situation and isn't a guaranteed way of doing it even if you have the money to spend.
"That said if we can work hard and do it right it can produce gems. I'm hoping that with the two lads we have just brought into the first team along with players like Damien Hindle we can maybe start to do it but there are a few names coming through now.
"It's a very difficult line and also I point out to look where we have come, and I don't want to say this too often, but there's a big difference in having kids from your own youth system who are good enough to get a result at Colchester and kids who are good enough to go and get a result at Wolves or West Ham.
"It's not an easy road honestly, but that said we are trying to improve it and we are committed. I would like us to get to academy status at some stage. It will though be evolution and not revolution. But one thing to remember is that if we went down again it would get harder to attract good kids."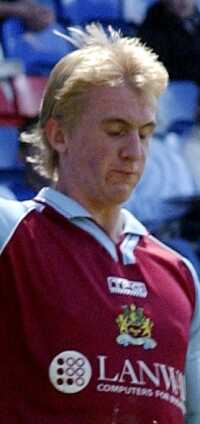 Matt O'Neill in action but who will wear the Claret & Blue next season?
Which takes us on to the reserves and the rumours that the games could be played away from Turf Moor with the dreaded afternoon kick offs.
"We have been looking at playing our reserve games at Accrington Stanley but they will still be at Turf Moor and the club has no policy to bring games forward to afternoon kick offs. Those that were played in the afternoon last season were done so to get through the backlog of fixtures.
"Burnley is becoming an exiles club – I am surprised when I look where our season tickets are sold and how wide the net is now. That and the change in reserve football has contributed to the lack of interest at that level now."
And so to next season, you seem to be very upbeat about it all. Are you that confident?
"Next season will obviously depend on the players we get in but the strategy is that with the market place that's there and with the connections we've got along with the players we already have, and we have good attacking footballers who can score goals, we can do well.
"If we can be smart enough in the market place this summer then we can have a good team but it isn't going to be easy when you look who is coming down and coming up into the division. And there's money coming up with clubs such as Wigan.
"And it's looking some division next season but I think we can equip ourselves very well and we are still aiming for a top six place (or top eight if the new play off system comes in). A lot of fans are getting impatient but I have said that June will not be a big time. There are a few things going on in the division but not much.
"We are talking to players but they are looking at their options and those being released are paid until the end of July and they are biding their time. There are things going on behind the scenes and we thought a player might be nabbed if we didn't act now then fine we would act.
"I think we can have a good season."
Onto the fans now and you have seen the Football Supporters' Federation blueprint. Have you any comments to make?
"I have to say I was pleasantly surprised and impressed with it and I found myself agreeing with most thing in there."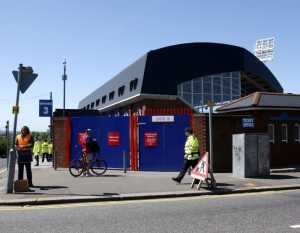 Selhurst Park 15 minutes before our last game - Wimbledon has been a long sorry story that shouldn't have happened
And onto one close to my heart the situation with Franchise.
"Wimbledon has been a long sorry story that shouldn't have happened. We were against it and the Football League were against it. There have to be rules to stop clubs moving, they can't just move we are not America. It cost us around £18,000 at a time when we could have done with the money."
And finally what are your views on independent web sites and fanzines, would you prefer it if they disappeared.
"All in all they are quite healthy and I think they are good for football, they can be quite entertaining and I sometimes smile at some of the things that are written.
"I think Bob Lord would probably turn in his grave though."
Clarets Mad would like to thank Barry Kilby for giving his time for this interview. It took place on Wednesday 4th June and before Driss Diallo signed for Ipswich (he has since spoken out on that) and before the introduction of the selective season ticket discounts.
I must also add that try as I might I could not get any names from the chairman regarding potential signings. He said it would be unfair to give out any names and I somewhat reluctantly agreed.