And yet, as Dave Thomas's intriguing biography of Jimmy Adamson suggests, these family-like organisations of yester-year were not immune to internecine strife.
Jimmy Adamson is not a household name, at least among those not yet of a 'certain age', and without any association with the former 'Cotton towns' of North East Lancashire, or with Sunderland AFC immediately after Bob Stokoe's glorious Roker reign, or with Leeds United of the late 70s, still in mourning at Don Revie's departure. The late Jimmy Adamson was formerly a professional footballer with Burnley FC during the immediate Post-war years - a Rolls Royce defender whose poise, power and positional acumen drew copious plaudits from his fellow players and members of the press but, alas, no international recognition - at least in terms of full representative honours - during a career which spanned the late forties, the fifties and early sixties. He was rightly awarded Footballer of the Year in 1962, though. This was the year in which he captained his club side in a memorable FA Cup final against Spurs, having led them to the First Division title in 1960 - a remarkable triumph given that Burnley was then the smallest town or city to produce a Football League Championship-winning side, with that team assembled at lower cost than any of the First Division champions before it. Those distinctions still apply to this day if the history of the English Premiership is added to that of the Football League's premier competition.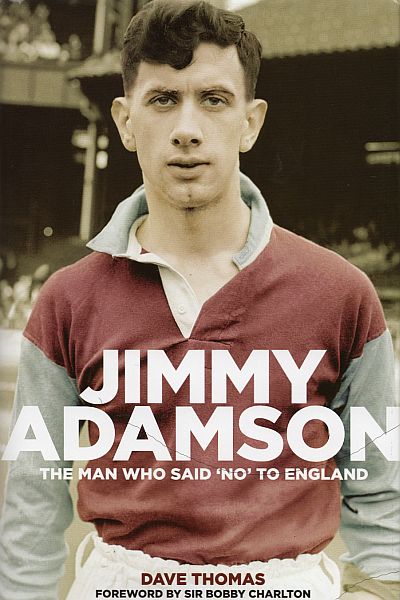 The strength of that Burnley side which punched so hard & successfully well above its weight lay not only in the outstanding individual and collective skills of its players but also in the club's visionary coaching; and its extensive scouting networks, enabling it to net the most promising young talent around; plus, crucially, in its 'all for one' and 'one for all' family mentality. Many of its young recruits, like Adamson, came from harsh, impoverished working-class backgrounds. This warm club not only honed their raw talent, it provided emotional sustenance also. This enfolding environment carried obligations as well as benefits, though, and, in time, Adamson became enmeshed in these, as his professional and personal ambitions, began to conflict with those he was answerable to, much to his detriment and that of the club.
Although Jimmy Adamson failed to gain the international recognition his playing skills merited, his visionary coaching ability was not overlooked by the FA. For he became England manager, Walter Winterbottom's right-hand man at the Chile World Cup finals in 1962, quickly attracting the admiration of England's leading players, such as Bobby Charlton. In testament to the high esteem in which Sir Bobby held Adamson, he contributes a Foreword to this book. So impressive was Adamson's coaching skills that he was offered the post of England manager when Winterbottom retired immediately after returning from Chile. Adamson turned the job down, though, preferring to extend his playing career. So the job was offered to Alf Ramsey! As they say, 'the rest is.... '
Adamson's unprecedented refusal was perhaps motivated by other factors. He seemed loathe to leave the emotional comfort of Burnley. His wife was not keen to move to London, either. Besides, Burnley's bluff, dictatorial chairman, Bob Lord, appeared to be offering him a coaching job for life at Turf Moor.
Burnley's improbable success during the fifties and early sixties owed much to the strength of a triangular coalition between its leaders. At the club's helm was the autocratic but forward-thinking chairman, Bob Lord. While he ran the club, as he did his butcher's trade, with inexhaustible energy and fierce ambition, he had no intention of buying a dog and barking himself, at least while his meat business demanded so much of his time. He selected his managers wisely. Arguably, his best appointment was that of former club captain, Alan Brown. Brown's shrewd, ground-breaking coaching skills set Burnley well on their way to their title triumph in 1960. Brown was eventually succeeded by the avuncular, ever- enthusiastic and passionate Harry Potts, also a former star player at Turf Moor. Potts had the good sense to build upon Brown's legacy, and in this regard, he was indebted to the ingenuity of his boot room staff, namely Billy Dougal and Ray Bennion, and to that of his leading players, particularly Jimmy McIlroy and Jimmy Adamson, who forensically devised and rigorously rehearsed an extensive array of dead-ball ploys which so often wrong-footed Burnley's illustrious opponents, at home and abroad.
Lord treated Potts and Adamson like surrogate sons - at least while they continued to deliver what he expected and, crucially, while they recognised his unchallengeable position as head of the Turf Moor family. Potts had been one of Lord's favourite Burnley players so he featured high in his regard when it came to choosing a permanent Burnley manager, in succession to Brown, in 1958. Moreover Potts seemed less disposed to confront Lord in the manner of his strong-minded predecessor, Alan Brown. Potts was a good son. He did as Bob Lord demanded including selling players he'd rather have kept. Moreover, he delivered the League title in 1960. So when Bob Lord acted quickly to secure Adamson a coaching post at Burnley to prevent him being nabbed by a bigger club, he thought his two 'sons' offered a dream ticket. Lord expected the two of them to work in harmony, as they had as manager and captain of the Championship-winning side, in restoring Burnley's glorious success, in the face of an increasingly harsh economic climate that forced Burnley to sell its talented youngsters in order to survive. However, soon after the 'dream team' was established it became clear very quickly that troubled waters lay ahead, for Adamson was a man of the future while Potts was one of the past. Adamson was an astute tactician, prepared to adjust selections and style of play according to the strength and game plans of the opposition; whereas Harry Potts relied upon his players to express themselves on the pitch with little instruction from him. He simply demanded that they play with 'a chuckle in their boots'. Adamson had seen in Chile that such home-spun philosophy was out of place in an increasingly competitive and defensively-inclined modern game. It wasn't long before Potts and Adamson were clashing over team selection, tactics, coaching and training drills.
Eventually Bob Lord deposed Harry Potts, his first 'surrogate son', replacing him with his second, appointing Adamson as manager in Potts's place in 1970. Potts took his demotion with admirable graciousness but he was bereft at being separated from the job he loved so much and hurt that his loyalty should count for so little. But whereas Potts dutifully subscribed to his family obligations at Turf Moor, Adamson seemed less prepared to endure these despite complying with Bob Lord's insistence that he and his wife lunch with the Lords each Sunday. Ultimately the tensions between Adamson and Lord would lead to ruinous friction as the bottom line bit harder into the slender resources of a small town club beset by a declining local economy following the abdication of 'King Cotton'.
When an organisation is faced with the need for critical changes in order to survive, a family culture can often get in the way. Too often those placed at risk by change feel they are entitled to set the agenda, falsely believing that their loyalty and emotional ties count for much more than is conceivably possible. In Dave Thomas's probing account, the perils of such a scenario are graphically and skilfully captured. Ironically, both Potts (supported by his feisty and protective wife) and Adamson felt that their established positions in the Turf Moor 'family' entitled them to more power and influence than was feasible given the club's dwindling resources of young talent and draining cash reserves.
This is a very well-written book about crushed personal ambition, examining closely how one of our leading football coaches, with the world seemingly at his feet, fell from the sun. While this is essentially a football book it has resonance for other walks of life. From a footballing perspective, it offers a fascinating study of the privations endured by footballers over half a century ago, both in their early years and as young professionals. But above all it provides a fascinating perspective on the decline of footballing dynasties - not only at Bob Lord's Burnley but also at Leeds United in the wake of Don Revie's departure and Brian Clough's 'damned' stay.
Highly recommended
Jimmy Adamson: The Man Who Said No to England, Pitch Publishing 17.99