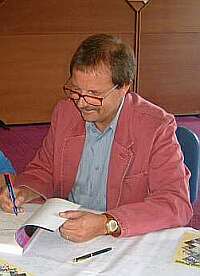 Author Dave Thomas at the launch
This site features so heavily in the book that was published and launched at Turf Moor early last month and it was perhaps considered that we would be unable to present a fair review and so we have sought the views of someone not involved in any way with the site.
We cast our net out far and wide to be able to bring you a balanced review and finally this week we were rewarded with a kind offer from a Malta based football supporter who has read the book.
In fact our reviewer, Paul Grech, is not even a Claret and he does in fact support Premiership club Liverpool. We certainly think that allows him to present a more objective and balanced view.

We are grateful to Paul for providing us with this review and it is reassuring to know that books concerning the goings on at Turf Moor are of interest to football supporters other than those of us who follow the fortunes of the Clarets. His review of It's Burnley, Not Barcelona is below.

It's Burnley, Not Barcelona
Reviewed by Paul Grech
Now this is the sort of book that I like. "It's Burnley Not Barcelona" is witty, funny and – most importantly – it provides plenty of pointed observations. In fact, it offers everything that the back page promises it will and, given the rubbish that often precedes football books these days, in itself that is something to be grateful for.
Dave Thomas is a fan. He knows that and has none of the pseudo-literary pretensions that seem to burden most books written by football fans. As such, he writes with passion rather than with the intention of impressing the reader with his ability. His writing is reflective of the way in which a fan thinks: taking in and analysing apparently unimportant football facts. All of which helps make "It's Burnley not Barcelona" even more enjoyable.
The book is a diary of the 2002/03 season, which started promisingly for Burnley but ended disastrously. Some bizarre results (Burnley 2 Sheffield Wednesday 7 certainly falls in that category) and an extended cup run are additional elements that give the whole story more flavour. "It's Burnley not Barcelona" also freely quotes from Burnley websites and fanzines, but it picks out some excellent pieces that truly deserve to be read by a wider audience.
Thomas occasionally lapses into clichés and irritatingly tries to create puns with players' names, but generally is quick with plenty of tongue-in-cheek comments. Aware of the bad reputation that surrounds Burnley fans – something that I myself have to admit to being guilty of - there is the overbearing feeling that Thomas pays particular attention that none of his jokes are offensive. Indeed if his intention was that of changing that impression, he succeeded in reaching his objective.
But he is at his best when making his remarkably knowledgeable observations. Thomas has the talent of looking at a situation, examining its critical elements and then coming out with a comment that sums everything up. True, he isn't the only writer with the ability of doing so but what marks his writing is that he does so without any pretensions.
The only down side to this book is that it deals with one particular season and as such already looks dated, not to mention that it is unnecessarily limiting. Had Thomas written about the experiences of being a Burnley fan in general, this book would in all probability be a lot more rewarding.
But that is simply me being pedantic. This is an excellent book, one that serves as a timely reminder as to why websites and fanzines and those who write in them are such an important element in the British football culture. Buy it, read it and enjoy it.