As far as the make-up of today's Premiership is concerned, Lancashire is winning the 'Roses' battle hands down. While Hull are Yorkshire's sole representative in the top flight, Lancashire now boasts eight sides. Fifty years ago, the picture was almost similar. Languishing Leeds and the newly-promoted 'Owls' made up the meagre Yorkshire contingent while Lancashire were represented by both Manchester clubs, Everton, Preston, Blackpool, Blackburn, Bolton and Burnley. After Leeds' relegation in May 1960, the White Rose party was reduced to just one.
Leeds' demise in '59-60 was almost inevitable. The club was in a deep mess. It had been struggling ever since the loss of the talismanic John Charles to Juventus in 1957. With the under-insured West Stand falling victim to fire in '56, Charles' £65,000 fee was needed to help build a replacement. The team was ageing and there was no money for team strengthening. Consequently, the team's fortunes declined. Manager, Raich Carter, was sacked. So was his lame replacement, Bill Lambton. Nobody seemed to want the poisoned chalice. Even Arthur Turner, boss of non-league Headington United, turned the job down. Only Jack Taylor, with a modest record at Third Division QPR could be persuaded to move to Elland Road. He was accompanied by his brother, Frank, as coach.
Before the season started, the promising Scottish inside forward, George O'Brien, was transferred to Third Division, Southampton for £10,000. However, Jack Taylor was not allowed to buy a replacement until his first choice centre-forward, ex-Claret Alan Shackleton, was shifted to Everton. Taylor used the transfer money wisely bringing in the powerful, confident Bradford City centre-forward, John 'King' McCole. The Glaswegian McCole would score 22 League goals in 33 appearances during this dismal season, a remarkable return in a struggling side. But as prolific as McCole was his efforts were wasted because of shoddy defending. 92 League goals were conceded - the highest tally in the division - with three or more goals conceded in almost half of their games. In March 1960, central defender, Freddie Goodwin, was signed from Manchester United but only after Leeds' Young England inside forward, Chris Crowe, had moved to Blackburn to finance the deal. Although Goodwin added much-needed solidity to Leeds' back line in the last nine games by then the die was almost cast.
A young Norman Hunter was horrified by the indiscipline he witnessed at the club. He recalled that the senior players once threw the cones, set out by Frank Taylor, into a ditch, refusing to take part in his skills training exercise. He was aghast at the disrespect shown towards manager, Jack Taylor, citing a team talk at which the senior players larked around, throwing streamers at one another and completely ignoring Taylor. Eric Smith who joined Leeds shortly after their relegation commented: 'the club was fifth rate and the players were undisciplined. Jack Taylor had let things go…we would go on long training runs and some players, quite senior players would walk in with ice lollies in their hands.' Bob English, the club physiotherapist remarked: 'there wasn't much enthusiasm. Jack Taylor was a nice man but he didn't crack the whip enough. Training was slack, though Don Revie was one that really did train.' Young Billy Bremner agreed: 'training was just doing laps, a kickabout with a ball but no ball on Friday, just sprints'. Although Bremner was impressed by Don Revie's dedication and vision he was contemptuous of the club's unprofessionalism. He said: 'we went to play a very important game towards the end of the season at Blackburn Rovers. I remember thinking: ''I wonder where we're going to eat.'' In the end, we stopped off at a cafe and had beans on toast. It was all a bit of a rush, nothing had been arranged. And this was the most important game of the season. We lost 3-2. Even as a young fellow, I thought ''we haven't really prepared well for this game''.' Freddie Goodwin was horrified at what he found. He commented: 'many of the side just seemed to play for themselves. And Jack (Charlton) was part of that. He was an undisciplined player when I joined.' Don Revie was enraged by Jack's behaviour in practice matches which Jack seemed to treat as a joke. Even Jack later admitted that his habit of racing about all over the park was 'totally unprofessional'.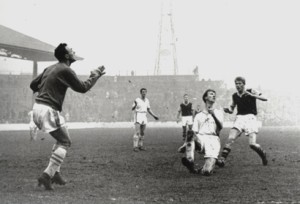 Without Jimmy Mac, Burnley stutter to defeat against leaky Leeds
Unsurprisingly, Leeds struggled with just two remarkable victories to their name - both gained away from home. Galling as it was, the first of these came at a soggy Turf Moor (1-0) on the 19th December. Here Leeds subdued a well under par Burnley side, achieving only their fourth clean sheet of the season. The other came at White Hart Lane on the 28th December where, amazingly, McCole's two goals helped them beat Spurs 4-1, thereby avenging their Boxing Day defeat (2-4) by the League leaders. At the end of a dismal season, only 11,699 Leeds fans turned up on a sunny April 30th to watch John McCole fire their last shot in anger. His first half spot kick earned Leeds a 1-0 victory over the 1959 FA Cup Champions, who were a pale shadow of the vibrant side that had graced Wembley twelve months before. Leeds four-year stay in the top division was over. Two years later they narrowly avoided a further fall from grace but a dramatic transformation in their fortunes was impending, masterminded by the shrewd Don Revie and orchestrated by the irrepressible Bobby Collins. Sporting the garb of Real Madrid, Leeds would reinvent themselves as one of the toughest, tightest outfits around.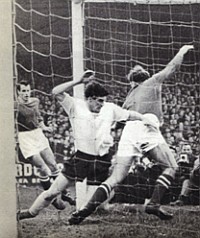 Keith Ellis declares his love for goalkeepers. Amazingly, the goal stood.
As for Sheffield Wednesday they were an entirely different kettle of fish. Fed up with their 'yo-yo' years, the Hillsborough board decided it was time for a change at the top. They tried to lure Bill Nicholson to the club but his heart was set on Spurs. Consequently, the job was offered to former Evertonian, Harry Catterick. According to Peter Swan, the former Wednesday and England centre half, Catterick 'was a hard man who took no prisoners. If you didn't do what he wanted, you knew you were in for it…He was quite a big guy who spoke with a lot of authority, so you didn't mess about'. Catterick was unconcerned if his players attracted 'bad press' during down time but insisted that if they didn't do it for him on a Saturday, they would ''get some of that'' (pointing to his clenched fist) and they'd never kick a ball again. While Catterick's man-management was armed forces-style, he was a shrewd tactician. His game plans were carefully prepared with each player briefed on their opponents and how they should respond. The defensive organisation was tightened with a swivel formation introduced to avoid defenders being caught square. Despite Wednesday's basic facilities, training was thorough with attention paid to improving ball skills and set piece routines. Before Catterick arrived, training comprised just lapping and sprinting, finished off with a game of football.
As winter finally pushed the long, hot summer aside, Wednesday began to make their mark. Young Keith Ellis was introduced at centre-forward scoring five times in his first six games. He, too, would make his mark - in more ways than one. Adam Blacklaw had cause to remember him during the bruising battle at Hillsborough in mid November. League leaders, West Ham experienced the same treatment two weeks later. Peter Swan remembered: '(Encouraged by Catterick) Keith Ellis used to practice the tactic of going up to keepers with his elbows…That meant Dwyer (the West Ham 'keeper) was looking for Ellis when the crosses were coming over, which was obviously distracting. As a result he kept dropping the ball when Ellis went into him and a few goals came that way.' Table-topping West Ham were thrashed 7-0. Ellis, a bright and pleasant man off the pitch, was a real handful on it. Despite Ellis's one in two scoring record, some Owls supporters nicknamed him 'Lino' because he was considered so 'limited on the ground'. Catterick was not convinced about Ellis either, seeking, but failing, to replace him with England's Scottish centre-forward, Joe Baker.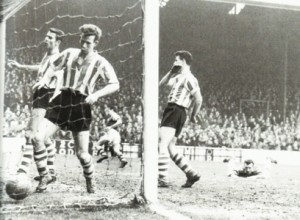 John Connelly scores against Wednesday in the 3-3 draw at Turf Moor
As if there wasn't enough testosterone in this side, feisty Third Lanark inside forward, Bobby Craig, was added to the squad in November, proving his worth with goals against West Ham, Chelsea (4-0) and injury-depleted Arsenal (5-1). Catterick also strengthened the defence elevating the hard tackling full back, Don Megson and the fiercely competitive wing half Tony Kay. As evidence of the team's greater bite, December featured three victories and two draws. After securing a 2-1 win at Fulham with a vicious drive from right winger, Wilkinson, Wednesday ended the decade in 8th position, five points behind table-topping Spurs.
While the New Year began inauspiciously with a 4-1 defeat at erratic Manchester City, Wednesday finished the season strongly, finishing in 5th place, six points behind Burnley. At one point they barged into third spot and threatened to join the title race. They also progressed to the FA Cup semi final at Maine Road, where Derek Dougan's opportunism ultimately destroyed them. Although Swan, Kay and future centre-forward 'Bronco' Layne would be later jailed and (before their subsequent reprieve) banned for life for 'match fixing', the resilient 'Owls' of '59-60 chiselled out a place in the premier league. They had done this by investing in youth - reducing the average age of their squad from 28 to 22 years. For the next decade, their 'Yo-Yo' years seemed behind them.
The above article is an off cut from the book
'Never Had It So Good': Burnley's Incredible 1959-60 League Title-Winning Triumph':
by
Tim Quelch
. The author 's profits from the book are to be donated to the Burnley FC Youth Development Programme