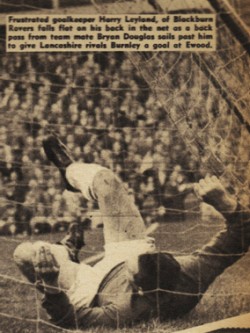 Oops! Douglas's boob gifts Burnley a goal. Sadly we returned the compliment - twice!
Burnley's League rivalry with Blackburn had resumed during the previous season after a ten-year gap, although the two sides met in a Sixth Round FA Cup tie in March 1952, a game which Burnley lost 3-1 despite enjoying long periods of dominance. The resumption of the East Lancs derbies followed Rovers' promotion from the Second Division in April 1958 when, under the astute guidance of manager, Johnny Carey, they just edged out Charlton Athletic to take second spot behind West Ham. Then having waited ages for a local derby, three came along in succession. In an icy Ewood sandpit, Burnley came from behind to win the 4th Round FA Cup tie in January 1959, with Jimmy Robson's 88th minute header proving decisive. However, they succumbed to Blackburn's shoot-on-sight policy in losing the League game played there six weeks later. Despite opening the scoring in the 20th minute through Ray Pointer, Burnley lost 1-4. As for the game at Turf Moor in October 1958 that ended as a drab goal-less draw. Even a crowd of almost 42,000 failed to inject much excitement.
With Carey enticed by Everton's greater riches, soon after Blackburn's promotion, ex-Scottish international and Luton boss, Dally Duncan, was drafted in to replace him. Duncan appeared to have good credentials. He had transformed Luton's fortunes, with 'The Hatters' promotion to the First Division in 1955 representing the flowering of his shrewd youth policy. Despite having limited resources at his disposal, Duncan's side had managed to hold its own in the top flight. He appeared to be the ideal candidate to take over a club not blessed with cash riches but possessing a flourishing youth side developed by his predecessor. In 1959, Blackburn's youth team beat West Ham's bright youngsters, including Bobby Moore, to lift the FA Youth Cup. Having guided Blackburn's senior side towards mid-table respectability, Duncan also strengthened its squad by paying £15,000 to relegation-bound Portsmouth for their brash, young Irish centre-forward, Derek Dougan. Optimism was high.
The 1959-60 season started brightly. Basking in the summer heat, Rovers were top by the end of August. They thumped First Division newcomers, Fulham 4-0 at home and local rivals, Bolton 3-0 away in their opening games. Their much admired 'three-D' spearhead, comprising Peter Dobing, Dougan and tricky England right winger, Bryan Douglas was firing on all cylinders, ably supported by incisive Welsh inside left, Roy Vernon and direct Scottish left winger, Ally MacLeod (he of the infamous 1978 'Ally's Tartan Army'). In support, they had a battling half back line comprising England international right half, Ronnie Clayton, the slow but powerful centre back, Matt Woods and tough tackling Republic of Ireland left half, Mick McGrath. Despite being thumped 4-1 at home by Preston on the hottest October Saturday on record, they enjoyed a productive autumn. Undermined by Adam Blacklaw's errors, Burnley were beaten at Ewood Park 3-2 on October 17th. So were powerful West Bromwich a month later. Their best performance, though, came when they beat title contenders, West Ham 6-2, in December with Dougan grabbing four of the goals. Douglas's two-month absence through injury was hardly felt. Dougan, dubbed 'Cheyenne', on account of his supposed similarity to TV Western star, Clint Walker, also scored the goal which secured victory against Blackpool in the last Football League game to be played on a Christmas Day. At this point, Blackburn were still fourth.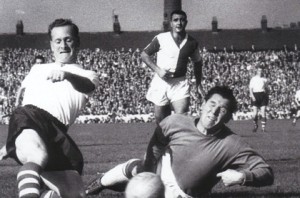 Oops! Harry Leyland thinks he can keep goal in his sleep. Tom Finney scores and Preston win 4-1
Yet, despite a surging FA Cup run, Blackburn's League form tailed off alarmingly in the final half of the season, so much so that by April they were left in peril of relegation. In their opening 23 League games they recorded thirteen wins and three draws. The combustible Dobing and the feisty Dougan contributed twenty-six of the forty-four Rovers scored during this hot streak. Thereafter, only the FA Cup provided any joy, for in their final nineteen League games, Rovers suffered fourteen defeats. Their slide towards relegation was only arrested on the 27th April when they secured a vital 3-2 home over Leeds. By this time, Blackburn's twin spearhead had become badly blunted. Despite staying largely free of injury, Dobing and Dougan mustered just five League goals between them after Christmas. As a result, Blackburn 'goals for' column averaged less than one goal per game during this period. To add to their woes, Rovers' previously solid defence began to crack. Arsenal (5-2), Spurs (4-1) and Preston (5-3) all inflicted heavy defeats upon them.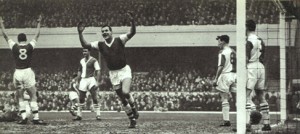 Oops! Mel Charles completes his hat trick despite a dodgy knee. Arsenal win 5-2.
The loss of their highly gifted Welsh inside forward, Roy Vernon, to Everton for £20,000, early in the New Year, was strongly felt. After a disrupted start to the season, in which he mustered only eight appearances in twenty games, Vernon indicated that he wished to team up with his former manager and mentor, Johnny Carey. It was the first hint that all was not well in the Blackburn dressing room. Everton centre half, Brian Labone said of him: 'Taffy Vernon was about 10 stone. Wet through he looked about as athletic as Pinocchio.' But his appearance proved deceptive since Vernon possessed a surprisingly powerful shot to complement his polished creativity. As evidence of his striking powers, he scored 52 goals in 144 League and Cup appearances for Blackburn and 110 goals in 199 appearances for Everton where he forged a formidable striking partnership with Alex 'the Golden Vision' Young. Neither of Vernon's replacements at Ewood Park: Eddie Thomas from Everton - a makeweight in the Vernon transfer deal - nor England Under-23 international, Chris Crowe, from Leeds made much impact.
Easter was a disaster. On Good Friday bottom club, Luton beat Rovers 2-0 at Ewood Park and although Peter Dobing's goal in the return fixture on Easter Monday earned a precious point, this was Blackburn's solitary return from the three holiday games. A successive home defeat, this time by 'kings of the road' Leicester City (0-1) left the 18,500 home supporters feeling very edgy. The crucial Leeds game came four days later. Rovers were precariously placed in eighteenth position just three points ahead of their opponents. Fortunately for them Leeds' preparations were characteristically shambolic. According to Leeds' right winger, Billy Bremner, no arrangement had been made to feed his team before kick-off, bringing about their hasty stop en route for beans on toast. Rovers' manager, Dally Duncan decided to restore Dougan at centre-forward and Eddie Thomas at inside right, also bringing in young, local lad, Roy Isherwood on the right wing. These changes did the trick. Isherwood and Dougan shared the goals which defeated Leeds. Helped by this vital victory, Blackburn finished the season in 17th place and three points clear of the drop, but were seven places below their 1958-59 final position of 10th. Unsurprisingly, their average crowd for a home League in 1959-60 (25,061), represented a fall of 18% on their 1958-59 figure, with only 19,250 turning up for their crucial final home game with Leeds - a 36% drop on the attendance for the opening game against Fulham.
Rovers' poor League form after New Year stood in marked contrast to their impressive FA Cup run, in which they eliminated three of the top five clubs. Having beaten both Sunderland and Blackpool following replays, Blackburn then overturned Spurs (3-1), in a White Hart Lane swamp with the bustling ex-Liverpool forward, Louise Bimpson, scoring twice. A week later Spurs avenged their surprising defeat by winning 4-1 at Ewood Park in the League game. But Blackburn then also surprised Burnley in the 6th Round tie at Turf Moor, recovering from a 3-0 second half deficit to draw 3-3, albeit assisted by a highly controversial penalty decision. Burnley, depleted by injury (McIlroy) and sickness (Robson) were subsequently beaten 2-0 after extra time in the replay. Sheffield Wednesday were also defeated (2-1) in a dour semi-final at Maine Road. In contrast with their League game gates, Blackburn's supporters turned up in droves for the home FA Cup ties - 51,200 for Blackpool and 53,800 for Burnley.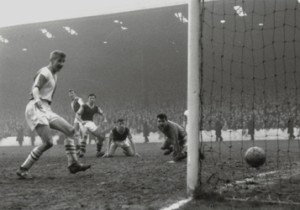 A late, late sickener. McGrath's miscued shot gets Blackburn out of jail.
Their semi-final victory was a personal triumph for Northern Ireland international, Derek Dougan. Former 'Owl', Peter Swan recalled: 'Dougan liked to dish it out and I always had a hard time against him…If you didn't use your arms against him, he'd knock you anywhere, but he could play. Dougan scored the opening goal but…he was well offside. I was very upset at the injustice and my frustration boiled over…(wing half) Tony Kay had gone in hard on Dougan and as he was getting up I whacked him in the stomach. Looking at Kay and myself, Derek shook his head and said, ''I'll send you both a cup final ticket''…I have to chuckle and admit it was a brilliant thing to say'. As for Dougan it was his second goal that stuck in his memory. He recalled: 'just over the halfway line I got a great ball from Ally MacLeod and went through the middle at top speed. Speed was always my strong point, for I was a runner before I was a footballer. Two players challenged me, one of them was Peter Swan, but I evaded their tackles and sped on. Out of the corner of my eye I could see 'keeper, Ron Springett start to advance. I knew what I had to do - hit the ball at a very acute angle with my right foot and I am never so happy with my right as with my left. But just at the right moment I let it rip. Ron Springett leapt upwards, sideways and backwards at the same time, his hand clutching frantically for the ball but he was too late. True as a bullet the ball shot into the top right-hand corner of the net. Blackburn were in the final.'
Blackburn approached the final in poor spirits, though. Their supporters complained vociferously about the alleged inequitable ticket allocation. Their discontent was exacerbated by rumours of players selling tickets on the black market. Then Dougan dropped his bombshell, re-submitting a transfer request just before the game. To add injury to insult, Dougan then declared himself fit to play despite carrying a muscle strain. As BBC commentator, Kenneth Wolstenholme, observed, Dougan struggled to keep up with the pace of the game. After failing to exploit an early opening, created by Douglas, it was evident that Dougan was incapacitated. When left back and current Wigan Chairman, Dave Whelan, was carried off after thirty minutes, Rovers were reduced to nine fully fit men. They had little chance of competing against an even below par Wolves side. The Daily Sketch dubbed this the 'dustbin final' on account of the rubbish thrown by disgruntled Blackburn supporters at referee, Kevin Howley and the celebrating Wolves' players. It was a dire final.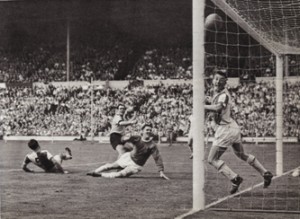 Oops! Deeley scores Wolves' third as Blackburn lose the 'dustbin final'.
Blackburn's 'celebratory' post match banquet proved to be an equally sorry affair. As reported in the local press, Dougan walked out immediately after the meal. Within twenty-four hours, Dougan had descended from being the 'darling of Ewood Park' to persona non grata. Perhaps Dougan was wise to make a premature exit, though. As soon as the plates were cleared the discontented directors turned on hapless manager, Dally Duncan and the remaining members of his team. Duncan's contract was terminated immediately. In his after dinner speech, Club Chairman, Norman Forbes, set about the players, warning them that they must now pull their weight. It was a very sour end to a season, which had promised so much.
Although Dougan insisted in a later interview that his original transfer request had been made well before the final, the timing of this repeated application was hardly helpful and must have undermined his team's morale. It was amazing that Duncan saw fit to let him play. It seemed as if Duncan was unable to manage the strong personalities and increasingly divisive spirit in the Blackburn dressing room. Duncan left football for good after his dismissal, opening a guest house in Brighton.
The above article is an off cut from the forthcoming book
'Never Had It So Good': Burnley's Incredible 1959-60 League Title-Winning Triumph':
by
Tim Quelch
. The author 's profits from book to be donated to the Burnley FC Youth Development Programme