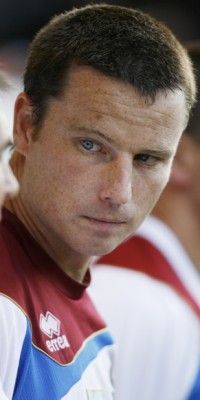 will be supporting Steve Davis' Burnley side
The rights and wrongs of Coyle's protracted move to Bolton have been talked about so much in the last seven days that there is little point in going over them again here. It's time for a line to be drawn under the whole ugly scenario.
I've followed Burnley for 12 years (since the age of 10), and I have never known this club so vibrant, the love affair between the town and the football club has been well and truly re-ignited. The departure of one man, no matter who it is, must not be allowed to change that.
Burnley's Premier League adventure is not dependant upon Owen Coyle, if he no longer wants to be a part of what is happening here then frankly that's his loss. His football, his 'charisma' and his 'enthusiasm' had us all dreaming an improbable dream, 'little old Burnley' back in the big-time - occasionally getting a bloody nose but landing more than the odd knockout blow of our own.
The pain we have all felt recently is because it hurts to know that he does not care enough for this football club to see things through. As he turns his back on us we must all remember that this was never just Owen Coyle's dream, it was the dream of every single Burnley fan, and without him it lives on.
I absolutely love the fact we are a Premier League club and I will never tire of seeing the likes of Manchester United, Chelsea and Aston Villa coming to Turf Moor. This has been one of the finest seasons we will ever see, we currently sit 14
th
in the finest league in the world, we have taken points off some of the biggest clubs in the game and we have witnessed things we will never ever forget, Owen Coyle must not be allowed to tarnish this golden period in our heritage.
Coyle had the chance to achieve legendary status at the club, the opportunity to be remembered in the same vein as Potts, Miller and Adamson but in the end that proved to be insufficient incentive for him. More fool you Owen.
In the rich history of Burnley Football Club there has been something in the region of 30 permanent managers, thousands and thousands of players have been and gone but through everything two things have remained, and will forever remain. This club will always be here, and so will we.
We will see more successful managers than Coyle, we will see better players than Little, Blake and Payton, the key to it all is to enjoy them for as long as they last but not mourn them when they're gone, for as is the nature of football, something else will come along.
When I walk to Turf Moor on a match day I look forward to seeing my team play, yes I've enjoyed watching Owen Coyle's side more than I enjoyed watching Steve Cotterill's side, but regardless of who the manager is, who the captain is or who starts in attack it doesn't really make all that much difference, I'm watching Burnley Football Club, I'm not there because of one individual, I'm there because I was born a claret and I will die a claret.
Weather permitting I will be at Turf Moor on Saturday and I will support Steve Davis' Burnley side with exactly the same enthusiasm and passion as I have supported the teams of the 5 permanent managers that have been with us in my time as a supporter, Coyle may have gone but that does not affect my support for this club.
This club survived the departures of Potts, Miller, McIlroy, James, Payton, Ternent and more, it will survive the loss of Owen Coyle.
Owen Coyle's achievements at this football club will never be forgotten, but more significantly, his departure will never be forgiven.