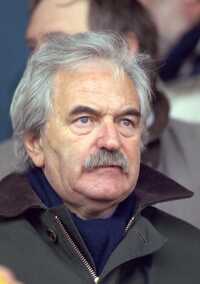 Des Lynam - late night viewing again

Technical cock-ups aplenty and NTL pulling out of pay-per-view after realising they had made a serious misjudgement - I think its time to once again ask what the hell is going on in the mad world of television.



For the uninitiated ITV outbid the Beeb for Premiership highlights, and also snapped up the Nationwide League from Sky when the contracts came up for review for the next five seasons.



Since the changeover it is fair to say that there has been absolute chaos, with match kick-offs once more dictated by TV Schedules, but also afflicted with the 6:15 debacle for live games and Sky's understandably pig-headed resistance from allowing ITV onto their satellite broadcast system.



Football, some would say, has benefited greatly from television revenue, but it has also made the sport somewhat fractious and moved us a giant step closer towards a European giants football league, comprised of the top thirty or so clubs from the continent.



On a minor scale this schism between big clubs has afflicted Burnley with the television schedules this year.



Why have Burnley had a disproportionate number of live games? Because along with Manchester City, Coventry, Watford and one or two others we are one of a select few 'bankable' teams.



By this I mean that ITV can more or less guarantee a creditable audience, for some teams including the mighty Clarets, whereas, with the greatest respect, Grimsby versus Gillingham has a very limited appeal.



Indeed it has been pointed out in the papers that ITV could actually have more cheaply paid for every one who watched some of their less high profile games to turn up at the ground than televising it in the first place.



This criticism is not of ITV specifically, just television companies who have blindly looked at Sky's impact on the football world - and the

subsequent empire building that has come of it - and jumped on the bandwagon without fully understanding what kind of wheels it has.



I work in football, love the game, but I draw the line at watching a game every night. If it is a game I don't fancy it is last resort television. In other words better than Blind Date.



Champions League shows some of the best teams in the world - but before it reaches the latter stages draws have far too much influence to hope for entertaining football.



I would suggest that the way to get audiences for your football match is to make it special. Build it up right, make it an experience, and try to show some of the games where people cannot travel the hundreds of miles to see it live, or games that are sold out for the away fans.



Although football will never be the same following the media influx to the sport, I for one am hoping that next season will see a more sensible approach that is kinder to the fans that are still the lifeblood of the club community.