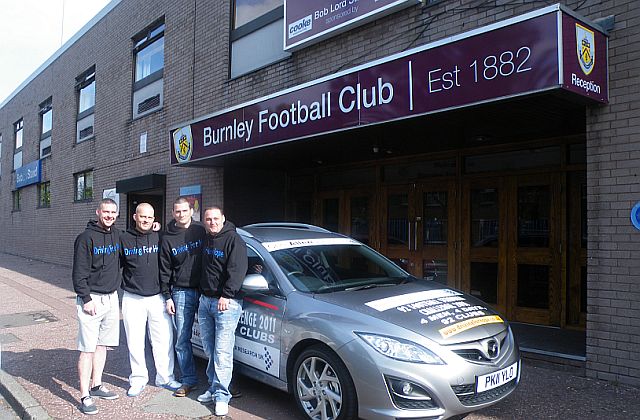 Three brothers and a cousin - Paul, Andy, Sean and Jason Hodgson - all season ticket holders at Turf Moor decided that they would attempt to visit all 92 of last season's Premier League and Football League grounds within four days.
They also decided on two charities for which to raise money. The first of them is Cancer Research UK and the second is Pendleside Hospice. It was one of those ideas that you talk about that usually never sees the light of day but on this occasion the four committed Clarets, with Andy's wife having treatment for cancer and three other members of the family having been diagnosed, decided to turn their thoughts and plans into action.
The first step was to sort out some transport and in stepped Chris Allen Ford who provided them with a car and the petrol costs and so the lads were ready to start at 9 a.m. on Monday 6th June with the starting point, obviously, Turf Moor.
And they made it in time, indeed with five hours to spare when ground number 92 was reached when they arrived at Edgeley Park, home of Stockport County at 4 a.m. on Friday 10th June. Maybe it looks better at that time of morning.
So all 92 done in 91 hours and now comes the difficult bit, the fundraising. Ahead of the drive they contacted all 92 clubs and asked if they could provide an item of signed memorabilia to be auctioned at a later date and so far around a third of the clubs have provided items.
They are also seeking sponsorship and have set up their own Driving For Hope web site, and also donation pages through justgiving for both Cancer Research and Pendleside Hospice.
As proof of their achievements they took photographs at all the grounds. Here we show three. Obviously we've led with the departure from Turf Moor whilst below you'll see photographs of them at their furthest point from Turf Moor - Home Park, Plymouth - and caught up in a big fat arse in London.
Well done to the lads, and best of luck with the fundraising for two worthy causes. At least they won't have any problems finding the grounds for our away games next season.