York won 2-0. Paul Crichton went off injured in the last minute and Paul Groves scored one of the goals. Helen does not remember the finer details of the game but she can probably tell you what she was wearing and what we ate before the game. Lasagne and she paid for her own but I could be wrong.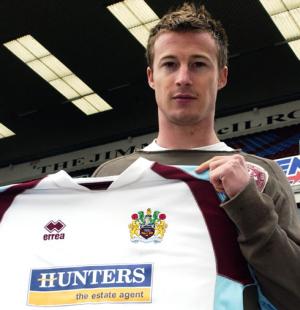 Wade Elliott moved to Burnley in 2005
Neither of us support York or Tamworth. I was born in Burnley just after their 1962 FA Cup Final appearance and was taken on the ground for the Youth Cup run of 1968. Helen was born in Dorset and has always supported Bournemouth though her parents would not allow her to go to any matches until she was 16. Too many hooligans and I think they hoped she would grow out of it.
Our relationship grew and we moved in together. All say ahhhh. Before we made that giant step we went to a Bournemouth game. It was later in 2004 and it was at Plainmoor. Bournemouth won 2-1 and their team that day had some subsequently familiar names. Eddie Howe, Wade Elliott, John Spicer and Garreth O'Connor. Jason Tindall was probably injured. T'was often the case. Though, he always looked well tanned. They get more sun than us down there.
So, onto 2005 and it was time for the FA Cup Third round and the Cherries had made it all the way to January in the competition. They were at home to Chester and a 2-1 win saw them through to round 4. Liverpool were the Clarets opponents but a Friday night deluge meant a postponement and re-arranged date. Monday's fourth round draw was made. Burnley or Liverpool v AFC Bournemouth. Potential conflict.
Work meant that we could not get to the re-arranged game. We were sat around a TV in a bar in Boston. You may think that this could have been the Cheers Bar but I am talking about Lincolnshire, just off York Street.
Now at this point the flourishing relationship had its first serious test. It wasn't that I was being particularly attentive to the glamorous barmaid. No, it was when Helen revealed that she wanted Liverpool to win. The Dorset club were in dire financial straits and they needed the potential financial boost of a trip to Anfield. When Richard Chaplow had a stormer and Djimi Traore scored, only one of us celebrated.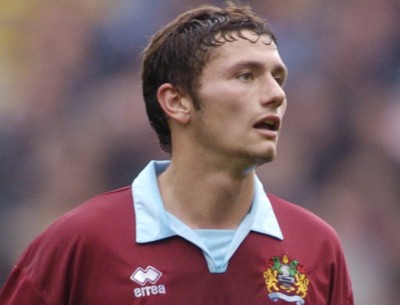 John Spicer was another 2005 recruit from Bournemouth
The head to head that we feared was on January 29 2005. Neither of us could make it to Turf Moor. I work most Saturdays and Helen was in Vietnam. A couple of her Bournemouth supporting friends came up for the game and I gave them instructions of no gloating if they won and no sulking if they lost. They had to put on brave faces as they recounted a tale of Wade Elliott playing well on a very poor pitch but the Dirty Northern B ******* running out 2-0 winners.
Then the draw for round 5 and it's Burnley v What's the word I have just used in the previous paragraph ? It was to be Helen's Turf Moor baptism. A Sunday game, always better for me. Her first words on getting inside the ground were 'This lot don't seem to like each other.' On this occasion she wanted Burnley to win and from that day on she has always wanted the Clarets to do well. Though that will change should the Cherries ever be the opposition again. Unsurprisingly her fellow supporters do not share the sentiment.
June 2005 saw Wade and Garreth move North. Then they were joined by John Spicer. Elliott for nothing proved to be a very shrewd bit of business. The other 2 not so good but their star man leaving for nowt was a hammer blow for an impoverished club.
We married the following year. Ahhhhhh again. We live up North in leafy Cheshire, not far from the present Burnley manager, but got married in Darkest Dorset. Girls get to choose when it comes to weddings.
Since then we have we have supported both teams separately and together. I have been to all the grounds of the present 92 Clubs except the nomadic Rotherham while my wife has just half a dozen grounds to visit. She doesn't want to go to St Mary's but Jay's recent move may change her mind.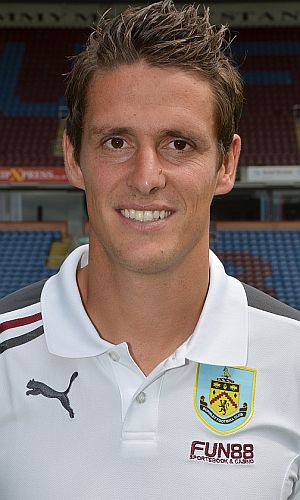 Will the tan fade in Burnley?
The biggest test to our sporting bond came in January 2011. We had both been to MK and seen Owen Coyle waving sheepishly before going off to 'visit his mother.' Yet on the other side of the coin we were both at Colchester when Eddie and Jason gave similar fond farewells to the Bournemouth faithful. Two sets of fans felt betrayed and we were in the middle. I am an hardened cynic who thinks that all those involved in the game should look after number one. Helen, being a much nicer person views life through a rosier hue. We both laughed when we flicked through the 2011 Cherries Calendar. Jason laughed when he signed it at the Howe Do, later that month. Helen went to that wearing her Bournemouth jacket. Eddie remarked that he didn't expect to see any of those.
We shall both carry on with our number one and number two teams. We tend to go to whichever game seems the most important. If one team is in a relegation scrap or promotion push then we prefer that fixture over the other if it's mid-table stuff. The transfer of players keeps us interested.
I was surprised that Wade did so well. We both felt that Garreth could have done better. Zavon did not shine in his loan spell. Was Jason Pearce the one that got away ? We guessed that Marvin would get sent off for late challenges. We hope that has been cured. The jury's out on Danny Ings. I think he resembles Forrest Gump. I do not believe that Marc Pugh is good enough to be a regular starter in a decent Championship side. We both know that Barry Kilby was a better Chairman than Eddie Mitchell. Could you ever imagine BK asking a supporter to sort it out with him man to man or telling a forum to like his changes or go off up the road and support the sworn enemy ?
It's fixture time and then we can plan for 2012/13. For once Bournemouth, thanks to Russian backing, have become a spending club. If Maxim Demin had arrived earlier at Dean Court then maybe Eddie would have stayed. Who knows? I want Bournemouth to do well and get promotion but I do not relish the thought of head to head matches. Still, it's no good worrying about what might never happen. A rival club pinching your manager, assistant and players. That could never happen.