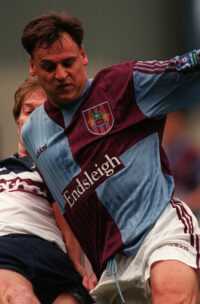 Paul Barnes in action for the Clarets against Man City
Apart from the fairly obvious link of having played for Burnley at the same time - the answer is that they both arrived during the 1996-1997 season for a combined total of half a million quid - our 'big-money' buys.


Paul Barnes turned into our goal machine, and we've run out of superlatives to describe Little.


12 months later and we splashed out £575,000 to sign up Mark Ford, Lee Howey and Steve Blatherwick. I'll leave you to decide which season saw the better investment.


Big money signings are a funny breed, with pressure to be an instant hit growing exponentially along with the size of the fee. In the wrong hands, and in the wrong situation clubs can be sunk on the odd poor decision in the transfer market.


There was a lot of talk about the lack of money spent this summer, with just one player brought in for money - although at £500,000 some would say that young gun Dimi Papadopolous has yet to play to his price tag.


And yet, here we are, still in contention of the top spots. Little is still arguably the best player in Division One, the free-transfer arrivals – as always under Stan - have been effective, and many of our rivals have bought far worst players for far more money.


The argument a few years ago was that we were spending dribs and drabs on maybe-players instead of pooling the money and buying one superb player. The obvious answer then, and one that still rings true today under Mr Ternent, is that big money players can be major failures.


My current favourite club for transfer cock-ups is Leicester City. As far as I am concerned Peter Taylor is fine as a coach - gave Becks the England captaincy, was good for Gillingham and the national Under 21s, but, quite possible the worst person to give a transfer kitty to in all four leagues.


What made Taylor think that Junior Lewis - a reserve for Gillingham after his tenure - could step up to Premiership level I will never know. But if Lewis was a relatively low cost error of judgement, Ade Akinbiyi was, in my opinion, the player that got Taylor the sack.


Always a good First Divison striker, it was obvious that he was not going to make the step up in quality, and to spend £5.5 million on him…


Jez Moxey, the outspoken chief exec at Wolves rubbed salt in the wound by offering a few million to buy the player back and then pointing out the only reason the bid wasn't accepted was because Taylor was under pressure and couldn't afford to lose face. Despite vehement denials from manager and club, Moxey was not far from the mark.


£1 million on Ian Moore last season was a rare foray into the 'real' transfer market for Stan, and the ex-Stockport star has, I think, played an important if occasionally peripheral part in our current success.


The real problem comes when we do finally make the step up to the top-flight. Because then, and only then, will we see if Stan can truly cut it with money to spend. Television money to invest, and the draw of the top-flight bring a new pressure but I'd certainly like to see him get the chance.