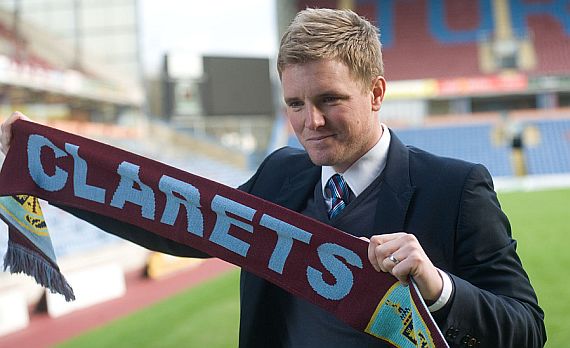 Picture by kind permission of Burnley FC/Andy Ford
Barry Kilby and his board this week appointed a young and ambitious manager with a reputation for playing good football and knitting together a team which became much greater than the sum of its parts, just like they did in November 2007. But this is where comparisons between the two managers end.
Eddie Howe is very much his own man and an exciting prospect in his own right, so I'll get the all-too tempting parallels with Owen Coyle out of the way first.
Phrases such as "just like when Coyle left" and "Bournemouth's Judas" have agitated me over the last few days. The dishonourable and hypocritical manner in which Coyle engineered his move to Bolton does not alter the fact that he is the best manager I have seen in charge of the club in my 25-plus years as a Claret. However I believe we now have an honest, hungry and genuinely articulate man at the helm. Howe has demonstrated his potential to achieve even greater success, although there are areas in which we must reserve judgement for now.
I'll explain what I mean by genuinely articulate. Coyle undoubtedly had the gift of the gab. As a fan in the privileged position of being part of the media circus during his tenure, I greatly admired the way in which he went about his business and the style of football he brought to the Turf.
Yet from a professional point of view it took only a matter of weeks to become tired of his "cut-and-paste" rhetoric, when almost every interview he gave sounded the same, often word-for-word. But you couldn't argue with his methods due to his impact, results and galvanising effect on the club.
Then the nature of his departure showed that much of what he had said was nothing more than hollow patter straight from the managers' media handbook after all. I found Howe's measured and thoughtful responses after his final game in charge of Bournemouth in particular, and during Monday's unveiling at Burnley, to be in total contrast to Coyle firing rehearsed clichés from the hip at a rate of 200 words-a-minute.
When Howe said it was difficult to leave Bournemouth, he clearly meant it. And he was clearly sincere in his excitement about the task now in front of him.
After his final game at Colchester he applauded his supporters and gathered his team around him in front of them. After wiping the tears from his eyes he composed himself to give a truly professional and heartfelt appraisal of his decision-making process to the media and fans. You could tell he thought deeply about his answers and the best way of putting them across.
It was quite apparent that he wasn't expecting the call from Burnley when he was seemingly put up to last Tuesday's ill-advised PR stunt by his Bournemouth chairman. And he most certainly didn't concoct a story about visiting his mother before skulking away so he didn't have to face the music.
What then of the fear that Howe could "do a Coyle" and leave us for a better job in a couple of years? The same reservations could have been raised had we appointed Paul Lambert or any ambitious young manager. Any opportunity for Howe to better himself in the future will arise, in all probability, as a result of him leading us back to the Premier League. On the evidence we've seen in the last week we can be reasonably assured that he would handle such a situation with a great deal more dignity - not to mention respect for our club - than Coyle.
Two-and-a-half weeks without a manager provided plenty of time to consider all the options. Managers with a track record of promotions, experience in the Championship and working within their means were top of my wish-list.
The likes of Phil Brown, Chris Hughton, Paul Jewell and Iain Dowie sprang to mind but none of them really inspired. Although heavily linked, Malky Mackay hasn't led a team to promotion. Paul Lambert certainly ticked all the boxes, but it always looked unlikely (save for 18 hours-or-so) that he would be tempted away from Norwich.
So Howe may not have experience of this division, but his albeit short track record suggests he is a quick learner. Add to that the quality of football and success achieved at Bournemouth under his stewardship, despite the crippling constraints of points deductions, transfer embargoes and the need to sell his best players whenever a remotely-acceptable bid came along, and all of a sudden the numbing inevitability and frustration which epitomised Burnley's 2010 has been replaced with intrigue and excitement for 2011.
We'll see how a manager who has spent almost all his professional career in the cosy surroundings of Dean Court adjusts to his new, more demanding environment and the step up. We'll see how his baptism of fire under the restraints at Bournemouth have prepared him for prudent wheeling and dealing with a bigger budget and how well he will use the comparative riches of Burnley. How will he adapt to life in the Championship and handle players of supposedly greater ability and reputation?
While realists have valid reasons to be cautious, even the most hard-bitten of pessimists would struggle to deny that Howe worked wonders at Bournemouth in his first managerial role. After saving the Cherries from relegation out of the league, he guided them to promotion the following year and established them as promotion-contenders in a higher division this season. He has undoubtedly served his apprenticeship and earned his chance to prove himself at this level.
He has the credentials to ignite a promotion challenge which has never really got going, but he's got a tough start. The travel sick Clarets will be away from home in five of his first six league games, so Howe will have to act quickly to sort out the Achilles heel and boost the points tally on the road so we don't fall any further behind the top six.
I agree with our new gaffer; it's a big challenge but one he needn't fear, as the rewards for success will be great for all concerned. What has already come across loud and clear is Howe's desire and drive to get to the very top of his profession. I'd love to see him achieve that and hope that such ambition rubs off on his players.
If he is to become the best, we have to be honest and admit that, in the fullness of time, the pinnacle of his career will probably not be at Burnley. He would have to take us at least some of the way with him in order to get there though, which would be just fine by me.
Good luck Eddie.