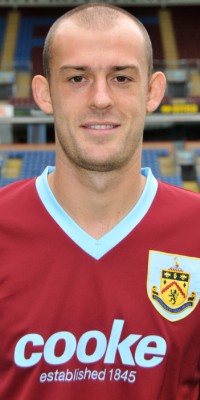 Steven Fletcher - given his all
I knew that anyone staring in would wonder what this lunatic was doing, but on the day my beloved Clarets said goodbye to Premier League football, I finished the washing up and applauded my team. And why?
I have tried to explain that to the folks over here in Northern Ireland. Since 5pm last Sunday, Liverpool fans have been coming forth to both sympathise and gloat in equal measure. Those who sympathised genuinely felt that the scoreline flattered them, that by half time at least Burnley could well have been in front. That the fluke goal was not a just reward but a massive relief. So why was I applauding?
Because, my lads had given everything that afternoon. The penalty area felt safe, with Jensen commanding it and a back four led by Northern Ireland's Mike Duff, in superb form again, and I hope he can get back into Worthington's plans over here. A midfield which, unlike many games this season, actually moved forward as one, spraying the ball back and forth, at times toying with our Mighty Merseyside neighbours, Cork giving the kind of display his dad would be proud of, Elliott enjoying himself with his mazy runs forward, and up front, Fletcher, on his own, but time after time making things happen. This guy for me anyway, has been consistent. He has given his all.
I haven't mentioned everyone here, but the whole team were superb at times. But as I said before in my article 'That sinking feeling', the Premier League is unforgiving. And for all the opportunities we made, a fluke goal and a stroke of genius finished the game off. Two-nil would have been okay, to be relegated by the boot of Steven Gerrard would not have been a disgrace, but it's the Premier league, and if you fall you pay. And we did.
I know next season is going to be tough. We go down with a pot full of cash and players, the ones who stay anyway, full of top flight experience. And, of course a manager who has everything to prove. And I know when we kick off again in August the town will once again be behind them.
It's been an incredible season. I think we have gone through more emotions than the cast of a Shakespearian tragedy. The elation of promotion. The wins against Man Utd and Everton. The point at City. Our formidable home record. Then January. Coyle leaves taking everything but the carpets with him. Burnley FC go down, Burnley FC management team stay up. We go from 14
th
to 18
th
. Dumped out of the cups early on. And inevitably relegated.
I'm out of breath just remembering all that. And I wasn't even there every week.
Of course the season isn't over yet, there are still two games to play for, and according to Kilby £800,000 extra up for grabs if we finish above Hull. So let's go for it.
In Jimmy McIlroy's testimonial year and 50 years since our wee town ruled the country, we once again graced the big time. How times have changed since then though. The power of the pound now rules and clubs such as ours will remain on the outside looking in for many years I feel. But hey, we were there. And at times conducted ourselves brilliantly, to the point where articles started appearing around the globe, applauding Burnley for taking on the best league in the world.
So as the sun sets on our season in the spotlight, let's get back to the Championship, regroup, dust ourselves off, count the money we got, and start another assault on the summit. Something I never thought I would see, and I am only 39, Burnley in the Premier League happened. And it will happen again.
As long as we remain together, our loyal band of brothers, and the fans who have seen so much over the years, as long as we don't let the press, who can now say they told us so, and rival teams belittle our season, we will grow stronger. And Burnley will be back.
Call me a dreamer, call me crazy. I don't care. I am a Claret. Burnley born and bred, now living it up in Ulster. Home to some of our greats. McIlroy, Elder, Cassidy, Todd, Hamilton, Caughey (remember him) and Little (okay not Irish but is a Glentoran legend).
As the drama unfolded on Sunday at the Turf whilst I did the dishes, I already had one eye on the future. And the Clarets reminding the rest of the Football League why we went up originally. Hopefully we can entice the players to stay and join us on the next leg of our journey, albeit a journey backwards. But their chance to step up and lead us to the land of debt and bad refs once more. Anyone else excited already?