A more patient approach, playing for the occasional single here and there and a lot of dot balls is more my style. I see myself more of a Mudassar Nazar than a Viv Richards.
It has been an arduous slog, with long barren spells, but I've finally achieved my first century of Burnley matches.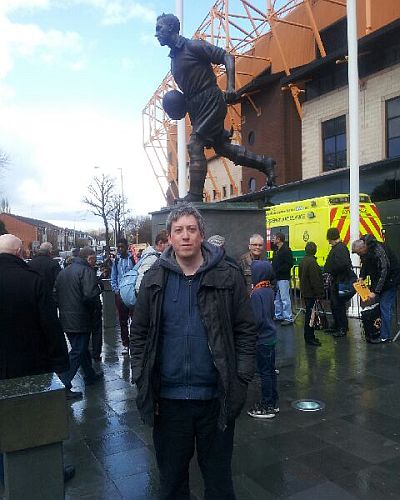 Next to England centurian Billy Wright at Molineux yesterday
A century is a milestone that most indigenous Burnley fans easily achieve while they are still in primary school.
For me, it has taken the guts of 17 years.
It is perhaps appropriate that this landmark was achieved at Molineux – Billy Wright was the first to win 100 caps for England.
As the crow flies, there are only about 160 miles between my house and Turf Moor, roughly the same distance as there is between Burnley and Coventry.
The tricky obstacle known as the Irish Sea makes driving impossible, however.
Until they build suspension bridges on both sides of the Isle of Man, I'm stuck on planes.
I've been a frequent flyer with myriad low-cost, no-frills airlines - Jet2, FlyBe, BMI, BMIBaby (RIP), EasyJet, Aer Lingus, RyanAir, even British Airways when left with no alternative.
And I've enjoyed every second of it. Every delay, every cancelled flight, every lost luggage, living in `clean' hotel rooms, every broken relationship, every `meat' pie.
No hard feelings, no sour grapes. It's been my treat, don't get me wrong.
At age five I started to understand football. While playing in the street with friends we all wanted to be our favourite player, but while I kicked about with Ian Rush, Kenny Dalglish and Bryan Robson, they passed to Billy Hamilton.
There is, however, a perfectly rational explanation for an apparently bizarre affinity for a club from a mill town in east Lancashire - family.
There have been 880 competitive fixtures between my first and one hundredth match.
The first was within walking distance of my Belfast home.
I left school in 1996 and was moping around for most of the summer.
A match report in the Belfast Telegraph both excited and infuriated me. Burnley had drawn 0-0 at Glenavon in a pre-season friendly, a short drive away in Lurgan. The Clarets were in Northern Ireland.
I was distraught that I had no prior knowledge of this match, and this was made worse when I learned there had been two previous matches against Coleraine and Ards.
I scoured the papers for news of more friendlies. Glentoran were listed as playing an unnamed opponent at the Oval on August 1.
After hours attempting to contact the Glens to learn the identity of this mystery opponent, I was put out of my misery.
"It's against Burnley," was the reply.
Within hours my duck was broken, Burnley winning 4-0. Two days later, I moved onto two witnessing the delights of Bambo at Crusaders' Seaview ground.
The following summer, a second successive pre-season in the north clashed with a family holiday denying me matches against Crusaders, Linfield, Glenavon and Glentoran.
Match three would not come until April 2001, the very month I got my first job with paid holidays. We drew 0-0 against Birmingham. Two weeks later and I saw my first home win, a 2-0 victory over Watford.
Over the years, there have been plenty of wins, plenty of defeats and plenty of tales of woe, mostly involving travel and the weather.
While I've been to 100 matches, I've made 102 trips.
The first unnecessary jaunt came in February 2002 at a time I had been covering a court case that the media in Northern Ireland agreed was the "longest trial in living memory".
It involved vets and farmers allegedly conspiring to defraud the MoD claiming that army helicopter activity in south Armagh caused the deaths of thousands of sheep.
The jury had already been out for days by the time I was due to leave for Burnley. I had not even settled into the hotel when I received a call to tell me that the jury had returned its verdict.
The next few hours were then spent locked away in the hotel room writing articles and receiving and sending faxes. I had no idea that it had been raining sideways the entire time.
My work completed, I set off for the match only to be told by a cop that it was off. I returned to the hotel to find the weather had also knocked out the TV.
Rain also got the better of me when we were first due to face Liverpool in the FA Cup. A wasted trip, but I travelled over again for the re-arranged fixture, and was glad I did.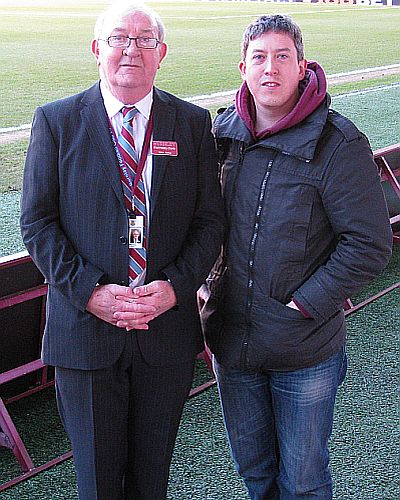 With Willie Irvine ahead of the Wolves home game in 2009/10
Twice fog has attempted to thwart me.
Due to fly to Leeds in 2005, heavy fog meant my flight from Aldergrove was cancelled. Rather than accept defeat, I booked a new flight at an extortionate price from the City airport later that day. I arrived in Leeds in time to see us lose 2-0.
The second fog-affected journey occurred in February 2008, this time my flight from the City falling victim. I was put on a later flight and arrived at Loftus Road just as the game was kicking off. A few minutes later QPR were 2-0 up. Then Andy Cole took over.
Snow caused me to miss last year's goal of the season.
As our fans taunted the following Peterborough supporters with chants of "you're not going home", I realised they had a good point. If the X43 couldn't get out of Burnley, I'd miss my flight home.
I left ridiculously early and managed to get the last bus that made it up Manchester Road that day. It stopped outside Crawshawbooth, however, unable to go any further.
I jumped out, ran to Rawtenstall like an idiot and managed to get a taxi driver crazy enough to accept the job to go to Manchester airport. Hours later and my wallet £90 lighter, I made my flight, just.
By and large, however, my journeys have been straightforward. I've even arrived in town early enough to see some youth matches at Gawthorpe.
The most I've managed to rack up in a single season was 26 matches, when I was glory hunting in 2009/10. Every other year it's been at least half a dozen or so.
As for now, I'm looking forward to number 101. And, like my first game, it will be in Ireland too.