This week's biggest surprise, if not shock, came at Sunderland. I was just about to sit down for Match of the Day on Saturday when I heard that Martin O'Neill had been sacked as manager after not much more than a year in the job.
What's happened since is enough to provide enough material for another Dave Thomas book when all we expected was the appointment of a new manager.
Sunderland have had their fair share of wingers this season. Adam Johnson, signed from Manchester City, has been their big name right winger and James McLean, a former team mate of Danny Lafferty at Derry, the man representing the left wing.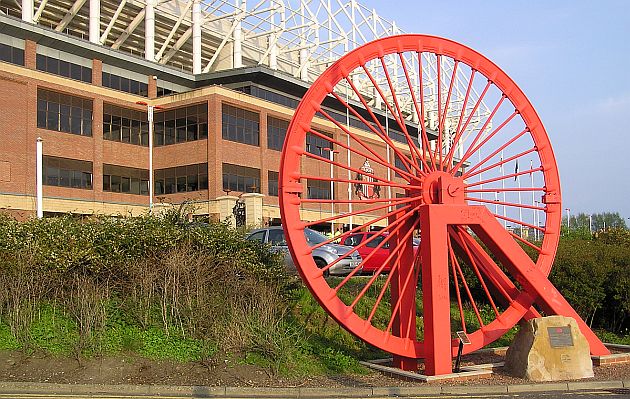 The site of the former Wearmouth Colliery
I suppose I should be more careful describing McLean as a winger from one side or the other. He's upset a few people with his tweeting this season, particularly when he refused to wear a shirt carrying a poppy back in November.
Wingers - politics - enter new manager Paolo Di Canio. Love him, hate him or anywhere in between I didn't expect him to land this job and when he did I didn't expect all the furore that has surrounded it with accusations of him being a fascist.
Having kept an eye on the goings on at Swindon during his tenure there, and witnessing his behaviour on the touchline when they dumped us out of the COCUP, I'm not so sure I'd want him anywhere near my club, but here he was landing a Premier League post.
Then it all hit the fan. Vice chairman David Miliband resigned his position. "In the light of the new manager's past political statements, I think it right to step down," he said. This came just days after he'd tendered his resignation as an MP to go and pick up the big bucks with a charity job in New York with International Rescue.
Worse still, a local miners' group have criticised the appointment and demanded the return of a banner that has been on loan at the club since the opening of the Stadium of Light. Dave Hopper, who worked at Wearmouth Colliery, on the site where the Stadium of Light now stands, said: "We are not prepared to have a banner in the ground where that man is one of the leading protagonists."
He added: "The club professes to be a community club but when you look at the man they have appointed it is certainly not going to do the community much good. It is going to be an encouragement to all these right wing groups that are already running about here - the EDL and BNP. What sort of message is that sending to the community?"
The council are not happy either and it is very noticeable that none of them will refer to the new manager by name. I suspect this will all end in tears whether he keeps Sunderland in the Premier League or not.
On the subject of managers, Neil Warnock has kicked off a bit of a storm again after leaving Leeds. There is something about him that prevents him from keeping it shut at times and I can see why Stan Ternent had a real dislike for him.
He upset Mick McCarthy a few days ago but, having left Leeds, has now said he hoped Mark Hughes, who replaced him at QPR, gets the job. "I personally hope Mark Hughes does follow me again, and destroys another team of mine," he said.
There really is no need for this nonsense. Whatever he thinks of Hughes he really should just keep it to himself. Still, Hughes got his right hand man Mark Bowen to do the responding.
"I wonder about him," said Bowen who went on to say: "There are reasons for what went on at QPR and what we inherited when we went into the place. It was a strange situation. We finished the season getting rid of 21 senior players who weren't, with all due respect to them, up to the Premier League.
"None of them went on to gain a Premier League contract. These are players who Neil Warnock had brought into the club. Everybody knows the club has been in a huge transitional period but it does stick in my throat a bit when Neil has lost another job and started throwing mud around."
Warnock, now aged 64, has said he's ready for another job. He's managed ten clubs. Is there an eleventh waiting for him?
Hughes is currently third favourite for the Leeds job with former Reading boss Brian McDermott leading the betting.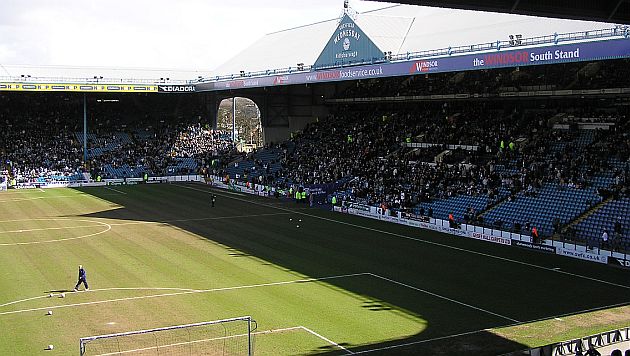 Watch out for the smoke bombs, flares and fireworks
I thought another manager had gone in Yorkshire when I saw the words 'CLUB STATEMENT' on Sheffield Wednesday's web site. That's what it usually means so I was fully expecting to read the news that Milan Mandaric had dispensed with the services of Dave Jones.
Not quite. The statement started: "Sheffield Wednesday are disappointed at the recent trend of a small minority of supporters setting off smoke bombs, flares and fireworks at home and away fixtures."
They were actually more than disappointed and had decided to take action once they'd identified the culprits.
The statement continued: "Anyone found to be in possession of any banned item, whether set off or not, will receive an indefinite club ban from Hillsborough and all away matches. Such an offence will also lead to arrest by the police followed by a charge and criminal record."
I loved the headline I saw the other day that suggested Marseille had 'gagged' Joey Barton. I smiled. Many have tried and failed to either gag him or make any inroads to bringing him under control.
He's currently on loan to Marseille from QPR. That's due to his last game of the season antics against Manchester City that could have landed him with the longest ban in world football.
I suspected it might be Twitter. That's where Barton often goes to make a fool of himself and this time he's ended up in a war of words with Paris St Germain defender Thiago Silva.
Apparently, Silva said in an interview with French newspaper L'Equipe: "There is a Marseille player, I cannot remember his name, an Englishman, who has said bad things about Neymar and Brazilian football, and also about Beckham and Ibrahimovic.
"Because no one is talking about him, it seems it is fun for him to criticise great players for people to know he exists."
Barton certainly exists and you know, as sure as eggs are eggs, that he'll respond, and he didn't let us down.
He tweeted: "2 questions for Thiago Silva. Why are YOU talking about ME, in a press conference before PSG v Barca? Very strange."
Then: "Secondly, Are you Pre-Op or Post-Op? #transexual #thiagosaladyboy"
Then: "Baffles me, which way he's going. Is he ha man changing to a woman or a woman changing to a man? Can't work it out."
PSG have threatened legal action; Marseille have apologised for their player's inappropriate comments. But gag him? I don't think they've a prayer of doing that.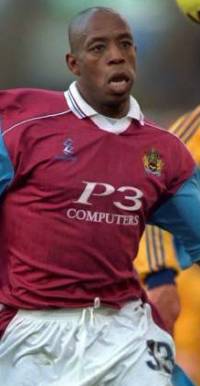 Ian Wright, a bit sly
I saw an interview with former referee David Elleray the other day when he named two former Burnley players as the most difficult he had to referee - and I'm not referring to Ted McMinn.
The 'posh' referee from Harrow admitted that one of his biggest disappointments was the 1994 FA Cup Final. He said: "I gave a debatable second penalty. On reflection I would prefer not to have given that decision. I had already given Manchester United a stonewall penalty beforehand, but the second one was justifiable, but not a strong penalty.
"I was disappointed in that decision and it clouded my enjoyment of that major game. In a way it's spoiled my memory of the cup final. It was my big game and I made a disappointing decision."
Very soon after that game, Elleray refereed at Wembley again in our play off final against Stockport. I can confirm that he did not spoil my memory of that game.
Interestingly though, when asked who was the hardest player to referee, he said: "The two most difficult to referee were Paul Gascoigne and Ian Wright.
"Gazza could be laughing and joking with you one moment and a different character would appear moments later. You didn't know what you were going to get.
"Wright was similar, difficult in that he was a complainer but also someone who was not averse to leaving a foot in or being a bit sly."
Finally, a word for Blackburn goalkeeper Paul Robinson. It's good sport to poke fun at our local rivals and we've had further opportunity this week with our favourite Shebby Singh looking as though he might have got rid of Derek Shaw, he who was brought in to join the Agent Kean camp.
But there was other, seriously disturbing news from Ewood concerning Robinson. He went into hospital for a minor back operation but suffered serious respiratory complications and was kept in after developing a pulmonary embolism. It's suggested he won't play again for six months but I'd like to wish him well in his recovery.