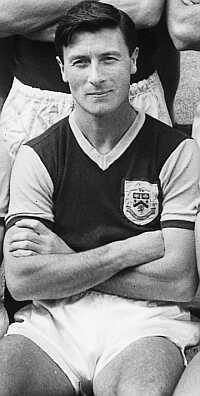 Jimmy McIlroy - runaway winner
Supporters were given the chance to vote for ten players each and here was a superb opportunity for the history of our club and all its great successes to be recorded together alongside the names of current day supporters.
Sadly that has not been the case and somehow and quite bizarrely almost the first eighty years of our existence has been wiped out with no recognition whatsoever of arguably our best ever team and likewise virtually nothing from the team that brought football back to Turf Moor after the Second World War with great success.
There are some great names in the list of players who will be incorporated and having seen all but two of them play it is a fact that they were all good footballers for Burnley but just how some of them have found their way in is difficult to understand.
With no disrespect whatsoever to Trevor Steven, a great player, I do find it incomprehensible that a player who left us at the age of 19 can win a place yet the captain of our only FA Cup triumph and our first League Championship doesn't get a look in.
That captain was Tommy Boyle, depicted on Yorkshire Street on the Turf Hotel pub sign but he doesn't feature and neither do his half back partners George Halley and Billy Watson, or goalkeeper Jerry Dawson.
Then there was the scorer of our winning goal in the final Bert Freeman and from the Championship side the great Bob Kelly (and those who saw him said he was our greatest ever player). The war years in the second decade of the 20th Century took away from Burnley what would have been one of this country's greatest ever side.
Even so it was still an FA Cup Winner, a League Championship winner and the creator of a record of thirty league games without defeat in one season that still stands to this day.
How on earth is there no representative in our top twenty-five? How on earth could we insult this great side in such away? Do we really not want to remember them?
After the war there was another great half back line of Reg Attwell, Alan Brown and George Bray and the same team included Jimmy Strong in goal but again none of them have made it into the Wall of Legends.
The inside forward Harry Potts does win a place but that is almost certainly because he managed the great side that won the Championship in 1960 and not because of his part in getting Burnley back into the 1st Division in 1947 or taking them to an FA Cup Final.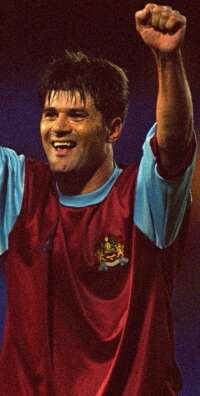 Andy Payton - representing the most recent success at Turf Moor
I do feel very sorry for Jimmy Robson and Brian Pilkington the only two players from the 1960 Championship team to miss out whilst Gordon Harris from the FA Cup Final team two years later is also not there.
Burnley have had some fine wingers over the years and Pilky and Bomber Harris are not the only ones to miss out. Probably the best of the lot Willie Morgan has somehow not been included.
We all have different opinions and whilst I would have chosen Morgan before Steve Kindon and even John Connelly I accept that obviously more voting fans preferred the other two players.
There is no doubt that the list shows off some fantastic Turf Moor talent, but only covering the last forty-five years or so. The wall can never reflect our history whilst not including some of our greatest triumphs and some of our greatest players.
I will feel very proud indeed to have my name on my brick alongside these great players who have won places when the wall is unveiled before the next home game. There will be sadness too that it has not reflected our great history.
I really do hope there will be an opportunity in the near future to put that right.
Jimmy McIlroy was the overall winner and he will feature in the centre of the wall alongside the other twenty-four players who are all listed below. There are links to our Clarets Hall of Fame for those players who have been inducted.