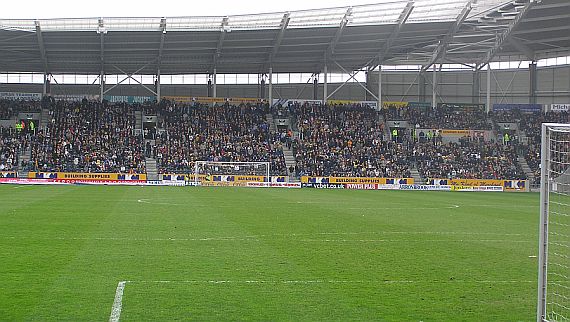 The KC Stadium at Hull where, venue for our only Premier League away win
Yesterday's win at Barnsley took our away points for the year to 12 and that is exactly the same number as was won in the previous year although we've played one game less this year than in 2009.
We lost the last away game of 2008 at Doncaster but as we left the Keepmoat I would not have believed anyone who would have told me that when we arrived at 2011 there would only be four three pointers to celebrate on our travels.
Having won at Bristol City on the Saturday before Christmas 2008 we only managed to win two of our remaining 11 away games that season, at Blackpool and Plymouth, with latish goals from Christian Kalvenes and Robbie Blake ensuring the wins.
We know all about our inability to win in the Premier League but we've continued this miserable run since with our first Championship away win of the season coming in the very last game meaning we've only be able to enjoy three pointers at Hull and Barnsley in the last year.
Just look at the record:
In 2009 we played 20, won 2, drew 6, lost 12, scored 19 and conceded 46 securing 12 points.
In 2010 we played 19, won 2, drew 6, lost 11, scored 20 and conceded 34 securing 12 points.
Stan Ternent, when asked how we would know we had a good side, said: "When we start winning away." Having said that, Stan's promotion team managed only two away wins in the first fourteen that season, at Oldham and Cambridge. We did, however, win seven of the last nine.
In fairness, the numbers really should be higher. Of the 12 games drawn there is no doubt that a good number of them should have been victories, particularly at Birmingham and Derby in 2009 and at Crystal Palace, Sheffield United and Norwich this year.
But simply it is time to stop bemoaning our bad luck. We have to take the positives and the encouragement from yesterday's win and go into 2011 looking to win considerably more games on the road.
We can't continue to rely on our home form. It carried us through, thankfully, to the play offs in 2009 but when you rely so much on home form then any drop has an effect. That's happened recently with only two of the last five home games won seeing us suddenly sliding down the league.
Four wins in two years is just not good enough.