Then, a few friendlies apart, it is all over for another season and we can sit and wait just under four weeks for the fixtures to be released for the 2013/14 season.
The final league games of the season were played last Sunday in the Premier League win what was described as a day of farewells. As it turned out at least five Premier League managers were in charge for the last time. Sir Alex Ferguson, David Moyes, Rafa Benitez and Brian Kidd all knew that but Tony Pulis didn't.
Having taken Stoke to a 13th place finish, and six points clear of the bottom three, they decided it was time for a change and Pulis, set to be the second longest serving manager in English football, was on his way.
I don't think it was a surprise. There have been rumblings over the past few weeks. But Pulis went with his head held high and took out some space in their local paper to thank fans for their support. He jokingly apologised for not taking a full page but explained that he didn't earn as much as Roberto Mancini.
Another manager could go. Wigan have turned the Roberto Martinez situation into an annual event. If you recall last year it was Liverpool who, according to Dave Whelan, had offered Martinez the job to replace Kenny Dalglish, something Liverpool have always refuted.
Referee Mark Halsey retires
We even have daily bulletins now as to whether he's going to stay or leave the Concrete Jungle but whatever happens I think seeing them go on their open top bus ride this week was the first time I'd ever witnessed a relegated team doing that.
Now back to those farewells. Stoke allowed Michael Owen onto the pitch for a late substitute appearance and Liverpool made a massive fuss over Jamie Carragher who was bowing out after God knows how many years at Anfield.
Yet one farewell almost went unnoticed, that of referee Mark Halsey. Usually referees just disappear, and for many of them that's the best option by some distance.
Halsey refereed at Everton on the opening day of the 2009/10 season before discovering he had a battle on his hands against an aggressive form of non-Hodgkin lymphoma. He vowed to return and, against all the odds, passed a fitness test in the following March and was back in the middle by April in a game at Rotherham. He'd won his battle and refereed for another three full seasons, over 100 games, before hanging up his whistle at the age of 51. Both sets of supporters at the Manchester City v Norwich game gave him an ovation at the end as players from both sides embraced the referee described as one that always treated players with respect and like adults.
Last week we exposed the goings on in the away dressing room at Brighton ahead of their play-off game against Crystal Palace. By the next day it was all over the media but still no one quite knows what is going on down at the Amex.
It's surprising it took so long for that news to circulate given the visiting manager was Ian Holloway but he learned something that we've known at Burnley for a while, that Poyet and his team are a disgrace.
"I can't understand how arrogant they were," said Holloway. Poyet had belittled Palace other than goalscorer Wilfried Zaha and Holloway added: "I think when Gus Poyet watches the game back, I think he'll think it was wrong to just give Wilfried credit.
"Without being nasty, he didn't give us much credit, and a few months back he said Will Buckley was better than Wilf."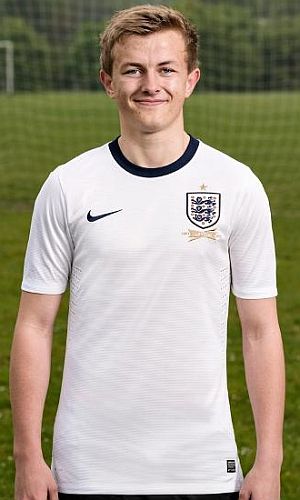 The new England shirt
Brighton have issued Palace with an apology which has been accepted and Gus Poyet remains suspended, although for different reasons. Nothing more has been said by the club on the matter since they confirmed the suspension. It certainly looks as they will be under new management next season and the Uruguayan seems to have been linked with all the current vacancies.
On the subject of new managers (or head coaches in this case); it now looks likely that Wolves will be led in League One next season by someone with Burnley connections. Sources in the West Midlands are beginning to suggest it is two horse (and I use the term horse very loosely indeed) race between former manager Owen Coyle and former captain Steve Davis who was, I believe, one of the front runners for our job last October.
Kenny Jackett is still in the running and his old club Millwall could be set to appoint German Marcus Babbel as their new boss. The former Liverpool defender has been out of work since being sacked by Hoffenheim last December.
A German at Millwall and thousands set to descend on Wembley tomorrow for Europe's biggest game of the season. Wembley will be going German as the two Bundesliga clubs Bayern Munich and Borussia Dortmund battle it out for the Champions League.
The English clubs fell by the wayside long ago and the two Spanish giants were beaten in the semi-finals. I don't think anyone would have expected an all German final when the season kicked off but it's one I'm looking forward to.
I'll be watching on television but the Germans have been advised not to buy the overpriced hot dogs in the stadium which will not be like their traditional bockwurst which are served with mustard. Still, they'll feel at home if they see the new England kit.
Finally, there was some sad news yesterday with the passing of the woman behind the man behind the man at Derby and Nottingham Forest. Peter Taylor was Brian Clough's astute right hand man for years before their big fall out. Yesterday, Taylor's wife Lillian died at the age of 84.