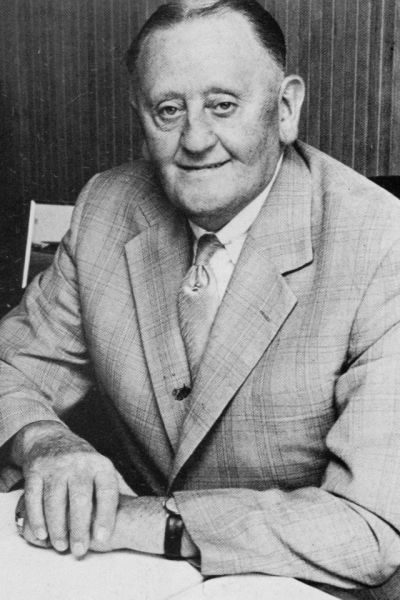 Former Burnley chairman and local butcher Bob Lord
I'm not so sure there were too many candlestick makers, if any, around the game but there were certainly butchers in charge of clubs including our very own Mr Robert William ('Bob') Lord.
Now Bob could hardly be hailed as a supporter friendly chairman. The simple fact is he wasn't interested in anyone's opinion other than his own and he just didn't give a damn who he upset. 'What I say goes' was his motto and he got on with it.
If you dared to disagree with him then you could expect retribution. Players were forced to leave the club, directors were banished and even the press got their comeuppance with some of the local scribes banned from the Turf Moor press box.
It wasn't a perfect situation by any means. Any supporter who spoke out was put in his place but this was in another era, bygone times I suppose. Bob Lord died in 1981 and I've always wondered what he'd think if he returned today to a world of mobile phones, the internet, social media and foreign ownership.
How would he have coped with Clarets Mad for instance? Recently posters on our message board have come under attack from a former director and the club's media department via social media, described as poison in some cases. Lord though would probably have been hell bent on shutting us down.
Sam Allardyce was last week accused by Jose Mourinho of playing 19th century football; I'm not sure in which century Bob would consider himself to have landed should he be given the opportunity to see what life and football are like today.
He was blunt; he had his opinions and they didn't shift. I suppose we'd never be selected for live television coverage were he still chairman and I'm sure he'd be bellowing in the corridors of both the Football League and the FA about all these foreigners running OUR clubs.
I never spoke with Lord although he did grunt at me on one occasion. I was walking home past Turf Moor when he came out through the main doors of his self named stand with Brian Miller and Joe Brown, both of whom I knew well. They both spoke to me and from him I got that grunt.
I have spoken to all subsequent chairmen. I've known some of them well and would say some are good friends. None of them have been anything like Lord other than the fact that they were local people and Burnley supporters.
The nearest we've come to foreign ownership is having Doc Iven on the board for what seemed to be forever and a current chairman whose surname hardly suggests an upbringing in Every Street, Nelson.
When Lord became chairman we were called Burnley, we played at Turf Moor and our colours were claret and blue. That was still the same when he passed away and remains so to this day. Only the contentious changing of the club badge has really altered out identity.
Would we like foreign owners at Burnley? That's a question that's been asked on a good number of occasions and one that does not come with a unanimous answer one way or the other. I've certainly nailed my claret and blue colours firmly to the mast on this subject; I'm very much in the camp that likes to see our club run by Burnley folk (and I will permit Clive Holt to fall into that category; he's served a long enough apprenticeship).
Don't get me wrong. I want what's best for our club and if that meant foreign ownership then so be it, but I'm still to be convinced that such ownership has had a positive effect on English football.
I'm sure there won't be too many dissenters at Manchester City. Thaksin Shinawatra (known to supporters as Frank Sinatra) came in to do it 'My Way' in 2007. His way was to see his assets frozen, a somewhat painful experience I imagine, leaving City in a difficult situation.
It was resolved with the sale of the club to Sheikh Mansour bin Zayed Al Nahyan, owner of the Abu Dhabi United Group. He might not be have been a member of any Rat Pack but his way has been to provide the club with a virtually bottomless pit of money.
They still play in Sky Blue; they still play in Manchester (albeit now at the Etihad, where they moved before the last takeover) and the fans still sing Blue Moon. Nothing much has changed for them other than they now have better players than they had before and are considered one of Europe's best.
I'm sorry John B, Mike Garlick, Barry Kilby, Clive Holt, Brian Nelson and Terry Crabb. If the aforementioned Sheikh came knocking on the main door on Harry Potts Way I don't think you'd find too much support from fans should you turn him away.
But for every Sheikh you can find several nightmares. For supporters of some clubs it is not evident initially that things aren't all they should be. Portsmouth fans were lapping up the big signings and the FA Cup win under Harry Redknapp. Naively they didn't query as to where the money might be coming from. They were soon to find out and it wasn't good news for them.
In 2010 we played Portsmouth in a Premier League game. By August 2013 they were playing League Two football and were fortunate to even be playing at that level. At one point they were changing owners more often than most clubs were making team changes.
They've paid dearly and I suppose their fans must now be envious of their near neighbours Southampton who have blossomed under the ownership of the Liebherr family, so far a success story.
Should we fall into foreign hands then my real concerns would be over their commitment to our club. I know why our current board are involved. It's the same reason that I would have got involved at that level if I'd ever had that sort of finance behind me.
That means I fully understand what happened just down the M65 a couple of decades ago when Jack Walker decided to throw money at winning the Premier League. Like it or not, he was a Blackburn fan. He could afford it and spent his money on winning that title, even being able to outbid Manchester United to sign Alan Shearer without whom I'm sure their only cups would have been in the kitchen.
I'm never going to be wealthy but I'd have loved to have been able to do for Burnley what Walker did for his club, and I'd have been happy to do it without the main stand bearing my name.
But look what's happened there since he passed away and the trust fund, which was set up to secure their future, opted to sell it to a bunch of Indian poultry farmers.
It's provided Burnley fans with some wonderful entertainment. Allegedly they weren't aware that clubs could be relegated from the Premier League. They certainly know now. They gave us Agent Kean and Shebby Singh and while the chickens continue to run onto the pitch the days of Walker now seem something from the very distant past for the Blackburn fans, even those who actually supported them BW (Before Walker).
Leeds are the latest of clubs to fall into apparent chaos. They are currently owned by GFH Capital and I suppose the only positive thing a Leeds fan could say about that is it no longer involves Ken Bates.
The simple answer seems to be they don't have any money. A recent takeover bid failed and it led to them facing a winding up petition, but today they've finally confirmed that they have agreed the sale of 75% of the club to Eleonora Sport Ltd. according to a statement from the Leeds chairman Salah Nooruddin.
Eleonora Sport are owned by Massimo Cellino and he will meet with the Football League next week to convince them that he is fit and proper. He owns Italian club Cagliari so time will tell, should the sale go through, whether they will become a mere development club for Cagliari in the way Watford have for Udinese and Charlton appear to be heading for Standard Liege, or whether they will still be marching on together.
So there are enough reasons to have concerns on foreign ownership. That perceived lack of commitment to the club, and by commitment I also mean an understanding of the club, of its values, of its traditions and identity.
There have been so many situations recently where owners have shown total disregard for the values that are so important to me.
I'm not too fussed about the moving of a club to a new ground. Starting with Scunthorpe's Glanford Park there are now 36 of the 92 Premier and Football League clubs playing in different grounds than they were in 1988.
When I say not too fussed; I wouldn't ever want to leave Turf Moor but if there was a justifiable and acceptable reason for it then, depending on where, I would maybe find myself accepting it.
Where? It is over 60 miles from the Borough of Merton to Milton Keynes. Would you be keen to see Burnley playing home games in, say, Congleton?
What I am fussed about is what I am fiercely proud of. I'm proud of my club, of its name, its colours, its identity.
We were wrong, in my view, to mess about with the club badge in recent years. We've now reached the point when not even the club seems to know which is and which isn't the correct club badge. I know there are a lot of disappointed tattooed legs in Burnley sporting the old badge; it's even on the front of one of my coats.
Everton did something similar last year but there was an uproar amongst fans which has led them to change again, this time asking fans to vote on the best option.
As much as changing the badge might not be in a club's best interests, changing its name or colours most definitely isn't.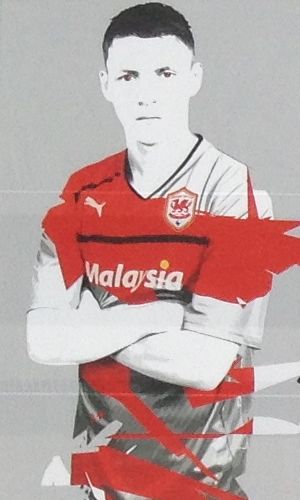 The red of Cardiff displayed outside the stadium
Cardiff City (The Bluebirds) and Hull City (The Tigers) both won promotion to the Premier League last season. It should be a time when the clubs are wholly united but that's not the case. They are two clubs where supporters have been at loggerheads with their owners.
Back in the summer of 2012, a year before promotion, Cardiff's owner Vincent Tan decided to change the club's colours from blue and white to red and black. It led to demonstrations and even some supporters claiming back their season ticket money.
It's fair to say the strange Malaysian has not been Mr Popular in the Welsh capital since. It all seemed to quieten down when promotion was won but some of the goings on there this season have been difficult to take in.
He sacked the head of recruitment Ian Moody and replaced him with 23-year-old Alisher Apsalyamov. Moody was very much manager Malky Mackay's right hand man; Apsalyamov was apparently a friend of Tan's son, had no experience and had been working part time at the ground doing some painting.
It didn't take a genius to work out that Tan, despite heavy criticism of Moody's work, was undermining his manager as part of his continued drive to force him to resign. Mackay, to his credit, refused to resign so ultimately was sacked and replaced by Ole Gunnar Solskjaer.
Since Mackay's departure they've dropped into the relegation zone; they are still playing in red and black and Tan continues to do just as he pleases whether or not it is in the best interests of the club.
It's been suggested that Tan has more than a say in team selection and has been known to ask for substitutions during a game. Could you imagine Sean Dyche accepting a request from John B to take off a player during a game? No, neither can I.
Then there's Hull or Hull City to give them their full playing name. They are now owned by Egyptian Dr Assem Allam. He's decided he doesn't like the word City and intends dropping it from the club name. He wants to replace it with their nickname Tigers and has made the necessary submissions to the FA to do just that.
The fans don't like it at all, and with some just reason. I took a look recently at the web site they've set up to campaign against the change and I think the statement they make under the heading of 'What we Believe' sums it up perfectly.
It reads: "Changing our name will break with 109 years of history and tradition. Hull City AFC is the thread which connects Boothferry Park, the KC Stadium and Wembley; that links Raich Carter, Chris Chilton and Ken Wagstaff to Ian Ashbee, Dean Windass and the team of today. It represents our community."
At least the FA are listening and members of the action group met with them only this week to put forward their case against a change of name.
Assam has threatened to walk away; I suggest the Hull City fans call his bluff and see what happens, but I think any self respecting football fan would support them in their attempts to keep their name.
For some football supporters colour and name changes are not an issue; some Burnley fans would love foreign ownership and, of course, they are fully entitled to their views.
It's not for me. I've seen too many clubs suffer unnecessarily because of foreign ownership. It would take a lot for me to be convinced it would work for our club.
Right now we are very much in a promotion chase with some foreign owned club. English owned Burnley are in a top six in the Championship that includes Leicester (Thailand), QPR (Malaysia), Derby (USA), Nottingham Forest (Kuwait) and Reading (over 50% Russian).
Now I really wonder what Bob Lord would make of all that!