This week, with the departure of Martin Paterson to add to the recent release of Brian Jensen and Chris McCann, only one of our team from the 2009 play-off win, that being Michael Duff, remains with us.
Four years isn't long but has now become a lifetime in football so I took a look back at that first Burnley team of 1960 and then moved forward four years to see how many of them were still at the club.
It was a split. Six of them were still playing for Burnley and Jimmy Adamson was still with the club on the coaching side having retired as a player. Tommy Cummings had also retired having initially moved on to manage Mansfield leaving just John Connelly, who had just left for Manchester United, Jimmy McIlroy and Brian Pilkington playing their football elsewhere.
Incredibly, John Angus, the right back and longest survivor, played his last first team game for Burnley almost eleven years after that first time I saw him play in claret and blue. Angus was the last of them to go and survived four years longer than any of his team mates from 1960.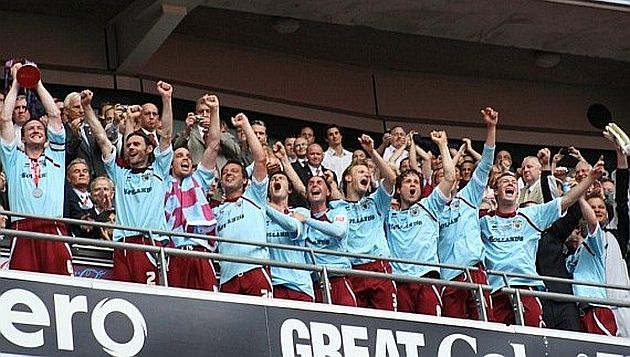 As we left Wembley on that wonderful May day in 2009 I wonder just how many of us thought that for the 2013/14 season there would only be the dancing Michael Duff still at the club. I suppose, in times of triumph, you want time to stand still and you want those players to play for ever.
The names roll off the tongue and will do for many years to come. Just as we talk today about Halley, Boyle and Watson, cup winners from 1914, then surely the names of Carlisle, Caldwell and Elliott will remain in Burnley folklore.
We probably don't need reminding but, just in case, we lined up at Wembley four years ago: Brian Jensen, Michael Duff, Clarke Carlisle, Steven Caldwell, Christian Kalvenes, Graham Alexander, Wade Elliott, Chris McCann, Martin Paterson, Steven Thompson and Robbie Blake. Joey Gudjonsson, Chris Eagles and Jay Rodriguez were introduced as substitutes leaving Diego Penny and Kevin McDonald to warm the bench for the entire game.
Sixteen players and they were all with us for the Premier League season. For four of them, however, that was to be their last season at Turf Moor. Both Gudjonsson and Kalvenes left before the season's end. Gudjonsson had his contract terminated and Kalvenes needed to return home to Norway to take up a post outside of football. Caldwell was released at the end of the season and Blake turned down the offer of a new deal. They signed for Wigan and Bolton respectively to remain in the Premier League.
Back in the Championship, Penny left early into the season and by the time we kicked off the 2011/12 season we'd said goodbye to Alexander, Thompson, Eagles and McDonald. Carlisle was shunted out of the club on loan and as the summer transfer window was about to close Elliott was lost to Birmingham.
Rodriguez played for one more season before a big club record sale to Southampton last summer leaving only four of our Wembley team at Turf Moor during the 2012/13 season. Three of them are now gone with just Duff, our longest serving player by some distance, remaining.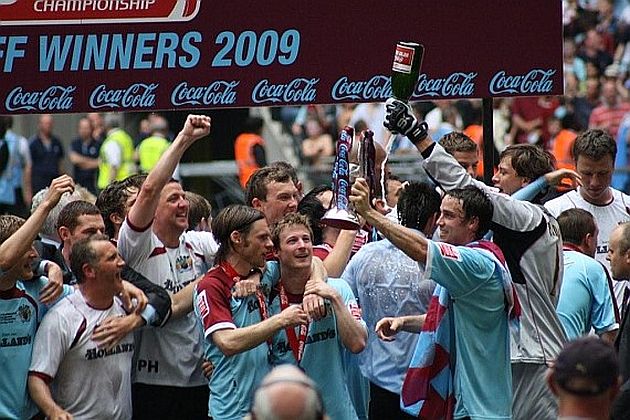 Where are they now?
If we put that line up together right now it would read: Brian Jensen (no club), Michael Duff (Burnley), Clarke Carlisle (retired), Steven Caldwell (Toronto), Christian Kalvenes (retired), Graham Alexander (Fleetwood manager), Wade Elliott (Birmingham), Chris McCann (Wigan), Martin Paterson (Huddersfield), Steven Thompson (St. Mirren), Robbie Blake (no club). Subs: Diego Penny (Sporting Cristal), Joey Gudjonsson (Íþróttabandalag Akraness), Kevin McDonald (Sheffield United), Chris Eagles (Bolton), Jay Rodriguez (Southampton).
We'll all have our differing views on which of those players we would still like to see playing at Burnley. For me, I thought the sale of Elliott to Birmingham in August 2011 was criminal, and I would have liked to see Caldwell, who also went on to play for Birmingham having had a year at Wigan, remain at Turf Moor longer than he did.
The loss of all those players shouldn't come as any surprise at all as a look at two other promotion teams will tell you.
Stan Ternent's Burnley beat Scunthorpe 2-1 at Glanford Park in May 2000 to clinch promotion. Only Dean West and Graham Branch from that starting line up and substitute Glen Little were with the club four years later and only Branch remained into a fifth season.
Going back a further six years to our first triumph at Wembley and those players moved on even quicker. By the time Chris Waddle arrived as manager, and that was only three years after the win against Stockport, Marlon Beresford and David Eyres were the only survivors and both had gone before the fourth season ended.
The departure of virtually all of our Wembley team of 2009 has been a talking point this week as first Paterson and then McCann opted for a career in blue and white stripes.
Supporters have been shocked at the fact that just four years on only one of those heroes is still with us but, in truth, they shouldn't be. It's how football is now. Players move clubs so much now and so, perhaps, we should have been more surprised that four of those players were still with us as the 2012/13 season came to an end with all four of them playing some part in the last two games of the season.
They will be what the headline says, Wembley heroes. They will be part of Burnley folklore just as are Halley, Boyle and Watson, the players of 1960, 1994 and 2000, and all the others who have contributed to the successes over the years.
And I'm certain both Paterson and McCann (if it can be heard over the abuse for Coyle), will receive the sort of Turf Moor welcome next season that we have given both Caldwell and Elliott on their recent returns.
Like all those heroes before them we owe them a hell of a lot.