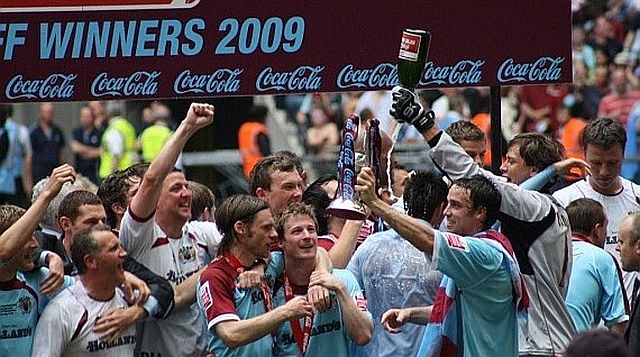 We can achieve it together
"We can achieve it together." They are not my words but those of manager Eddie Howe yesterday as he looked forward to the game. The words were not just for this one game but for the whole season.
He knows that should everyone not be together; should everyone not be pulling in the same direction, then it makes any targets much more difficult to achieve.
That's how it was a year ago at Turf Moor with Brian Laws. There were always rumours that some of the players weren't playing for him and, despite being in or close to the play offs for the first half of the season , he was never much more than a defeat away from heavy criticism.
A year ago, just ahead of the Forest game he'd said it was now time for him to be judged, that it was his team. Move on a year and Howe is heading into that position himself.
He's made four summer signings to add to the two, Charlie Austin and Marvin Bartley, he brought in last January and he's also seen both Jay Rodriguez and Chris McCann sign new deals. That's eight players in his first team squad that he's signed plus all the younger players he gave contracts to.
Now is the time to judge Eddie Howe. There were good performances under his management last season and there were some, shall we say, not so good, but that was always going to happen and, as both Laws and before him Owen Coyle had said it is far from easy to have much influence over a team when you arrive in mid-season.
We've changed manager during three of the last four seasons and that's been in stark contrast to previous years at Burnley given that we hadn't made a mid-season change prior to Coyle replacing Steve Cotterill since Adrian Heath took over from Jimmy Mullen in 1996.
We don't want to be doing that again and Howe has it absolutely right in saying that there is a real need to pull together.
Just hours ahead of kick off I'm as I always am at this time of year. I'm nervous and excited. That's how I've been ever since I became a Claret many years ago. I'm full of enthusiasm, hope and confidence yet, as in other seasons, I'm not sure what to expect.
I certainly didn't expect us to be heading for the Premier League when I set off for Sheffield Wednesday three years ago, and most definitely didn't expect it as I made my way home that day. Neither did I expect Stan Ternent's team to go up twelve years ago. I hoped they would but never expected it.
What I do expect is that we'll play some good football. We'll score some good goals and we'll win some exciting games. I also expect we'll lose some games occasionally. Even in our best seasons we lose at times.
I probably expect that at times I'll come home from games to read the usual threads on the message board condemning players as fans look for scapegoats on the days things don't go to plan.
What I want to happen is for everyone connected with our club to remember those words of Howe's - we can achieve it together. They are just about the words Stan used when he breezed into Turf Moor thirteen years ago. He was right; Eddie Howe is right.
All we can do as fans is give the club, the manager and the players our full commitment and support. Get behind them and support them, and hold back on the criticism when things don't work out the way we'd like them to.
Then, maybe we can get back what we had three years ago when our team was taking us to the Premier League.
Let's get fully behind Howe and his new captain Chris McCann, and just remember the last time we had a quietly spoken, ginger haired captain he ended the season lifting a trophy at Wembley.
WE CAN ACHIEVE IT TOGETHER - COME ON YOU CLARETS