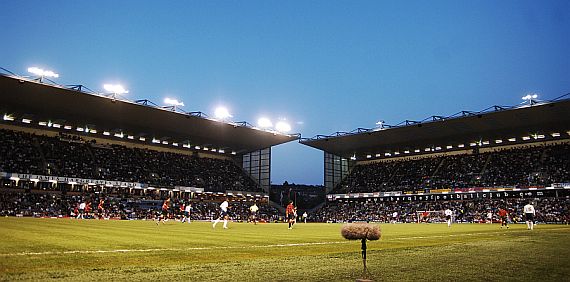 Turf Moor under the floodlights
Picture courtesy of Burnley FC
It was a fifth successive home game without a win and there were another four to follow before we eventually broke the sequence with a 1-0 victory over Plymouth Argyle secured with a second half goal from substitute Robbie Blake.
QPR were bottom of the league ahead of kick off but the only consolation in their 2-0 win was that it dumped Preston into bottom place. Not as though that was much consolation; they arrived at Turf Moor four days later and also beat us in a performance inspired by the outrageous refereeing of Lee Mason.
However, this is not about QPR, or Preston for that matter. It's just that the QPR game is the answer to a question I was asked as I left the Turf after our recent 4-0 win against Hull and, having not found the answer, it was the same question put to me after Tuesday's 3-0 victory over Barnsley.
The question? When did Burnley last lose a midweek night game at Turf Moor? And that QPR game in December 2007 is the answer.
It's often said we do well under the Turf Moor lights. Brian Laws made reference to it recently and I recall Wade Elliott saying something similar in an interview just before the end of last season. I've always enjoyed the night games; I think there's something special about the atmosphere and over recent years we've certainly had some fantastic cup nights under those very special Turf Moor lights.
The record's not bad under lights away from home either but it's at the Turf where we excel in league and cup. Since that QPR game we've played 17 away games on midweek nights - winning 7, drawing 2 and losing 8. One of the draws was the wonderful cup night at Chelsea and of course one of the wins was on that brilliant night at Reading in the play offs.
But just look at the home record in this period of almost three years. 21 times we've taken to the pitch at Turf Moor and 17 times we've come off with a win, drawing the other four against Cardiff, Coventry, Arsenal and Stoke.
The wins have included the Arsenal cup win, the heartbreaking second leg of the Carling Cup semi-final against Spurs and who can forget the Blake inspired win against Manchester United in August last year?
We've scored an incredible 42 goals in those games whilst keeping 12 clean sheets and conceding just 13 goals.
Maybe it's food for thought for Brian Laws but Chris Eagles, Steven Thompson and Martin Paterson lead the way on the goals with five each with Graham Alexander, Wade Elliott and Jay Rodriguez of the current squad having netted four along with Robbie Blake.
There are three each for Chris Iwelumo and Chris McCann, two for Kevin McDonald with no guesses for recalling the game and one for former captain Steven Caldwell, Clarke Carlisle and David Nugent.
Bob Lord once tried playing a game on a Saturday night - I'm certainly not advocating that but there is no doubt that those Turf Moor floodlights do inspire us.
Below are our results (home and away) on midweek nights since that defeat against QPR in December 2007.
HOME GAMES
| | | | |
| --- | --- | --- | --- |
| 26/02/08 | Coventry | 2-0 | McCann Caldwell |
| 11/03/08 | Charlton | 1-0 | Elliott |
| 26/08/08 | Oldham | 3-0 | McCann Paterson(2) |
| 16/09/08 | Blackpool | 2-0 | Paterson Alexander(p) |
| 23/09/08 | Fulham | 1-0 | Rodriguez |
| 30/09/08 | Watford | 3-2 | Alexander(p) Paterson Elliott |
| 28/10/08 | Reading | 1-0 | Blake |
| 02/12/08 | Arsenal | 2-0 | McDonald(2) |
| 09/12/08 | Cardiff | 2-2 | Blake Thompson |
| 13/01/09 | QPR | 2-1 | Thompson Rodriguez |
| 21/01/09 | Tottenham | 3-2 | Blake McCann Rodriguez |
| 03/02/09 | West Brom | 3-1 | Elliott Thompson(2) |
| 17/02/09 | Coventry | 1-1 | Eagles |
| 11/03/09 | Crystal Palace | 4-2 | Carlisle Alexander(p) Thompson Rodriguez |
| 20/04/09 | Sheffield United | 1-0 | Paterson |
| 19/08/09 | Manchester United | 1-0 | Blake |
| 16/12/09 | Arsenal | 1-1 | Alexander(p) |
| 10/03/10 | Stoke | 1-1 | Nugent |
| 21/09/10 | Bolton | 1-0 | Elliott |
| 28/09/10 | Hull | 4-0 | Iwelumo(2) Eagles(2 1p) |
| 19/10/10 | Barnsley | 3-0 | Eagles(2 1p) Iwelumo |
AWAY GAMES
| | | | |
| --- | --- | --- | --- |
| 12/02/08 | QPR | 4-2 | Cole(3) Akinbiyi |
| 04/03/08 | Hull | 0-2 | |
| 12/08/08 | Bury | 2-0 | Paterson(2) |
| 21/10/08 | Coventry | 3-1 | Duff Blake Eagles |
| 12/11/08 | Chelsea | 1-1 | Akinbiyi |
| 24/11/08 | Barnsley | 2-3 | Paterson(2) |
| 06/01/09 | Tottenham | 1-4 | Paterson |
| 27/01/09 | Watford | 0-3 | |
| 03/03/09 | Blackpool | 1-0 | Kalvenes |
| 17/03/09 | Ipswich | 1-1 | Elliott |
| 12/05/09 | Reading | 2-0 | Paterson Thompson |
| 25/08/09 | Hartlepool | 2-1 | Fletcher(2) |
| 22/09/09 | Barnsley | 2-3 | Fletcher Eagles |
| 26/02/10 | Bolton | 0-1 | |
| 09/02/10 | Fulham | 0-3 | |
| 24/08/10 | Morecambe | 3-1 | Eagles Thompson(p) McDonald |
| 14/09/10 | Middlesbrough | 1-2 | Bikey |