The deed was done on the morning of Saturday 7th February, a quiet Saturday for the Clarets who were preparing for the visit of West Brom on the following day. It was of no real significance to us; we've not played against Gillingham for a decade now since Stan Ternent was with the Kent club.
The significance was Edinburgh leaving Newport. He'd been in charge there since early October 2011, just over a year longer than Sean Dyche had been at Turf Moor and that meant, incredibly, he was the ninth longest serving of all the Premier and Football League managers.
His decision to move lifted all those other than the top eight up one place and that took our manager to 20th in the list, and the reason to consider an article.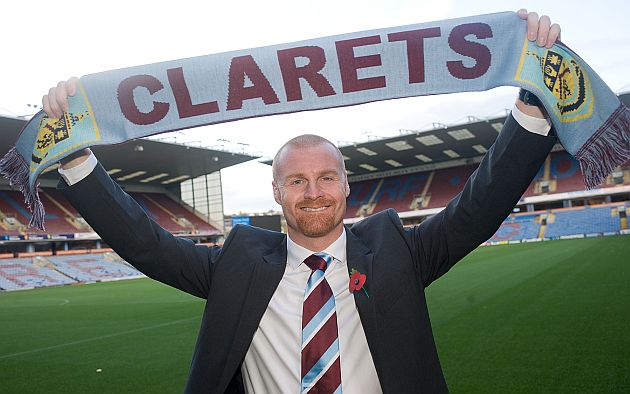 It even looked as though he'd reached 19th the day after when we had all the fun and games at Leicester with Nigel Pearson, but he didn't have to wait long. With our game underway at Old Trafford last Wednesday we learned that Paul Lambert, the very one who played games with us to get a better deal at Norwich, had been shown the big claret and blue doors at Villa Park.
I thought the time had passed to write an article about how quickly our manager had reached the top twenty longest serving managers, but my thoughts on this less than secure role in football was brought to the fore again a couple of days ago with the news of Mark Warburton at Brentford.
Warburton hasn't quite made the top half of the list yet. He's currently in 47th place having replaced Uwe Rösler on 10th December 2013 when the German was chosen to try and carry out a rescue act on the mess left at Wigan, and that's nothing to do with Dave Whelan's big mouth.
Rösler had done a good job at Brentford having landed it ahead of previous caretaker Nicky Forster and Warburton. They'd reached the League One play-offs in 2012/13 and when he departed they were fourth, six points behind the top two Leyton Orient and Wolves.
They never looked back. Warburton's team picked up 57 points from 27 games to finish second and win automatic promotion to the Championship. They had moved up to a level of football they had not seen at Griffin Park since they were relegated from the old second division in 1954, over sixty years ago.
It appears chairman Matthew Benham wants to take the club in a different direction so Warburton and his number two David Weir are to leave this summer while sporting director Frank McParland has been placed on immediate gardening leave.
I hate to think what direction Benham would have wanted had they not been quite so successful. He can do as he likes, of course, he owns the club, but I can't believe the Brentford fans can be too happy with this news, the loss of their most successful manager in years and playing some good football.
Bill Dodgin Senior was the manager in charge when they suffered that 1954 relegation. There was no change of direction back then, he remained in charge there for a further three years.
Managers didn't come and go then as they do today. Harry Potts was the Burnley manager for the first ten years I was watching the Clarets; in the first seven of them he didn't even dip into the transfer market.
It's how it was and not just at Burnley. There was Bill Nicholson at Spurs, Matt Busby at Man United, Bill Ridding at Bolton, Bill Shankly was in charge at Liverpool for over 14 years. Even relegated clubs didn't rush to change manager.
It's all changed now to the extent where our boss can be the 19th longest serving after just over two years and three months in charge and some will consider he's done well to last that long given some of the performances towards the end of the 2012/13 season.
He hadn't even had the opportunity to sign a player but a run of disappointing performances, particularly under the Turf Moor floodlights, cast doubts with some as to whether he was the man for the job. I vividly recall the appalling abuse he received from some prominent Burnley fans after a 1-0 defeat on a shocking pitch at Blackpool. They were making it quite clear they wanted him to go.
I'm not aware of any discussions within the club at that time to suggest they were unhappy with Dyche but thank goodness those fans didn't get things their own way back in April 2013.
Fan pressure does get managers out, there's no doubt about that, but sometimes that fan pressure starts even before they've had a game in charge. We watched from a distance at Gary Megson's situation at Bolton. The Bolton fans did not want him there from day one and made things very difficult for him during his two years at the Reebok.
It was just the same with Brian Laws at Burnley. He landed the job on the back of Megson going at Bolton and within hours of his appointment, at a youth game that night, there were strong dissenting voices at the appointment. Even the players joined in with this one; Brian Jensen admitted in his book that some of them downed tools.
I'm not going to suggest Laws was the right appointment; his record before and since does nothing to imply that he ever was, but there was precious little support for him in the stands, the dressing room and even the board room where the Brendan Flood inspired Deloitte Touche report hardly did him any favours.
He lasted just under a year but it was a shock when the sacking came simply because it was not something Burnley did very often. Steve Cotterill officially left by mutual consent so that meant Laws was the first manager sacked since Jimmy Mullen in 1996.
I don't like all this changing of manager. It rarely brings success. Back in the 1980s, from January 1983 to the summer of 1986 we went from Brian Miller to Frank Casper to John Bond to John Benson to Martin Buchan to Tommy Cavanagh and back to Miller. And we all know how things were going at Burnley during that period.
Mullen's departure saw Adrian Heath and Chris Waddle both have unsuccessful periods in charge before Stan Ternent arrived. Even Stan's team struggled at first but he won the fans over very quickly and we benefited from having him with us long term.
Paul Scally, the Gillingham chairman, said he'd taken longer than expected to land a new manager because he wasn't expecting to sack Taylor; that he'd been pushed into it by fans. It's certainly been the same at Villa where Paul Lambert has come under increasing pressure.
Besides being 19th in the list of 92, Dyche is also the sixth longest serving manager currently in the Premier League. Ahead of him are Arsène Wenger, Sam Allardyce, Pearson, Brendan Rodgers and Steve Bruce. Some of those, besides Pearson, look less than secure.
Thankfully, there is no one calling for our manager's head now, apart from the occasional clown on the message board. Our concern now will be in keeping him away from potential predators who might just have noticed how good a job he's done.
We're not ready to drop down to 92nd in the list yet, in fact not for some considerable time.