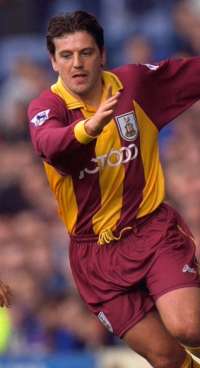 In Premiership action for Bradford City

I have to admit to being somewhat surprised as that penalty went in to hear that it was his 100th league goal because my records certainly showed him to still be one short – and so it proved.



Sky were quick off the mark too but some media sources continued to believe it. However, Clarets Mad and the Burnley Express carried out some further investigation.



And it all points to Nottingham Forest, the side he finally did reach the ton against. Four years ago he joined Forest on loan from Bradford City and he scored one goal for them in eleven league appearances.



That goal was Forest's fourth in a 4-3 win at Barnsley but for some reason that goal was added to his total of Bradford goals as well. Which ever way you look at it goals cannot be counted twice.



And so finally to yesterday when his goal against Forest finally did take him to the ton – not far short of nine years since he hit his first for Darlington.



That first goal was on 20th January 1996 in Darlo's 1-0 home win against Exeter, a result that saw the Shakers go 6th in Division 3. On the same day Jimmy Mullen's Burnley lost 1-0 at Rotherham and dropped to 6th place in the division above, Mullen was in charge for just three more games.



Robbie ended that season with eleven goals and was leading scorer as Darlington made the end of season play offs. He scored in the first leg of the semi-final victory over Hereford and was in the side that lost 1-0 at Wembley to Plymouth in the final.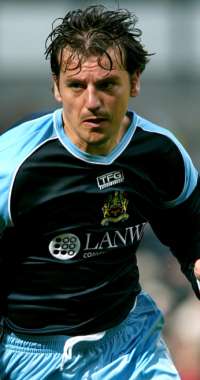 and on the day he scored his first Burnley goal at Pride Park

He looked odds on to beat that in the following season but after scoring ten he was on the move, signing for Chris Kamara at Bradford City at a time when they were fighting for their lives at the bottom of Division 1.



His best season for Bradford came two years later when his sixteen goals helped them to promotion to the Premiership but he didn't make the most of his time in the Premiership. He scored just six times (not seven) in forty-nine appearances and during the second season, after they had spent wildly on players who they couldn't afford, he went to Forest on loan.



It was there that he first came up against the Clarets on a night when he and Jack Lester ended up tormenting us as we went down 5-0. He didn't score but certainly left a lasting impression on Stan Ternent who was linked with him almost from that day until some fifteen months later when he finally signed for us.



He'd played against Stan's team before and one of his early Darlington goals was on a day when Stan's Bury threw one in at Feethams as Darlington ran out 4-0 winners.



Robbie's only other appearance against the Clarets was as a substitute for Bradford City on the day that Tony Ellis scored our winner as we went top of the league.



He totalled 21 goals for Darlington, 40 for Bradford and 1 for Forest before becoming a Claret and that goal against Forest was his 38th for Burnley in his 115th league appearance.



The first, well that was at Derby on a day when Glen Little came on at half time and he and Robbie turned the game on its head. He scored from the penalty spot but the Burnley fans saw that day for the first time just what a talent he is.



Prior to that we had seen him play whilst suffering from a hernia and then at the beginning of the following season when he, according to Stan Ternent, replaced his football boots with diving boots.



He still struggled to ensure a place was his in the side, and at the time of the FA Cup run he and Glen were only able to get places on the bench.



That changed last season and he turned up trumps with his best ever return in one season, scoring nineteen goals as we narrowly avoided relegation.



It left him needing six more at the start of this season and he's got there in the nineteenth game. There's no need for any more checking – Robbie has now got his 100 league goals (not 101 and certainly not 99).