Those eight were goalkeeper Brian Jensen, full backs Lee Roche and Mo Camara, midfielders Graham Branch, Richard Chaplow and Tony Grant and forwards Robbie Blake and Ian Moore.
It was simple; new players had to be brought in and with 166 league goals having been conceded in the previous two seasons it was pretty obvious that the priority was new defenders.
Within two weeks of the new appointment the first player signing came through the door. It was John McGreal from Ipswich, a signing that was met with approval by the supporters, but there were to be no more ahead of pre-season training.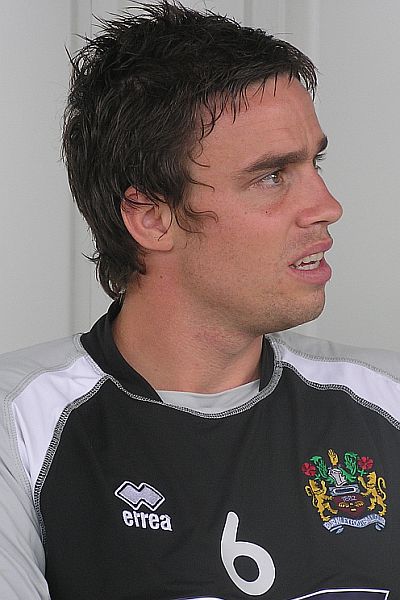 We were being linked with established players with clubs at our level so it was no surprise that supporters were somewhat underwhelmed with the next defensive capture, a player even the new manager described as a calculated risk.
Managers often go back to old clubs to sign players and Cotterill had done just that. He'd gone back to Cheltenham to take defender Michael Duff and we'd even had to pay a fee for him. It came in four parts. We had to pay £15,000 immediately and a year later there was another £15,000 payment and a promise of a pre-season friendly against Cheltenham at Whaddon Road. The fourth part, one from which Cheltenham have not benefited, was a 15% sell on clause.
We'd got a player we didn't know too much about. He'd played against us in an FA Cup tie just over two years previously but that was a game we didn't care to talk about too much. He was also a full international, albeit for Northern Ireland, and he was Cheltenham's second biggest sale.
Their fans were not too happy either. One fan at the time said: "You cannot blame Duff for wanting to further his career and good luck to him, but the amount he has gone for is a joke. I don't give a stuff about a friendly or a very unlikely sell on clause, the whole deal stinks."
The Cheltenham boss at the time was former Burnley coach John Ward. He said: "As a manager you want to have your best players but this is a fantastic opportunity for Michael to establish himself in one of the top leagues in the country.
"He has definitely got what it takes to play at that level and I wish him nothing but the best. This morning he came down to the training ground to say goodbye to everyone in person and that is one of the reasons why he will succeed, he has his priorities in life right."
Burnley fans weren't at all sure on this one. We weren't signing a young player on the way up but a player who had already played over 300 games for Cheltenham and a player who, many thought, would struggle at the higher level.
He'd played, for one season, in the division below, but was a player who had come through from non-league with Cheltenham and had even played in the Hellenic League with Cirencester during a loan.
Cotterill was delighted with the signing. He'd tried to sign him for Stoke a couple of years earlier but that fell down with the board wanting Icelandic players to be brought in. This time Cotterill got his man and the new manager insisted: "They say that if you can sign players you know, it's a good thing.
"Michael is a good player and one I feel can make the step up through the divisions. I've known him a long time and he's a good, strong character who is tall, strong, and good in the air and has been in the Third Division team of the year. He's very determined to succeed here and it's a great opportunity for him."
It goes without saying that Duff has taken the opportunity and when he lined up alongside Jason Shackell in the centre of our defence last Saturday against Charlton he was clocking up his 300th appearance for Burnley to add to the 300+ for Cheltenham.
Apart from the Hellenic League, the Doc Martins League, the Conference and the bottom two divisions of the Football League, his Burnley career has taken him not just to the Championship but also to a season in the Premier League to complete the most remarkable of careers.
Cotterill was convinced Duff could be a good player at Championship level and added: "We have got Michael at what is a very good price. He was in the last year of his contract at Cheltenham and wanted to make the step up. It is a small feel, but when you get a good player from the lower leagues you sometimes do have to pay for them."
Duff was 26 and probably his one chance of getting a move up the leagues was through his former manager and mentor and he made that clear on arriving at Burnley after signing a three year contract.
"Steve and I had a couple of meetings about the possibility of a move over the last few weeks and I'm made up. I was in the last year of my contract at Cheltenham and when the chance came to make the step up to a higher level, I had to take it.
"It will be strange leaving Cheltenham because I've been there for over eight years and it's become my home. I was there before Steve came in as manager and I was only 18 at the time, but he took over and had unbelievable success and he made me the player I am now."
Duff went straight into the Burnley team that faced Sheffield United at home on the opening day of the season. That was hardly a surprise; we still didn't have that many players and only Jensen and Roche of the established squad missed out.
Our team that day also included the next three signings who were Micah Hyde, Danny Coyne and Frank Sinclair.
We lined up: Danny Coyne, Michael Duff, Frank Sinclair, John McGreal, Mo Camara, Ian Moore, Richard Chaplow, Tony Grant, Micah Hyde, Graham Branch, Robbie Blake. The subs were Brian Jensen, Lee Roche, Ryan Townsend, Joel Pilkington and Matt O'Neill.
Duff, wearing the number six shirt, had his head split open that afternoon by Blades' defender Chris Morgan but he was fit to continue at Rotherham three days later.
He became a vital member of Cotterill's team, mainly at right back but occasionally in the centre of defence. In his first three seasons at Turf Moor he clocked up 138 appearances of which all but nine were starts. He even managed three goals too, the first of them coming in a League Cup win against Carlisle in August 2005.
By then any doubts amongst the fans had gone. He was a vital member of the squad although just after the start of his fourth season it did look as though Cotterill might be trying to replace him when, on the last day of the summer transfer window in 2007, he signed Graham Alexander the Preston right back.
Cotterill's plan, however, was to play Alexander in midfield, a decision that baffled fans at the time, with Duff remaining at right back. Then, disaster struck. It came in the first half of a home draw against Crystal Palace.
The score was 1-1 at the time and some sources had credited Duff with our goal which was later, correctly, confirmed as Blake's. Six minutes before half time that hardly mattered when he went down in his own box and had to be helped from the pitch with John Spicer coming on and Alexander switching to right back.
It was soon confirmed that he'd suffered multi knee ligament damage although, thankfully for him, no surgery was required on his anterior cruciate ligament.
Cotterill was devastated to lose a player he considered pivotal to his plans. He was immediately forced to play Alexander at right back but with the confirmation of the seriousness of the injury he lined up a temporary move for Sheffield United's Leigh Bromby, a deal that never came to fruition.
For Duff, however, he was heading into the worst period of his football career. That injury came in his 147th game for Burnley and for some time he thought it might have been his last.
It forced him to consider his options but Duff, only last week, praised the medical staff and the two managers who were so supportive. Two managers because, by the time he was fit to play again, Owen Coyle was the man in charge.
His public comeback was a goalscoring one in a reserve game against Tranmere at Prenton Park in the Central League; his first game back in the first team was on the last day of the season, a right old hammering at Crystal Palace.
Fit again, but he was never really first choice for Coyle. He had some games in the centre of defence during the promotion season, but generally Clarke Carlisle and Steven Caldwell were the preferred pair, and twice Coyle brought in loan players to replace him at right back, first Russell Anderson and then Rhys Williams.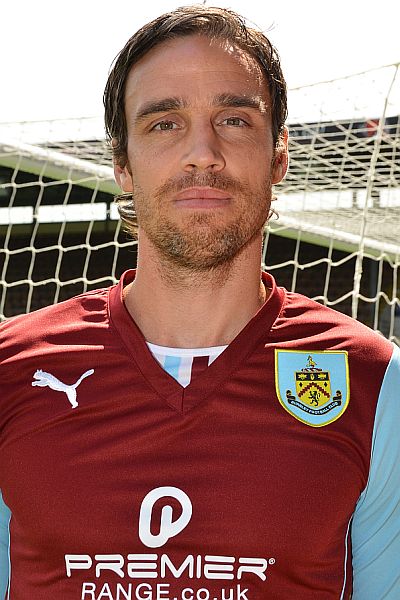 Due to the loan arrangements for Williams leaving him unavailable for the play-offs, Duff was back in the side and danced his way all the way up to the royal box as Burnley lifted the trophy and reached the Premier League.
Coyle played him just twice in the Premier League in what proved to be his last two games in charge against Bolton and Everton, this after both Carlisle and Caldwell had been forced off injured in the previous game.
He went on to start ten Premier League games and he's since gone on to establish himself again as a first team regular but now just about exclusively in the centre of defence.
He's seen Andre Bikey come and go and then won the fight over both David Edgar and Ben Mee for a place in the side, and has now settled into a good partnership with Jason Shackell.
He's an important player to us. Injuries last season curtailed his season to just half of the league games but we collected 37 points in those games, promotion form with him in the side.
Those appearances triggered another year for him at Turf Moor. It's his tenth and given the form he's in right now it would come as no surprise to see him here for season number eleven at least.
I'm sure many wondered just how many more than 147 games we'd get from him when he suffered that injury in 2007; I'm sure he did too, but last Saturday he lined up alongside Shackell in the centre of defence as we beat Charlton and in doing so made his 300th appearance for the club.
Calculated risk? I'm not sure how much had to be done in the way of calculations but I am certain that Steve Cotterill knew exactly what he was getting when he signed Michael Duff. He was just being over cautious with that comment because he knew Duffo was good enough to play at this level. That's why he tried to sign him at Stoke and why he didn't hesitate in bringing him to Turf Moor.
£30,000 in total he cost us, plus that friendly of course. I'll allow you to form your own opinions on whether that proved to be a good deal for us or not.