Some players have been very harshly dealt with by the Turf Moor crowd and certainly the name of Brendan O'Connell comes easily to mind. Then there are players such as Nick Pickering who are turned on right from the start. He was voted our worst ever player in a magazine a couple of years ago, what a ridiculous decision that was for a player who only ever played four games for us. Yes, he played badly but the only kind of player that can ever be attacked after just four games is someone such as Paul Stewart who couldn't even be bothered to put the effort in.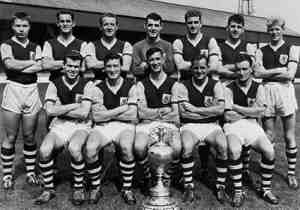 A team of special players
On the other hand though there are players who for one reason or another are so popular they can do no wrong. It doesn't matter whether they have a nightmare of a game there will be no criticism from the crowd. Gerry Harrison is a player who always falls easily into this category, his commitment to the cause was always appreciated by the Clarets fans than nobody ever seemed to mind when he had a poor game. He only ever needed to do one thing right in a game whereas other players only ever need to do one thing wrong before the crowd are on their backs. How many bad passes has Paul Cook ever been allowed to make in a game before the boo boys start?
This isn't about the popular players and the unpopular players though. Neither is it about my personal favourite players although I will take the opportunity to say my all time hero is goalkeeper Adam Blacklaw. No, this is about players who seem to take the step beyond being popular and are given cult status. It doesn't happen often and it doesn't have to be that the player is the best player in the team. Some players have cult status and some don't. In fact the majority don't, just the odd one now and again does.
I've been watching the Clarets now for just over forty years and I think that during those 40 years the number of players to achieve cult status is in single figures. I saw all the Championship side play and I think it is fair to say that all of them were popular although Burnley fans being Burnley fans I'm sure they found something to moan about in 1960. Jimmy Mac was obviously the star player, even the other players in the side will tell you that, and was hugely popular with the fans. He still is and if Jimmy has cult status it is probably only in recent times. In a side so good it probably didn't need a cult figure.
As the Championship side started to break up a new set of stars were about to embark on first team careers at Turf Moor. There was right winger Willie Morgan and a pair of strikers (or should I say an inside-right and a centre-forward) who were to become, alongside Greaves and Gilzean at Spurs, the best in English football. They were of course Andy Lochhead and Willie Irvine. Ralph Coates wasn't to be too far away and he was another big hero with the fans.
In those days most supporters knew about the players about to come in to the first team, the reserve team crowds rarely dipped below 5,000 and at times were even double that. There was a young player in the reserves who just about everyone was talking about, a player destined for a long first team career.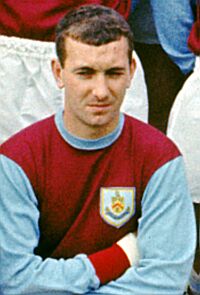 Brian O'Neil
His name was Brian O'Neil and in April 1963 he finally made his first team debut in a 2-1 home win against West Brom. After a couple of appearances he disappeared back into the reserves but he won his place back in October for a home 3-0 win against Blackburn and for just about six years he was a regular in the side.
He wasn't the greatest player ever to wear the Claret & Blue but he wasn't too far behind. The crowd loved him, his attitude and commitment were second to none. On many occasions we would have to play on a mud bath and Brian just loved it, as other players tired in heavy conditions he just got stronger.
He was without any shadow of doubt the first cult figure that I can remember. For years after he had gone you would here people continually say, "We still haven't replaced O'Neil". When an old friend of mine died just before the start of last season I went to see him before setting off for Bolton for the opening game. We talked about the new signings and in particular Kevin Ball. "Do you think he'll be able to do O'Neil's job?" he said. This was an old man who had seen his last Burnley game and still 30 years later he talked about O'Neil.
In 1989 the ex-Clarets had a big reunion dinner and all those attending the Saturday evening dinner were welcomed on to the pitch at the half time interval of a 4th Division game against Hereford. They all got great applause, some more than others. When Brian came on the roof nearly lifted, a player who will always be so fondly remembered by all those Clarets fans who saw him play.
He left for Southampton in the summer of 1970 but already there was a player in the first team squad who was preparing for this elevated status. He had arrived at Burnley on a free transfer from Bolton (then a division or two below us) as a forward but had been moved into midfield or even into the defence. He was of course Martin Dobson or Dobbo as he was always known to the Burnley fans.
He broke a leg in a pre-season friendly and was out of the team for the first part of the season as we found ourselves rooted to the bottom. Everyone thought we would just climb out of the mess and to safety once Dobbo was fit but it was too late and we went down after 24 years in Division One.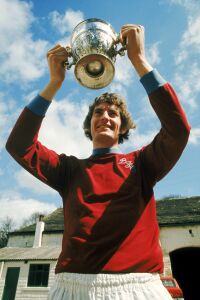 Martin Dobson with the Second Division Championship Trophy in 1973
By 1973 we were back after winning the 2
nd
Division Championship. He was captain by now and had without any shadow of doubt replaced O'Neil as the cult figure at Turf Moor, just about every chant and song heard at Turf Moor included his name. He led us to an FA Cup semi-final to within a point of qualifying for Europe and then suddenly just after the start of the 1974/75 season was sold to Everton.
The need to sell a player to balance the books had returned but this time the fans were accusing Bob Lord of selling Dobbo to pay for the stand he had named after himself. Even today around Turf Moor you will hear people referring to it as the Martin Dobson Stand.
Dobbo was gone but the player who replaced him in midfield was also to become the next cult hero of the Clarets fans. Peter Noble had spent his first season as a Claret playing right back but he was now moved into midfield to plug the gap with Keith Newton switching from left back to right back and Ian Brennan coming in.
Noble was popular with the fans and during that 1974/75 season hit a hat-trick against his first club Newcastle (that would have pleased him being a Sunderland fan) as Malcolm McDonald skulked off after being substituted.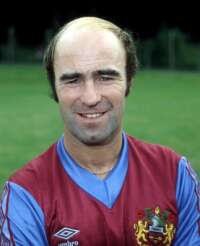 Peter 'UWE' Noble
The following season he hit another hat-trick, this time against Middlesbrough, but it was two weeks later on the 13
th
September 1975 that he finally became a real cult hero. It was a home game against Norwich City that we should have but failed to win. The blame for this could never be labelled at Noble, he scored all Burnley's goals in a 4-4 draw. It was a magnificent individual performance and from that day on he was placed alongside O'Neil and Dobson.
Just over a year later he became club captain and by now he was no longer known as Peter to the fans, he was always greeted with the chant of UWE – UWE – UWE. He had been likened to Uwe Seeler the former German striker although I think a lot of it was due to the similar hair styles.
Seeler was a great player but Uwe must really have been close to an England cap. It was a fantastic bit of business by Jimmy Adamson to bring him to Burnley and it was revealed some years later that Adamson had to fight off a number of offers from first Bill Shankly and then Bob Paisley who wanted him for Liverpool.
He spent almost seven seasons with the Clarets but having finally lost his place in the first team he was sold, along with team mate Paul Fletcher, to Blackpool where he ended his playing career. You have to think that the Blackpool manager must have been as astute as Adamson in wanting to sign him. Now what was the then Blackpool manager called, that's it Stan Ternent.
Uwe's popularity carried on for many years beyond his playing days at Burnley. He had opened a sports shop in the market hall in Burnley and it was always a pleasure to call in and talk football with him. Sadly he retired a couple of years ago and a part of the town centre seemed to disappear at that time.
Just before he went to Blackpool though Dobbo had returned from Everton. With Uwe's departure he became captain again and after another relegation he led us back into the 2nd Division in 1982. This was just like the Championship of nine years earlier with the same songs and chants with the same names.
Then John Bond arrived (no, he will never feature in any list of popular Burnley FC personalities) and immediately stripped him of the captaincy. Not only that he left him out of the side as we crashed at Hull on the opening day of the season. He even had the nerve in an interview to call him Colin Dobson. How dare he?
He had to bring him back in because he wasn't playing the best team without him. Dobbo hit top form and gave us some fantastic displays that season. In March though Bury made it known they wanted him as player manager and Dobbo said he would think about it over the weekend.
On the Saturday, 10th March 1984, we played Bristol Rovers at home. The game was less than memorable, in fact it was dire, and ended in a 0-0 draw. As the final whistle blew Dobbo turned to every section of the ground to applaud the fans. We knew the decision, it was farewell for the last time to a great player.
Two seasons later we played Bury in the League Cup and in the away leg at Gigg Lane Bury made a second half substitution. In all my years of watching football I have never seen anything quite like it as the sub, Dobbo, came on to the most amazing ovation from the opposition fans. The Bury fans were stunned, but that's what we thought of him.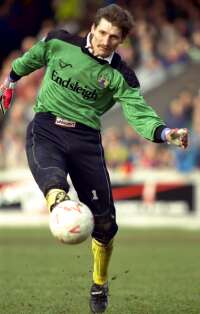 Chris Pearce
For a few years it was bleak down Turf Moor way and there were no heroes, no special players but after avoiding the crisis in 1987 there were to be two cult figures in our 4
th
Division days. The first was a goalkeeper, he was not the best goalkeeper that had played for Burnley but from day one he was hugely popular. He was of course Chris Pearce and the fans loved him but what was it that made him so special. I think it was his dancing.
Earlier this season he made the half time draw and obliged as the fans chanted Pearce, Pearce give is a dance. He told the Clarets Foundation members before the game of his dislike for Jimmy Mullen and the fact that it was Mullen who made him stop dancing.
In his last season at Turf Moor we won the 4th Division Championship but he was released before the last home game and the presentations. He came out to a fantastic reception from a full Turf Moor and danced.
Chris Pearce was a great ambassador for Burnley Football Club, he was responsible for the hugely popular golf days the club run for many years. He was a player that got heavily involved with the Junior Clarets and the kids loved him being at their meetings.
With Pearce in goal we played Scunthorpe in the 2nd round of the FA Cup in late 1989. In the replay at Turf Moor they cruelly kicked Peter Mumby out of the game and we had to bring on a sub. With no striker on the bench on came Roger Eli who had been in and out of the side in a variety of positions but never up front.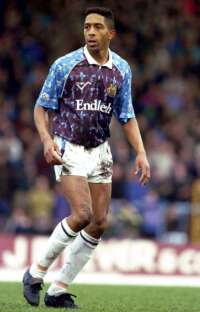 Roger Eli
If ever a player's career changed in one game then this was it. Eli went up front, scored our goal in a 1-1 draw and had a blinder. In the second replay, which we won 5-0, he scored two more and played even better.
From that day on the crowd worshipped him and from that day on he never played in any other position other than as a striker. He played alongside Ron Futcher and John Francis for a couple of seasons and then found a new partner in Mike Conroy as we said goodbye to the 4th Division at last.
Roger Eli could have played at a much higher level and would have done but he missed the last few games of the Championship season with injury and he was never to be fully fit again. He was only 27 and would have been a vital player for us as we went into the new second and then first divisions. In 1993 he was released and we were never able to find out just how good he was. Roger Eli was another player worshipped by the Longside.
As things got better and then worse again during the 1990s there were two special players at Turf Moor. One of them has been in the side for every promotion and relegation although he did spend three and a half years away at Luton. He's Steve Davis and was our record sale in 1995 and record signing in late 1998, both fees £750,000.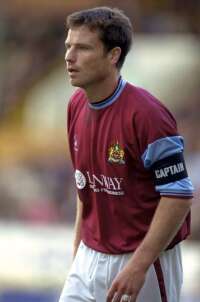 Steve Davis
Davis had been with us on loan but signed permanently just before the start of that wonderful 1991/92 season and for the next four years was an excellent player for Burnley. He took over the captaincy from John Pender for his last season but couldn't keep us in Division One.
Although he chose to leave Burnley despite us offering him a new contract in the summer of 1995 he never lost his popularity. On the occasions he returned with Luton he was afforded standing ovations but despite the odd rumours it was a major shock when he returned. He made his return against Walsall, a game that also saw Graham Branch make his debut. Poor Branchy hardly got a mention as the crowd greeted Stevie Davis like the returning prodigal son.
He rejoined a side that already had one hero, he had been with the club almost a year. His name Andy Payton. Having signed from Huddersfield his goals had kept us up once under Waddle, were to do it again and then were to win us promotion as he hit 27 league goals in the season, the highest return since Willie Irvine.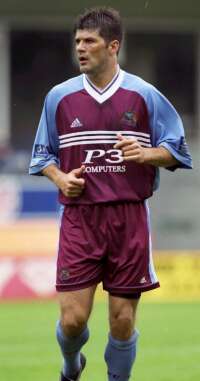 Andy Payton
Not just that but Andy Payton has always been a Claret, locally born and a supporter all his life. Andy Payton is the Natural Born Claret who the crowd just wanted to worship. His early return of goals to save Waddle guaranteed him that and despite the fact that it is now ten months since he started a first team game, and is currently out on loan at Blackpool, he is still incredibly popular and if the fans were picking the team then he would almost certainly play every week.
The last millennium ended with the Natural Born Claret hitting a hat-trick against Oxford United as we went on to win promotion. O'Neil, Dobson, Noble, Pearce, Eli, Davis and Payton but who are going to be the cult figures of the 21st Century? Who are going to be the players who will capture the hearts of Burnley fans in the way those above have?
When you least expect it the new hero and cult figure could just arrive and so it was in July of this year. We played Everton in a pre-season friendly at Turf Moor. With ten minutes of the second half gone Stan decided to give a trialist a chance. He took off Ian Cox and replaced him with a player not many in the ground knew anything about. He had joined that day for a trial and the news had only broken on the internet in the late afternoon.
The tannoy announcer was of very little use as he, like most, didn't know how to pronounce the name. News got round very quickly that his Christian name was Arthur (although really pronounced Ah-toor) and after a couple of charges up front the chant of Arthur – Arthur – Arthur started. Nobody was too sure about the surname, it was spelt Gnohere but it was some time before everyone knew it was No-ay-ray.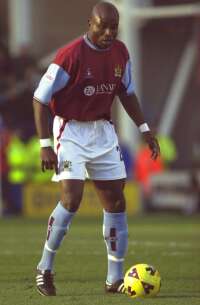 Arthur Gnohere
Earlier in the day when reporting his arrival for a trial I said, "Let's hope Stan has pulled another gem out of the hat". I think that has now well and truly been answered. His trial was successful and he won a two year contract that has now been extended to four years. He got an odd game here and there early in the season but even so, after a couple of his now trademark runs down the left wing, he was already a hero.
Recently he has had a regular place and there is no doubt at all that he is the first cult figure of the Century at the Turf. If anyone doubted it then the 3-2 win at Deepdale confirmed it as he scored his first goals for the club. His second, the winner, was brilliant. I just wonder how good he can be, I think Stan has found a gem here in Ah-toor No-ay-ray, or as the commentator at Deepdale said, "Known simply as Arthur".
We really have had some great players at Burnley but just now and then a player becomes something special, a real cult figure with the Turf Moor crowds. They might not be your particular favourite players, in fact I'm sure they are not. They just happened to have that indefinable something that made them so special.