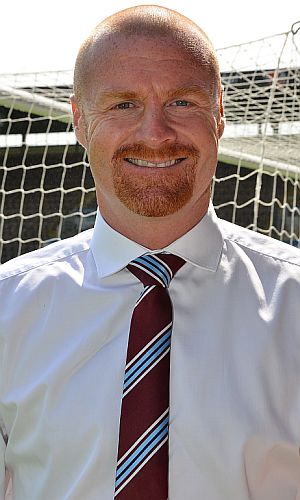 It's terrific said Sean Dyche
My first thought, when I saw the list, was one of trepidation. Seeing Chelsea at the top of the list I suppose showed the enormity of the task in front of us.
Those early concerns quickly disappeared. To be honest I even get them when I see Championship fixtures but once I start to absorb them I see it as another step closer to the new season., and that's how I viewed it today.
Just like last time in the Premier League, the first home game is a big one. Then it was Manchester United, this time Chelsea with United at the Turf two weeks later.
We sent Fergie packing in 2009 so why not Mourinho and van Gaal this time? Mourinho here first game, the very manager Sean Dyche said he was looking forward to facing the most when he appeared recently on Soccer AM.
I saw Dyche, by chance, this afternoon with his phone pinned to his ear. He had a big smile on his face having seen those fixtures and he's since said: "It's terrific. The Premier League has rolled out the red carpet for us and it's a real welcome, with the big guns coming to Turf Moor straight away.
"It is a kind of welcome back to the Premier League, but in the best sense. We all want to see the best teams at Turf Moor. That's what we have been striving to achieve really; to play against those big clubs, and straight away they're here."
It is terrific, and of all the posts on the message board, the one comment that stood out for me came from regular poster jedi_master. He said: "This is what it's all about, this is our reward. Fantastic. Bring it on."
We'll all be looking forward to different games. The Sunderland fixtures stand out for me, simply because one of my best friends is a committed Mackem, and I love reminding him that on the day he was born his beloved Sunderland were beaten 3-0 at Turf Moor by Burnley.
I even bought him a copy of the programme a few years ago and Paul Fletcher helped me out by getting it signed by Frank Casper and Steve Kindon, the goalscorers that day.
He doesn't like Newcastle. He holds them with the same amount of affection as I have for Blackburn, but I'm sure most Burnley supporters were looking when we were on our way to St. James' Park. Whether New Year's Day is a good choice or not I'm not sure.
What I did notice was that last time we played in the Premier League, the first home game for Owen Coyle was Manchester United and the first home game for Brian Laws was Chelsea, and they are the first two this time.
But how about this? Last time Burnley won automatic promotion to the top flight was 1973. That came after we sold a player to QPR and beat them to the title. This time they had to fight their way through the play-offs to join us.
In that 1973/74 season back the first home game was Chelsea. We won 1-0 with a superb goal from Casper. And who did we play on Boxing Day? Yes, it was Liverpool at home. We won that one too, beating Bill Shankly's team 2-1 with Fletcher and Ray Hankin getting the goals.
Can lightening strike twice?
Trepidation? Far from it. I'm excited now and can't wait for Chelsea to arrive with the best player I saw in the Premier League last time round, their recent signing Cesc Fabregas.
Only 59 days to go.