In the last couple of days we've seen both Martin Paterson and Chris McCann move on to new clubs after turning down offers of new, but reduced, deals at Burnley as we come to terms with the approach of the end of our parachute payments and the need to adjust our wage bill with the financial fair play rules being introduced.
At the same time we've seen the likes of Manchester City spend £30 million of Brazilian midfielder Fernandinho and another £15 million to sign Sevilla's Jesus Navas.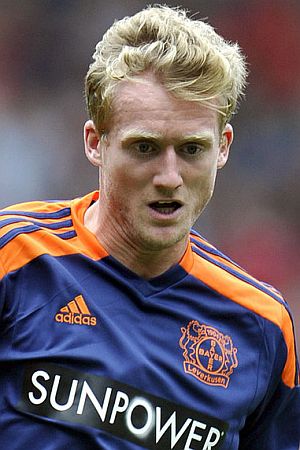 New Chelsea signing André Schürrle
Chelsea spent just £18 million to sign André Schürrle from Bayer Leverkusen while Liverpool look as though they must have robbed a bank with the amount they are spending. Manchester United meanwhile are being linked with all and sundry at prices over £50 million.
Football really is a world of haves and have nots now. I'd love to be back in the Premier League although I'm not jealous of those big spending clubs at the top of that league. Having said that, I'm thankful also that we are where we are.
There are clubs perceived as bigger than us who in serious difficulty. Things aren't so good at Sheffield United where they prepare for a third season in League One. It's a second season coming up at that level for Coventry but what a complete mess that club is in.
During last season they fell into administration but today the club has been sold to a company by the name of Otium Entertainment Group Limited. It's not as good as it looks.
Without studying the details, it looks very much as though previous owners SISU, who placed part of the club in administration, appointed their own administrator who has, in effect, sold it back to them as Otium are a SISU company.
When they might come out of administration is unknown but could still be weeks away, and whether they will play at the Ricoh Arena remains in doubt. The new owners are believed to want to move to a new stadium with the team playing outside of the city for three years.
The Football League brought in strict rules after the franchising of Wimbledon a decade ago, one of which is to limit any temporary move to thirty miles. There have been suggestions that this could be waived with a possible move to Nene Park, former home of Rushden & Diamonds being muted.
Back to the financial fair play and one of the Championship's better off clubs are now going to have to come to terms with it.
Back in the day, Bury's chairman was local man Terry Robinson. He left the club in 2002 but has had some career in football since. He joined the board at Sheffield United almost immediately and became chairman in 2006.
When their plc chairman Kevin McCabe bought Hungarian club Ferencvaros he became their president. His next move took him to Stoke where he was academy director but he left last week to take on a new role with Leicester.
Robinson left Stoke having been able to acquire category one status for their academy but his new role sees him working closely with manager Nigel Pearson. His main task is to get rid of players, those who have been identified as surplus to requirements to enable the club to adhere to the new financial fair play rules.
It will be interesting to see who goes at Leicester where, it is believed, their wage bill is not within a million miles of where it should be for the new rules.
On the subject of money; it is nice to see a club waive some potential income to support a charity. Millwall are a football club that has many problems of its own but they've taken the decision this season to agree a shirt sponsorship deal with the national charity Prostate Cancer UK free of charge.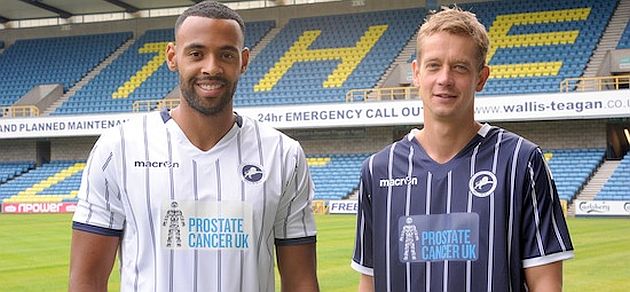 Millwall's 2013/14 shirts
Director Trevor Keyse and new coach, and former player, Neil Harris, have both had fights with male cancers but this is still a terrific gesture from the London club. They are not the first club to do it but it should be applauded.
Leyton Orient aren't too far from Millwall but they could become a Southern Italian club with Napoli president Aurelio De Laurentiis keen on buying the club.
I reported some weeks ago that he'd followed the fortunes of Watford since the Pozzo takeover and was looking to do the same. He even confirmed that once he'd bought an English club he would immediately install the 67-year-old former Napoli manager Edoardo Reja as his English club manager.
At the time there was no confirmation of any club but it now transpires that he would like to purchase Leyton Orient which must be a concern for their current boss Russell Slade. The League One club has said they've have had no contact with De Laurentiis but a spokesman said: "They are welcome to give us a call if they want to."
I've enjoyed watching the fall out between Joe Kinnear and Alan Shearer this week. I was hoping that Shearer would win it, get Kinnear kicked out of Newcastle and maybe go back in himself as manager. At least that way we'd be rid of him on Match of the Day.
The one remaining managerial vacancy has been filled in the last 24 hours with Orlando Garcia going to Brighton to replace the sacked Gus Poyet.
Poyet played the straight man very well on television, claiming he'd learned of his sacking from the BBC during a live transmission of one of the Confederations Cup games where he was one of the claptrappers. Brighton have basically called him a liar, confirming that they'd been in talks with him and his representatives all day.
He's appealing against the sacking but there can't be any return for him at the Amex where Poo-Gate was followed by Poyet-Gate. His right hand man Mauricio Taricco had his suspension lifted last week. What a lot of good it did him. They fired him yesterday, or at least he left the club by mutual consent.
Garcia has become the head coach. I assume for now, for legal reasons, they can't appoint a manager, but Garcia, who played for Barcelona and Valencia before managing Maccabi Tel Aviv is definitely the new man in charge. I have to say I'd never heard of him but he comes with a good reputation after guiding his former club to a first Israeli league title in a decade.
The rest of the week has been all about mourning what appears to be the departure of Shebby Singh from Blackburn. He was only there a year but, if he has gone, he'll be remembered with great affection for the wonderful job he's done.
Finally, former Bury and Accrington goalkeeper Cameron Belford signed for Tamworth yesterday. I don't think it will take him too long to settle in. The manager is his dad Dale and his granddad Buster is the kit manager.